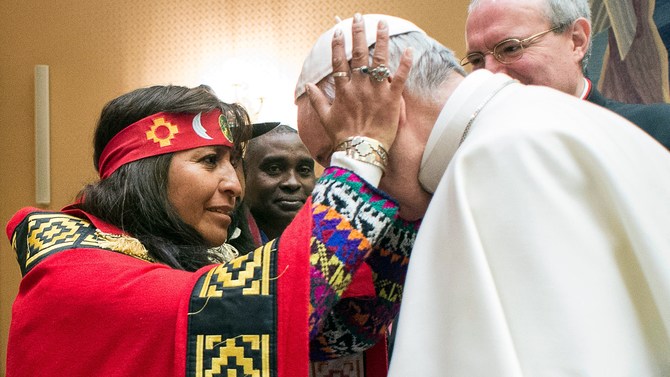 By Amanda Froelich at trueactivist.com
Pope Francis declared that Native Americans deserve the right to give prior consent to any economic activity that affects their ancestral lands.
On Wednesday, Pope Francis attended the Indigenous Peoples Forum in Rome and defended the rights of indigenous tribes. The meeting was part of the UN International Fund for Agricultural Development, and Pope Francis addressed 40 representatives of the 300 largest indigenous groups in the world.
According to Reuters, he stated that "The particular characteristics of indigenous peoples and their territories" must be protected. The Pope then mentioned that this is especially true "when planning economic activities which may interfere with indigenous cultures and their ancestral relationship to the earth."
During his speech, Pope Francis also promoted the full participation of indigenous peoples in local and national government. His insistence that indigenous groups must give prior consent to any economic activity affecting their ancestral lands clashes with action recently taken by the Trump administration. Even though the U.S. Army Corps under the Obama administration denied an easement to the parent company responsible for constructing the Dakota Access Pipeline (DAPL), Donald Trump signed an executive order just days after being sworn in which gives a green light to the project.
"In this regard, the right to prior and informed consent should always prevail," he said. "Only then is it possible to guarantee peaceful cooperation between governing authorities and indigenous peoples, overcoming confrontation and conflict."
Though Pope Francis did not cite the DAPL directly during his address, a number of media outlets were quick to pick up on his suggestion. The Vatican press office said he was not making a direct reference to the four-state pipeline which would potentially contaminate the Missouri river and uproot sacred burial ground of the Standing Rock Sioux tribe.
The Pope has a record of defending the environment. As EcoWatch relays, the religious leader shared a prayer for the Earth in 2015, declaring: "Bring healing to our lives, that we may protect the world and not prey on it, that we may sow beauty, not pollution and destruction."
"For governments, this means recognizing that indigenous communities are a part of the population to be appreciated and consulted, and whose full participation should be promoted at the local and national level," Francis told the leaders on Wednesday.
What are your thoughts? Please comment below and share this news!
---
This article (Pope Francis: Native Americans Should Have Final Say About Their Land ) is free and open source. You have permission to republish this article under a Creative Commons license with attribution to the author and TrueActivist.com