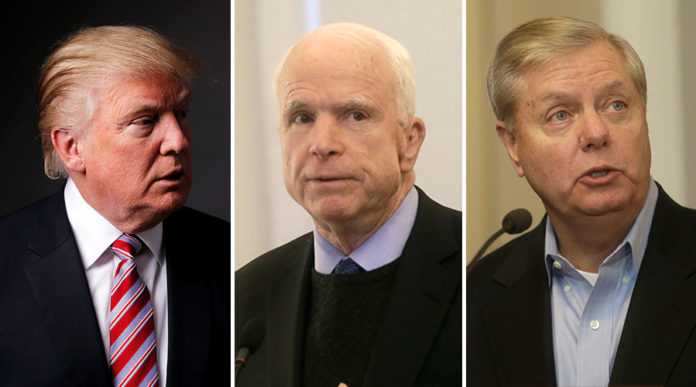 Trump has accused Republican Senators John McCain and Lindsey Graham as becoming warmongers.
The latest Trump wrath is a response to the Senators' criticisms over the 7-nation ban implemented earlier in the week against Syria, Iraq, Iran, Libya, Sudan, Yemen and Somalia. As per Trump style, the tirade was publicly declared in a Tweet, stating the senators "should focus on … ISIS, illegal immigration and border security instead of always looking to start World War III."
The joint statement of former presidential candidates John McCain & Lindsey Graham is wrong – they are sadly weak on immigration. The two…

— Donald J. Trump (@realDonaldTrump) January 29, 2017
…Senators should focus their energies on ISIS, illegal immigration and border security instead of always looking to start World War III.

— Donald J. Trump (@realDonaldTrump) January 29, 2017
The 7-nation ban that the Republican Senators spoke about was the temporary travel ban on seven predominantly Muslim nations. They accuse Trump of reacting with "little to no consultation with the Departments of State, Defense, Justice, and Homeland Security," further stating the executive order was "not properly vetted."
"Ultimately, we fear this executive order will become a self-inflicted wound in the fight against terrorism. At this very moment, American troops are fighting side-by-side with our Iraqi partners to defeat ISIL. But this executive order bans Iraqi pilots from coming to military bases in Arizona to fight our common enemies. Our most important allies in the fight against ISIL are the vast majority of Muslims who reject its apocalyptic ideology of hatred.
"This executive order sends a signal, intended or not, that America does not want Muslims coming into our country. That is why we fear this executive order may do more to help terrorist recruitment than improve our security," the statement said.
Taking to Facebook also, Trump released a statement of rebuke, relating his actions to those of Obama in 2011 "when he banned visas for refugees from Iraq for six months," Trump says.
Trump's Facebook retort continues, "This is not about religion – this is about terror and keeping our country safe. There are over 40 different countries worldwide that are majority Muslim that are not affected by this order. We will again be issuing visas to all countries once we are sure we have reviewed and implemented the most secure policies over the next 90 days."
.

His initial statement when announcing the executive order proclaimed "establishing new vetting to keep radical Islamic terrorists out of the United States of America. We don't want them here."
Trump continues to defend his travel ban as the right decision, and shows no signs of reversing it. Meanwhile, Republicans are joining the McCain and Graham criticisms, hawkish at least, who are also staunch anti-Russian.
Glenn Greenwald from The Intercept also acknowledged their agenda as one of promoting war rather than peaceful objectives. Both senators consider Russia a threat to national security and have also condemned Trump's initiative to work alongside Russia in the ongoing fight in Syria.
I know we're all supposed to love McCain & Graham now but it is true that their policy desires would have started WW3 multiple times by now.

— Glenn Greenwald (@ggreenwald) January 29, 2017
As RT reports, Trump has failed to ban those countries directly proven to be responsible for the 9/11 attacks, such as Saudi Arabia, Egypt, and the United Arab Emirates – nations which Trump has personal ongoing business ventures with. Critics have noted Trump's hypocrisy, as he has mentioned the 9/11 attacks as one reason to toughen up national security and the nation's borders.
---
This article (Trump Accuses Senator McCain and Graham as Warmongers Focused on WWIII) is a free and open source. You have permission to republish this article under a Creative Commons license with attribution to the author AnonWatcher and AnonHQ.com.
---
Supporting Anonymous' Independent & Investigative News is important to us. Please, follow us on Twitter: Follow @AnonymousNewsHQ