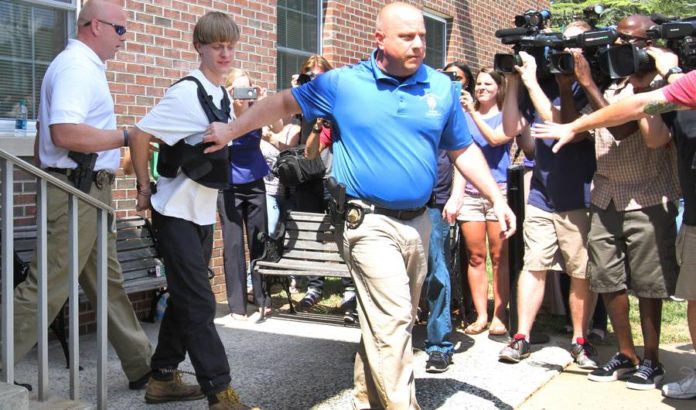 One of these guys killed 9 people. One of these guys was selling single cigarettes. #DylannRoof#EricGarnerpic.twitter.com/3bM74BKIrW

— ChristianChristensen (@ChrChristensen) June 18, 2015
The Tweet contrasts Eric Garner, pictured on the right, with footage of the police handling Dylann Roof.
Garner was stopped by police for selling loose cigarettes in Staten Island, New York, on July 17, 2014. Even though Garner was not violent, nor harming anyone before police stopped him, the situation quickly escalated to four officers tackling him to the ground, and one placing him in a choke-hold. He was ultimately killed, after informing officers repeatedly that he could not breathe. The police officer who placed him in the choke-hold was, in accordance with any rational human being's sense of morality, not indicted at all. Not even with manslaughter.
However, the  the man who is believed to have shot and killed nine black people in a cold-blooded hate crime, shows several officers handling him respectfully and in accordance with the law, even protecting him from the media. Heck, they even provided him with a bulletproof vest. They chose to protect this ruthless killer, while ruthlessly killing a man they should have protected.
Source: News.Mic