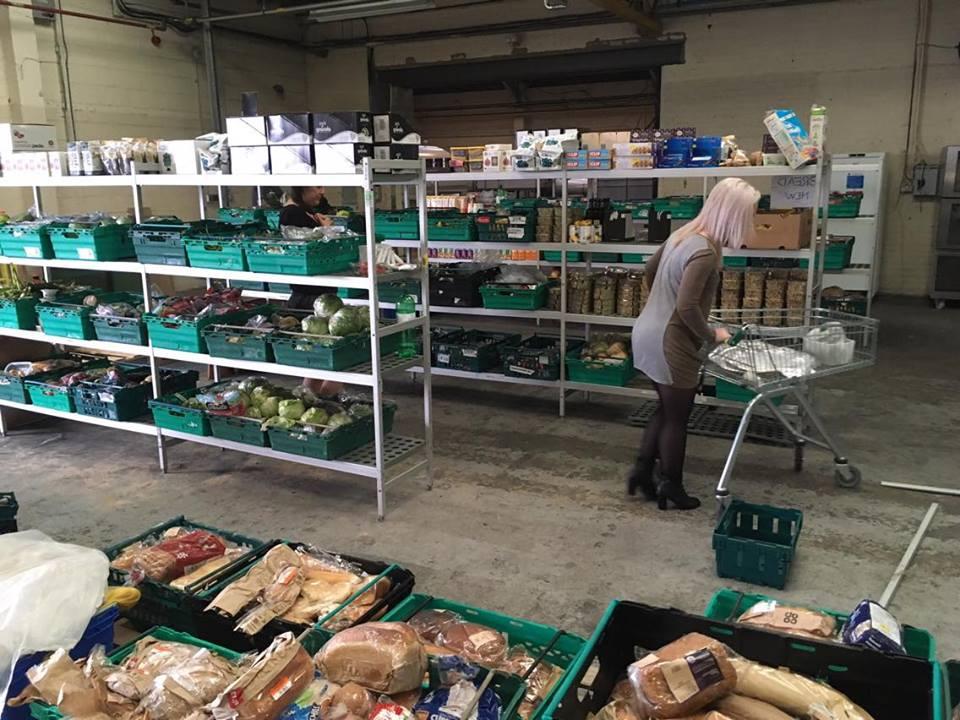 The UK's first food waste supermarket has opened in Leeds, allowing the local community to gain access to affordable produce that would have otherwise been thrown into landfills. The supermarket, called the warehouse, was opened by food waste campaigners from the Real Junk Food Project and is the organization's latest step towards a long-term goal to reduce  the 10 million tonnes of food waste the UK generates each year.
The food is priced on a "pay as you feel" basis, offering a lifeline to local families struggling to feed their children. Kirsty Rhodes, a local mother of three children, shared with The Independent how much the food waste supermarket has helped her family since being diagnosed with a chronic pain condition.
"The warehouse has absolutely been our lifeline over the past month or so," Kirsty Rhodes told The Independent. "With three young children and two adults to feed we started to struggle straight away. Luckily we took the plunge to go to the warehouse and it was amazing!" Kirsty said.
The food is donated by several major supermarket chains as well as cafes, restaurants and food banks. Earlier this year, food retailer Ocado announced that they would be donating orders that are cancelled by customers to the project.
The Real Junk Food Project, which receives on average between two and 10 tonnes of food at its warehouse every day, had decided to open the supermarket on a whim after the organization was left with a surplus of food.
"Usually we donate it [leftover food] to local schools but over the summer we ended up with all this surplus and we wondered how we would get rid of it," said Adam Smith, founder of the Real Junk Food Project. "We moved it to one part of the warehouse, put a notice up on social media asking people to come and get it, and it just went mad."
Over the past few years The Real Junk Food Project has been working to establish a network of Pay As You Feel Cafés across the UK, Europe and Australia. However, the organization's latest project appears to be following the footsteps of Folkekirkens Nødhjælp, a Danish humanitarian NGO that opened Denmark's first food waste supermarket earlier this year.

Roughly one third of the food produced in the world for human consumption every year — approximately 1.3 billion tonnes — gets lost or wasted, according to the Food and Agriculture Organization of the United Nations. This amounts to roughly US$ 680 billion in industrialized countries and US$ 310 billion in developing countries.
Fortunately, over the last few years, this ethical and economic issue has gained an increasing amount of media attention, promoting celebrities, food banks and charitable organizations to take action. As revealed by FUSION EU's recently released report on 'Estimates of European food waste levels', a total of 411,000 tonnes of food was redistributed in 2014, either by food banks or charitable organizations.
"It's ridiculous that food is just thrown out or goes to waste," The Danish Minister for Food and the Environment, Eva Kjer Hansen said."It is bad for the environment and it is money spent on absolutely nothing."
Inspired by the supermarkets success, Mr. Smith hops to extend The Real Junk Food's mission by opening similar "supermarkets" in towns and cities across the UK, the BBC reports. "We're about to start in Sheffield and Bradford," he said. "Every city will now obtain central storage and run a 'people's supermarket' as well as Fuel for School."
Fuel for School is an initiative created by The Real Junk Food Project in an effort to remove hunger as a barrier to learning by providing surplus bread, fruit, vegetables and dairy products from supermarkets to schools.
"We need volunteers," Adam says of the new food waste supermarket. "Driving, weighing, sorting, stacking shelves, cleaning and much more. Lots of opportunities for people to get involved and give back."

Image: Flickr, Timo Kuusela (CC BY 2.0)
---
You want to support Anonymous Independent & Investigative News? Please, follow us on Twitter: Follow @AnonymousNewsHQ
---
This Article (The UK Opens Its First Food Waste Supermarket ) is free and open source. You have permission to republish this article under a Creative Commons license with attribution to the author and AnonHQ.com.