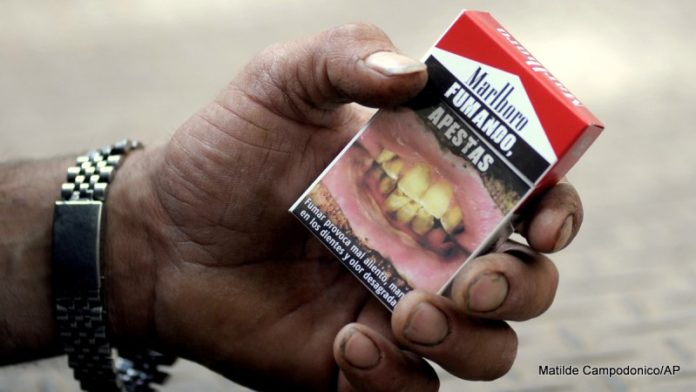 Uruguay has attracted a lot of attention in recent years—becoming the first country in the world to have a system regulating the legal production, sale, and consumption of marijuana, welcoming Syrian refugees to the country, and accepting the first six US prisoners resettled from Guantanamo Bay. A couple things that aren't often reported on, however, is the left-leaning experiment the Uruguayans have been conducting for the past 10 years, turning themselves into a Latin American version of Switzerland, and the ongoing lawsuit with Phillip Morris over Uruguay's improved health warnings on cigarette packages, which the tobacco division claims is ruining their reputation.
In a report from Truth-Out, "Uruguay has spent the last decade quietly defying the new transnational order of global banks, multi-nation corporations and supranational trade tribunals and is now in a fight for its survival as an independent nation."
Current president (until March 1st), José Mujica, of the Broad Front party is known for his loathing of consumerism. Often viewed as 'colorful', Mujica stood out at the inauguration of a huge pulp mill wearing baggy jeans, a bomber jacket, and shades. He also lives by his beliefs, donating around 62% of his $11,750 monthly income to a housing program for the poor. He has chosen to live in a simple log-heated farmhouse rather than the presidential estate.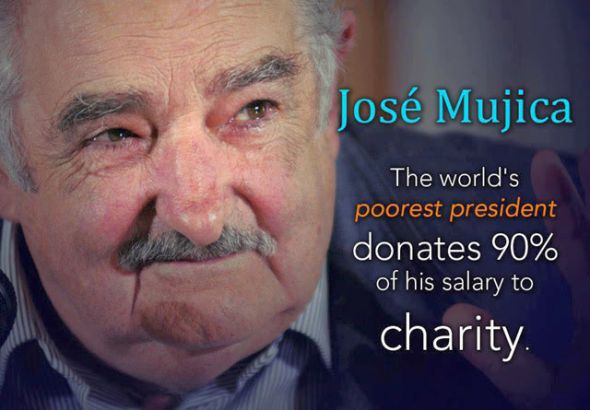 There are criticism's Mujica has faced along the way, including how he dealt with the closure of the national airline, Pluna. Weeks after the government stepped in to save Pluna, their attempts failed, and the situation was shrouded in reports of scandal. He's also been criticized for his communication skills, often backtracking on public statements.
However, overall it seems Mujica has made quite a few positive contributions. Social policy was a major focus, and under his presidency the state has gained control of marijuana production and sales, abortion and gay marriage has been legalized, and combined local and foreign investment has risen to 22% of GDP (Gross Domestic Product), up from an average of less than 15% before Mujica's presidency.
"We're very used in this world to seeing the economy and inequality grow together," says Mujica. "In Uruguay, that has not happened. The economy grew and people were lifted out of poverty."
Under the Broad Front, the government's current policies allow the people of Uruguay to live in a society with social tolerance, public spending on early childhood education, affordable universal health care, and social safety net programs. Uruguay has had an annual economic growth of 5.6 percent since 2004, and since the front expanded social security, poverty has dropped from 40% to around 12%. The recent election shows that citizens approve of the Broad Front party's experimental system.
In November of 2014, former president, Tabaré Vasquez, of the ruling Broad Front party was re-elected in a landslide victory, extending Uruguay's social democratic experiment for another five years to 2020. Vasquez will take office in March. London's neo-liberal, supply-side bankers are not happy with Uruguay's decision to keep the Broad Front party in power and remain an independent nation. A report was issued by Capital Economics offering this warning as reported by Truth-Out:
Capital Economics concludes that given Vazquez' promises of continuity and more social spending, and the Uruguayan economy running at full capacity, any attempt to bolster domestic demand most likely will generate more inflation and more strains in the balance of payments.
"Our view is that policymakers need to tighten fiscal policy and pass supply side reforms to boost medium-term growth," says the report.
Likewise wage indexation is widespread in Uruguay and according to the IMF, as many as 90 percent of labor contracts are indexed, which contributes to high and persistent inflation. "More generally, reducing the power of trade unions will help to ease labor market rigidities."
This report follows what is being called the 'most aggressive assault on the public sector' in British history. The British government is proposing cuts of 22.2 percent to their national budget by 2020. This includes cuts of 41 percent to 'unprotected' programs—basically social welfare spending. As far as bankers are concerned, Uruguay is setting a bad example by putting their people before profits.
Truth-Out:
"If the Capital Economic report is decoded, it functions as a virtual thesaurus for the language of financial tyranny, bullying and terror used by the new regime of global capital headquartered in London and New York."
In addition, "Capital Economics also insists that supply-side reforms are essential for Uruguay's survival." A typical list of reforms:
Cutting government spending, taxes and policies to cut government borrowing
Passing laws to control trade union powers
Reducing red tape to cut the costs of doing business
Implementing measures to improve the flexibility of the labor market, or reforming employment laws
Enforcing policies to boost completion such as deregulation
Privatization of state assets
Opening up an economy to overseas trade and investment
Opening up an economy to inward labor migration
In other words—crush the unions by bringing in low-wage, immigrant workers to reduce labor costs, slash social spending, and privatize as much of the public sector as possible.
Important side-note: 55 percent of Uruguay's government bond debt is held by quite a few British foreign investors. The program being suggested by Capital Economics would be disastrous for Uruguay, but profitable for speculative bankers in London by temporarily increasing the value of Uruguayan bonds. This is apparently what is meant by 'a boost in medium-term growth'.
Another issue that is gaining attention from the global financial elite is Uruguay's challenge of the legitimacy of international trade tribunals at the heart of the proposed TTIP (Transatlantic Trade and Investment Partnership) and TPP (Trans-Pacific Partnership) trade agreements. The TTIP and TPP aren't designed to promote trade, but would instead establish a transnational governing structure. This would, "supersede the current order of sovereign nation-states that are, in theory and sometimes practice, democratically accountable to their own people," according to Truth-Out's report.
Those who comply with the TTIP and TPP will fall under US-UK-EU economic influence. It is said this is why Russia, Africa, the Islamic nations, and the leftist regimes of Latin America are excluded. This brings us to Marlboro's (Phillip Morris) significance in the situation. Uruguay unwittingly caused global backlash against the TPP and TTIP through their dispute with the international tobacco industry.
It started in 2005 when Uruguay's National Ministry of Public Health mandated that warnings about health risks cover 50 percent of cigarette packages. By 2009 they increased this to 80 percent. At the time, Uruguay was tackling an epidemic of smoking-related health problems and since the new labels were featured on cigarette packages, smoking among the adult population has dropped from 40% to 23%, and smoking among teens has dropped from 33% to 12%.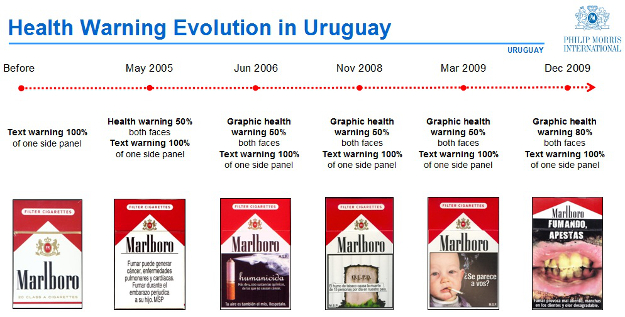 Phillip Morris filed a suit in 2010 over the labeling requirements, and they are seeking $25 million in damages, as well as the weakening of the labeling requirements. They argue that profits and their brand name are being severely damaged by Uruguay's anti-smoking campaign. It's being prosecuted through the International Centre for the Settlement of Investment Disputes (ICSID), which is funded and chaired by the president of the World Bank. ISDS are reported to be at the core of both the TPP and TTIP on a global scale, and if Uruguay were to win the suit against Phillip Morris, the "ramifications for TPP and TTIP enforcement, and the new global order the treaties represent would be far reaching."
Phillip Morris has an annual revenue of $80 billion compared to Uruguay's entire GDP which is $59 billion.
"The costs of defending these cases are enormous, so tobacco companies are trying to pick off lower-income countries that can't spend the money and political capital to defend themselves against industry." – Ellen R. Shaffer, co-director of the Center of Policy Analysis.
Uruguay has been receiving financial assistance to help with legal fees from Bloomberg Philanthropies which is headed by former New York Mayor, Michael Bloomberg. Bloomberg is known to be an avid anti-smoking crusader.
"They [Phillip Morris] are bullying us because we are small. This is like David and Goliath. But we will fight because it is our right and duty as a government to protect our citizens' health." – Silvina Echarte Acevedo, legal adviser heading the Uruguayan Ministry of Public Health's defense.
Should Uruguay win the suit, it could in theory help to put an end to the TTIP and TPP, and the envisioned transnational order. Unfortunately, it's a battle being fought on corporate grounds. As Truth-Out brings to attention, "the fact that a sovereign nation trying to protect the health of its people is being forced to defend itself in expensive litigation against the profiteering of a multinational corporation in front of a supranational World Bank tribunal is already far down the wrong path."
---
Sources:
Gilbert, Jonathan. Fortune. Jan 23, 2015. (http://fortune.com/2015/01/23/uruguay-jose-mujica-economy-capitalism/)
Klein, Dario, Shoichet, Catherine E., and Romo, Rafael. CNN. Dec 10, 2013. (http://www.cnn.com/2013/12/10/world/americas/uruguay-marijuana-legalization/index.html?iref=allsearch)
Meurer, Michael. Truth-Out. Dec 12, 2014. (http://truth-out.org/news/item/27932-uruguay-takes-on-london-bankers-marlboro-mad-men-and-the-tpp)