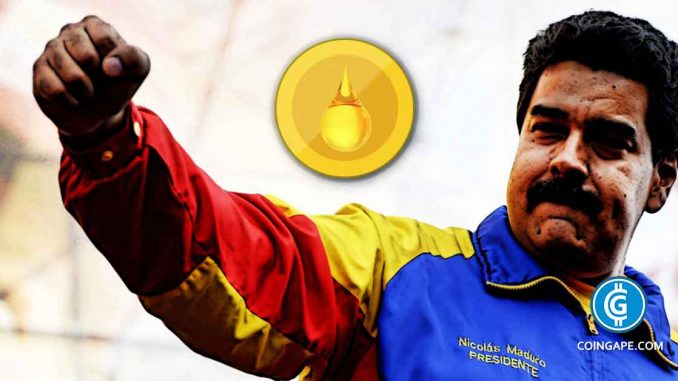 In a market flush with Bitcoin alternatives, cash-strapped Venezuela has decided to launch its own crypto coin- an alternative to its existing means of financing which is being strangled by sanctions imposed by the US and the EU.
The Venezuelan government just launched the official pre-sale of the token yesterday.
Opposition leaders have claimed that the petro is illegal, as the govt is effectively borrowing against the country's untapped reserves, violating laws that require congressional approval for govt borrowing. while media pundits express concern over whether the investment is nothing more than a Ponzi scheme. Unlike other cryptos, each petro will allegedly be backed by a single barrel of Venezuelan oil. A total of 100 million petros will be available from launch, and the Venezuelan govt expects to raise 6 billion dollars.
"Petro is born and we are going to have a total success for the welfare of Venezuela," said President Nicolas Maduro, according to teleSUR.
"The largest and most important companies and blockchain in the world are with Venezuela, we are going to sign agreements."
US Senators Marco Rubio and Robert Menedez have denounced the cryptocurrency, stating in an open letter to U.S. Treasury Secretary Steven Mnuchin that "it is imperative that the U.S. Treasury Department is equipped with tools and enforcement mechanisms to combat the use of cryptocurrency to evade U.S. sanctions in general, and in this case in particular."  Perhaps Venezuela will be the excuse used to formally regulate cryptocurrencies, though their concern would suggest that cryptos remain a potent means for "rogue" nations to circumvent the almighty US sanction.
Harry Colvin, director and senior economist at Longview Economics noted that there were substantial risks to be had when investing in the currency.
"Venezuela has been known for misappropriation of assets in the past and the central bank has just created hyperinflation so I imagine there'll be trust and transparency issues," he said to CNBC. Should President Maduro lose the election in April, "then petros would probably be made illegitimate" altogether.
From the petro website:
"The petro will be the foundation of a policy to promote development, infrastructure and training of young people in electronic mining, coding, cryptography, network security and economics 4.0, that will enable the exploitation of Venezuela and other developing countries' most valuable assets in a new world of transparent, deconcentrated and manipulation-free markets, all thanks to technology."