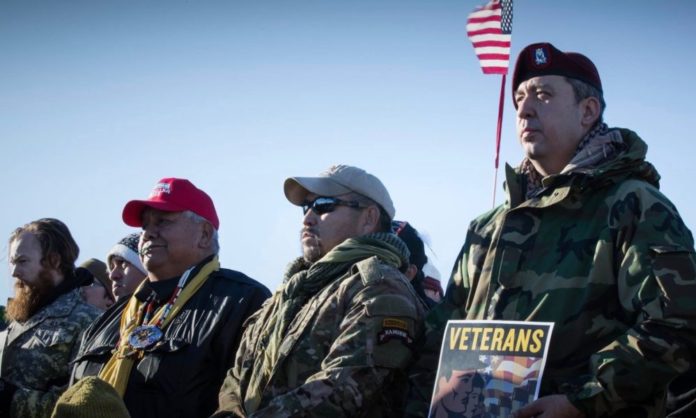 By Amanda Froelich at trueactivist.com
This is a clear sign that the fight between water protectors and law enforcement is far from over.
Since April of 2016, "water protectors" who oppose the construction of the four-state Dakota Access Pipeline (DAPL) have been camped out near Cannon Ball, ND. Even throughout the harsh winter, they've remained on the plains, as they maintain the belief that the land which the DAPL passes through rightfully belongs to the tribe due to an 1851 treaty. Activists also believe that its development may potentially contaminate the Missouri river and uproot sacred burial ground.
Throughout the summer and fall, thousands of people from across the nation and around the world flocked to North Dakota to stand in solidarity with the Standing Rock Sioux tribe. This list includes well-known actors and actresses, such as Chris Hemsworth, Mark Ruffalo, and Shailene Woodley. Until early December, tensions at the protest camps and nearby on the front lines only continued to increase. Mass arrests occurred, and many protestors were maced, hosed down with water canons in sub-freezing temperatures, and tased. Some were even shot with rubber bullets.
A dramatic change took place over the first weekend in December of 2016, when over 2,000 veterans arrived at the Standing Rock protest camps. The men and women explained that they felt what was being done to the indigenous peoples was an injustice and that they were willing to put their lives on the line for a cause they felt is worthy. On December 4th, the U.S. Army Corps denied an easement to the parent company of the DAPL, Energy Transfer Partners. The victory was celebrated by activists present and elsewhere. However, a statement by the company soon made it clear that the oil company had no intention of re-routing the pipeline. This news inspired hundreds of "water protectors" to remain behind, despite the plummeting temperatures and impending winter storms.
Since the easement was denied, the world has heard little of the protestors or the DAPL. Once again, that changed just days after Donald Trump became the new President of the United States. The business tycoon-turned-politician signed an executive order that will allow the corporation to finish drilling across the Missouri river. The lack of regard for the environment or the indigenous people has once again inspired veterans to return to North Dakota.
Reportedly, dozens if not hundreds of brave men and women are making plans to venture to the Sacred Stone camp to serve as human shields for those who are striving to preserve the Missouri River and its resources for future generations. Reportedly, they are hopeful that their presence makes it harder for police and government officials to try and remove hundreds of protesters who remain camped near the construction site.
Elizabeth Williams, a 34-year-old air force veteran, who arrived at Standing Rock last Friday, told The Guardian:
"We are prepared to put our bodies between Native elders and a privatized military force. We've stood in the face of fire before. We feel a responsibility to use the skills we have."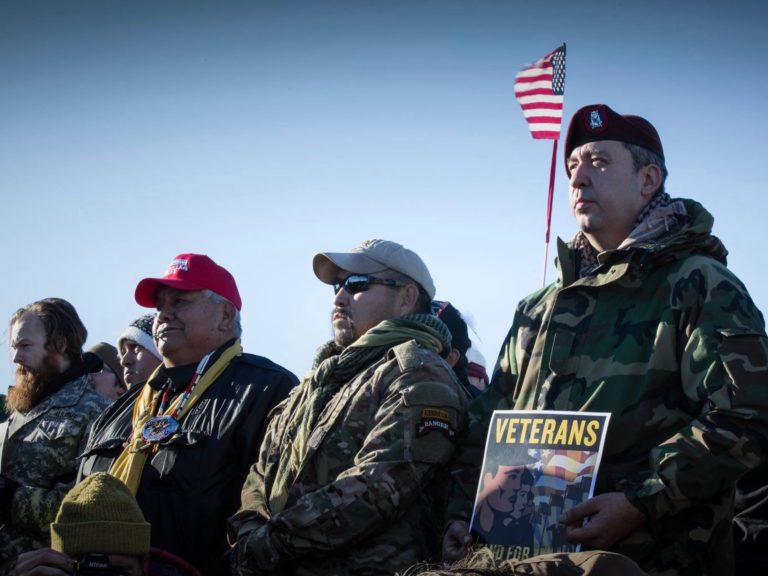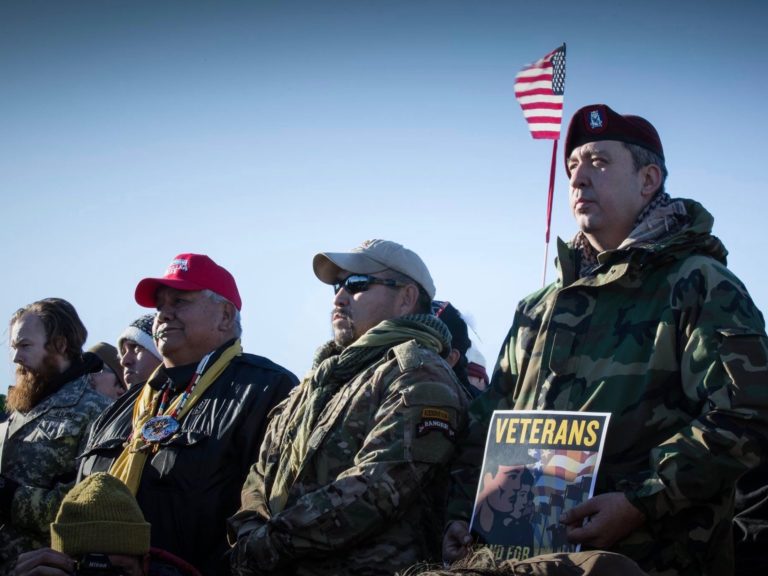 When veterans camped out at the site in December, many put their skills to use by performing a wide range of service, such as cleaning up the camp, volunteering in the kitchen, assisting as medical support, and protecting those on the front lines from police. They're prepared to do the same again.
"This is a humanitarian issue," said Matthew Crane, a US navy veteran.  "We're not going to stand by and let anybody get hurt."
For many veterans, the process of protecting those who are protesting something that affects all citizens has been deemed to be a "healing" process. This is because many regret their involvement in the Iraq war. Luker, a Vietnam vet from Boston, confirmed this when he said:
"This is the right war, right side. Finally, it's the US military coming on to Sioux land to help, for the first time in history, instead of coming on to Sioux land to kill natives."
32-year-old marine corps vet Jake Pogue added that he returned to North Dakota because he's worried about police escalating tactics. He explained:
"We're not coming as fighters, but as protectors. Our role in that situation would be to simply form a barrier between water protectors and the police force and try to take some of that abuse for them."
In December, the arrival of the veterans proved to be a game-changer. It remains to be seen whether or not their presence on the front lines will inspire a resolution to the ongoing conflict. 
What are your thoughts? Please comment below and share this news!
---
This article (Veterans Return To Standing Rock To Act As Human Shields Against Police) is free and open source. You have permission to republish this article under a Creative Commons license with attribution to the author and TrueActivist.com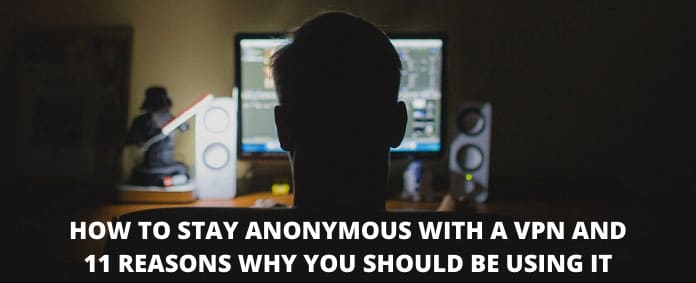 Get Your Anonymous T-Shirt / Sweatshirt / Hoodie / Tanktop, Smartphone or Tablet Cover or Mug In Our
Spreadshirt Shop
!
Click Here
Remove all ads by clicking here
" target="_blank">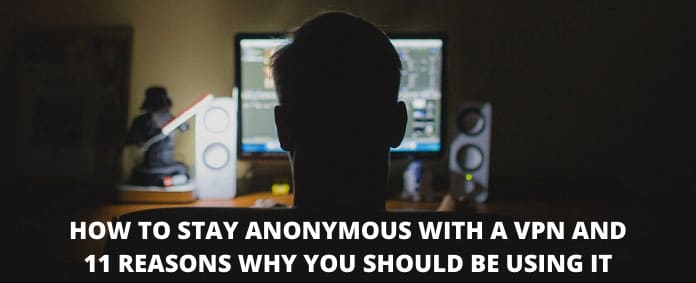 Get Your Anonymous T-Shirt / Sweatshirt / Hoodie / Tanktop, Smartphone or Tablet Cover or Mug In Our
Spreadshirt Shop
!
Click Here
Remove all ads by clicking here
[/eaa_ads]