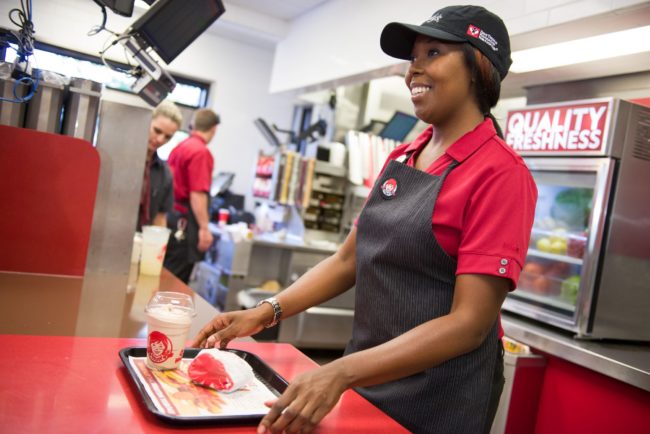 The fight for $15 per hour. The unintended consequences of raising the minimum wage are already beginning to take hold on several industries nationwide. In one of the most public moves combating wage increases to date, Wendy's fast food chain has announced plans to automatize cashiers at over 6,000 facilities nationwide by the end of 2016.
Though Wendy's made their decision official this past Thursday, Company CEO Emil Brolick hinted last August that the franchise might do just this. At the time Wendy's was debating laying off employees in favor autonomization, or increasing the prices on their menu. As Emil Brolick stated "our franchisees will likely look at the opportunity to reduce overall staff, look at the opportunity to certainly reduce hours and any other cost reduction opportunities, not just price. You know there are some people out there who naively say that these wages can simply be passed along in terms of price increases. I don't think that the average franchisee believes that."
Wendy's CFO Todd Penegor went on to add "We continue to look at initiatives and how we work to offset any impacts of future wage inflation through technology initiatives, whether that's customer self-order kiosks, whether that's automating more in the back of the house in the restaurant. You'll see a lot more coming on that front later this year from us."
Indeed they will. In an interview with Business Daily, Wendy's representatives noted how the company's 258 restaurants in California were struggling to keep up with the $10/hr wage demands, and similarly, the company's 200+ franchises in New York simply cant keep up with the cost of wage inflation. Last month these two states voted to impose a minimum wage increase to 15$ statewide – going into effect within the next several years.
This legislation, along with the growing support for "the fight for $15$" nationwide, was the deciding factor. Wendy's will now faze out cashiers at every location nationwide, in favor of self serve kiosks. The company also claims they will move forward with mobile phone ordering and mobile payment systems, which the company has been testing for the last several years.
Before you go ahead and call Wendy's just another evil corporation, here are some real world statistics to consider – imagine you were the owners of Wendy's. Wendy's makes a profit of $120 million dollars per year and employs 37,000 employees. This means if each employee worked 2,000 hours per year (38 hours a week), with a 1.62$ increase for each employee, the company would loose all $120 million in profits and break even. Again, this is with a small wage increase of 1.62$, never mind all the way up to 15$. At 15$/hr the company would bankrupt themselves. This is the problem of raising a minimum wage and a perfect example of the harm wage increases can cause to the work force, corporations and the economy all at the same time.
Sources: Business Daily, Breitbart, The Libertarian Republic
---
You want to support Anonymous Independent & Investigative News? Please, follow us on Twitter: Follow @AnonymousNewsHQ
---
This article (Wendy's to Autonomize Cashiers at 6,000 Locations to Fight Wage Increases) is free and open source. You have permission to republish this article using a creative commons license with attribution to the author and AnonHQ.   Join the conversations at www.anonboards.com
---