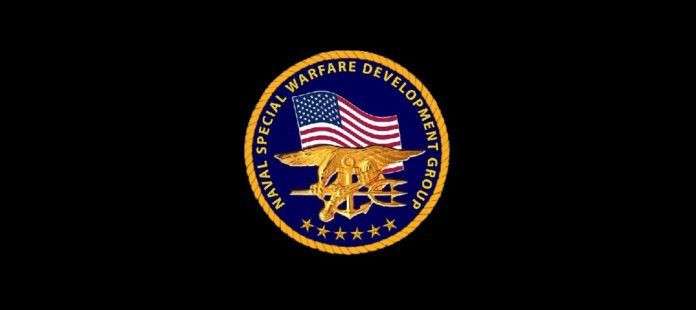 We've recently decided to take a closer look into "SEAL Team Six," the group of Navy SEALS who are reported to have taken out Osama Bin Laden in 2011. More to the point, we wanted to look into what has been happening to them.
The story is elaborate, so let's start from the beginning:
According to a report by ABC News, Bin Laden first escaped death in August of 1998. In December of 2001 Bin Laden was reported to have been killed at his mountain hideout in the Tora Bora region of Afghanistan, however these reports ended up being false.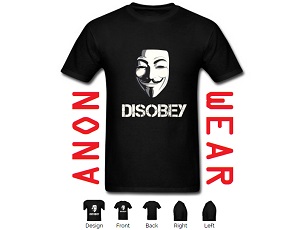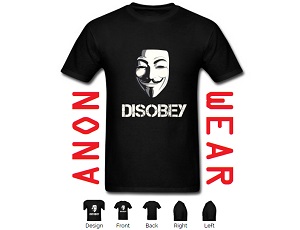 In this CNN report from January of 2002 it was stated that Bin Laden had most likely died of kidney disease, however it was later announced that these reports were false as well. Yet another report in 2006 surfaced claiming that Bin Laden had died of typhoid, and finally, on May 2nd, 2011 President Barack Obama announced to the nation that Bin Laden had been officially killed in an intense firefight at his compound in Abbottabad.
May 2nd, 2011
Immediately after President Obama's announcement, U.S. officials, in breach of military law, reported to the media that the legendary SEAL Team Six (which has officially been renamed the United States Naval Special Warfare Development Group, or DevGru) helped to conduct the operation. The New York Times reported that 79 people in total were on the assault team, but in the end, the success of the mission came down to around two dozen men who were able to make their way to Bin Laden's bedroom where he was shot.
During the operation, one of the helicopters that helped carry out the raid crashed. It is reported that there were no casualties. Pictured below is the tail-end of the craft that was draped over Bin Laden's compound wall.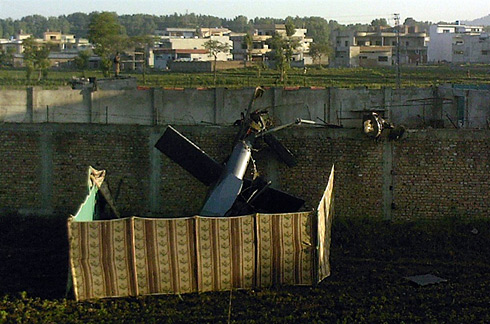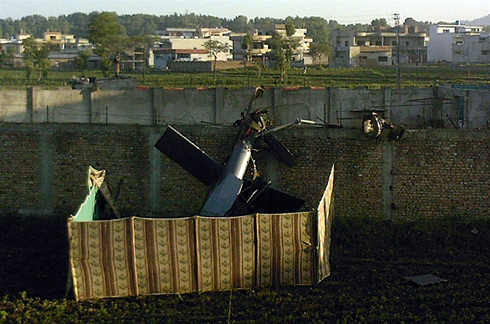 U.S. officials made it known that Bin Laden's body would be buried at sea in order to prevent his burial place from becoming a "terrorist shrine." This action caused suspicion around the world, and of course, the U.S. had a ready supply of answers for all the major questions asked. However, in 2012 Anonymous successfully attacked the servers of the Stratfor Intelligence Firm, releasing numerous emails on WikiLeaks indicating that Bin Laden's body most likely would not have been buried at sea, but that it would instead be taken to Dover, Delaware on a CIA plane, then onward to the Armed Forces Institute of Pathology in Bethesda, Maryland. While the emails obtained are very much real, the information contained within cannot be confirmed due to the fact it is a speculation made by Stratfor Intelligence.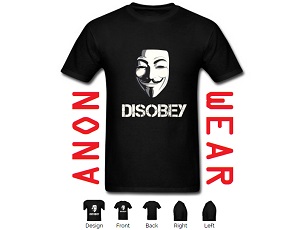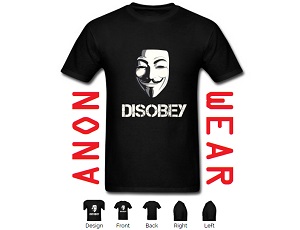 May 3rd, 2011
Although President Obama didn't name SEAL Team Six directly in his speech to the nation, as mentioned above, military officials had disclosed this fact to the media, which can be verified by reading over some of the articles that were published on the 2nd. Joe Biden confirmed the SEALS participation at the Atlantic Council's annual awards dinner that took place the next day.
"When we divulge national security information such as the identity of the organization that killed Osama bin Laden, we have now put all of those men, all of their families, everybody around them at some sort of risk." – Retired USMC Lt. Col. Bill Cowan
It was later reported by The Telegraph that U.S. Defense Secretary, Robert Gates, expressed concern for SEAL Team Six's safety, stating that security would be stepped up for the commandos.
May 5th, 2011
The Navy Times reports that the SEAL Team Six (DevGru) Squadron that assaulted Osama bin Laden's compound was the Red Squadron. SEAL Team Six is a "Tier 1" special unit, equivalent to the Army's 1st Special Forces Operational Detachment. It is separated by four line squadrons: Blue, Gold, Red, and the recently formed Silver Squadrons. There is also a strategic reconnaissance element named Black Squadron, however it's apparently in a class of its own. Red Squadron was chosen for the mission because it was readily available, and of the 50 or so operators in Red Squadron, about half were picked.
May 7th, 2011
In a report from Press TV, Mohammad Zia, a government official in Abbottabad, stated that the man killed at the compound was not Osama Bin Laden (7:40 into video):
Award winning investigative journalist and political writer, Seymour Hersh, has also stated that the U.S. lied about Bin Laden's death. According to Hersh's report, Bin Laden had been secretly held prisoner by the Pakistanis since 2006, and the Pakistani government helped the U.S. stage the raid on his compound. In the interview below, editor of Veterans Today, Mike Harris, claims that both the U.S. account and Hersh's account are wrong, that Bin Laden died in 2001 of kidney failure, which if true, would mean the previous reports of his kidney disease were accurate:
May 10th, 2011
RT reports that Bin Laden was already dead before the raid at his compound as well. This information apparently came from Iranian Intelligence Minister, Heydar Moslehi.
"We have credible information that Bin Laden died some time ago of a disease," Moslehi is reported to have said on the sidelines of a cabinet meeting, according to the ISNA (Iranian Students' News Agency).
"If the US Military and intelligence apparatus have really arrested or killed Bin Laden, why don't they show him [his body]? Why have they thrown his corpse into the sea?" Moslehi asked rhetorically in a FARS news agency report.
Moslehi believes the U.S. raid in Abbottabad was a "PR campaign" created to divert the American citizen's attention from domestic problems, such as the fragile state of the economy.
"We believe that what the U.S. is seeking, by dictated media programs, to overshadow the recent awakening in the region through the release of such reports," Moslehi was quoted as saying.
It should also be noted that bin Laden's death helped Obama in his second term election.
August 6, 2011
A Chinook helicopter carrying 38 people, including 22 U.S. Navy SEALS which mostly consisted of SEAL Team Six members, crashed in Afghanistan, killing everyone on board. The helicopter was reported to have been shot down by Afghan insurgents while it was on its way to provide back-up to troops on the ground. It was hit by a rocket-propelled grenade in an incident that has been described as a "target of opportunity" for the Taliban. The shot itself was also described as "blind luck" since an RPG's aim is highly inaccurate.


U.S. officials stated that they don't believe any of the Navy SEALS who died in the helicopter crash had participated in the raid at bin Laden's compound, and in fact, as stated earlier the SEAL Team Six squadron involved in the Bin Laden raid was from the Red Squadron. In this report from Navy Times:
"Of the 22 NSW [Navy Special Warfare] members killed, 17 were SEALs and five were direct support personnel, according to the source in the NSW community. Two of the SEALs were from a West Coast SEAL unit, but the others were from Gold Squadron of Naval Special Warfare Development Group, or DevGru, sometimes known as SEAL Team 6, said the NSW source."
This isn't necessarily a confirmation that none of the men involved in the crash were from the Bin Laden raid—the inner workings of SEAL Team Six, or DevGru, are kept secret, and the individual names of those who participated have not been released (those who personally released their identities for fame, glory, and financial gain aside).
In Related News – Special Operations: SEAL Team 6 Suspicions Confirmed
Nearly all early reports indicate that this was a different SEAL Team Six squadron, leading us to assume this was a different group of men altogether, however, in a 2013 WND Radio America interview with Larry Klayman, it was stated that Klayman is:
"…the attorney representing three families of Navy SEAL Team Six Special Forces members who were part of the Bin Laden raid in May of 2011, and were killed in a helicopter crash along with 26 others in August of 2011 in Afghanistan."
Family members of the fallen SEAL soldiers blame the U.S. government for releasing SEAL Team Six's involvement in the Bin Laden raid to begin with, as it made all members of the unit specific targets. Klayman also claims that the government pursues "policies that coddle Muslims and put our own troops at a tactical disadvantage."
In other news: Families Suspect SEAL Team 6 Crash Was Inside Job on Worst Day in Afghanistan
The Pentagon has provided family members with incomplete and contradictory information, according to Charles Strange, father of one of the killed soldiers, leading to even more questions. The family has demanded an investigation into the helicopter crash, and according to a 2013 article from The Hill, Congress did just that.
February 2014
The results of the "investigation" have been disappointing. In February of 2014, a House of Representatives committee heard testimony regarding the helicopter crash, by this time known as "Extortion 17." Family members were not permitted to speak directly to the committee, but were instead told to put their statements in writing, outlining how Extortion 17 has impacted their lives. In an article from The Examiner:
"Besides being denied the opportunity to make public statements, family members claimed nothing said during the hearing contradicted their strong suspicions that the Taliban terrorists were tipped off that SEAL Team 6 members were in the Chinook. They also claimed that SEAL Team members were targeted as revenge for killing terrorist icon Osama bin Laden, whom the SEALS located and killed only months before the Extortion 17 mission."
In other news: Member of SEAL Team 6 killed, another SEAL injured in parachute accident
Family members later commented that the committee was a farce. In a statement from Karen Vaughn, mother of one of the deceased:
"There was no one there to testify that had actual knowledge of the shoot-down," Mrs. Vaughn said. "Very little happened today. They asked softball questions of retired military personnel, none of which were in their positions at the time of the shoot-down of Extortion 17."
The family was again fed contradictions as the committee stated there was no black box in the CH-47, yet military investigators had initially stated that the black box had been washed away in a flash flood. The whole fiasco has been described as "grandstanding," not investigation.
"They clearly insinuated that those of us who have questions about this shoot-down have not dealt with our grief properly. It was that insulting," Mrs. Vaughn stated. "We got more conflicting stories." In another statement she said, "This was a pat on the back to shut up some parents who were questioning senior military leadership in the Obama administration. Nobody in power in this country really cares."
The suspicions surrounding Osama bin Laden's death and Extortion 17 are understandable when one takes a closer look at the big picture. With all the false reports of Bin Laden's death, it's no wonder people around the world have their doubts about the events at the compound, and for this reason alone the reports that he was not killed in the raid should be taken into consideration. Then when you add the strange fact that the U.S. government released no photos of the corpse and supposedly dumped his body in the ocean, the suspicion only grows.
Finally, there are the abnormal circumstances surrounding SEAL Team Six—the helicopter crash at Bin Laden's compound, the fact their role in the mission was (immediately) disclosed, the later helicopter crash and the mysteriously missing black box, the government's obvious lack of interest in the matter… It is to be expected that theories will abound, controversy will ensue, and the occasional conspiracy theory will surface, however, we leave you to your own deductions.
Get Your Anonymous T-Shirt / Sweatshirt / Hoodie / Tanktop, Smartphone or Tablet Cover or Mug In Our Spreadshirt Shop! Click Here
---
This Article (What is happening to the Bin Laden Killers, SEAL Team Six?) is free and open source. You have permission to republish this article under a Creative Commons license with attribution to the author and AnonHQ.com.
---
Sources:
ABCNEWS. ABC News. May 2, 2011. (http://blogs.abcnews.com/politicalpunch/2011/05/some-white-knuckle-moments-for-elite-navy-seals-team.html)
Before it's News. Mar 30, 2013. (http://beforeitsnews.com/strange/2013/03/why-are-all-the-seal-team-6-soldiers-that-killed-bin-laden-dying-2448076.html)
Brown, Ed. DCX Political. Dec 24, 2014. (http://dcxposed.com/2014/12/24/bin-laden-shooter-probed-leaks-obamabiden-betrayal-seal-team-6-still-overlooked/#comments)
Nal, Renee. Examiner. Jul 25, 2013. (http://www.examiner.com/list/six-lingering-questions-about-navy-seal-team-6-helicopter-crash)
Trader, Mark. The Market Oracle. May 9, 2011. (http://www.marketoracle.co.uk/Article28022.html)
Vuoto, Grace. World Tribune. May 30, 2013. (http://www.worldtribune.com/2013/05/30/what-happened-to-seal-team-six-the-most-serious-scandal-of-all/)
Vuoto, Grace. World Tribune. March 3, 2014. (http://www.worldtribune.com/2014/03/03/what-investigation-families-blast-hearing-on-navy-seal-team-six-crash-as-whitewash/)