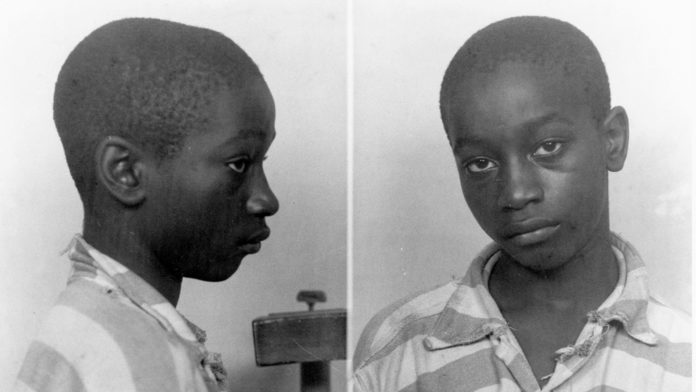 George Stinney Jr was 14 years old when he was convicted of murder and executed by the US state of South Carolina. Seventy years later, in 2014, his conviction was vacated.
During his trial, until the day of his execution, he always carried a bible in his hands, claiming for innocence.
The news was widely covered in the US media. It distressed many, with some taking to Facebook to tell Stinney's story.
No written confession exists
US fact-checking website Snopes looked into a similar Facebook post and found it to be mostly true.
In March 1944, the bodies of Betty Binnicker (11) and Mary Thames (7) were found in a ditch in the town of Alcalu, South Carolina. Stinney was arrested shortly afterwards and allegedly confessed to murdering the girls. But no written confession exists in the records today.
Stinney's trial was held in April 1944 with an all white male jury of 12 selected to decide his fate. It's understood that few or no witnesses were called by the defence and Stinney's lawyer, Charles Plowden, conducted little to no cross-examination.
The entire trial took no more than a day. "After 10 minutes of deliberation" the jury found Stinney guilty and sentenced him to death by electrocution.
Stinney was executed in June 1944. He was 14 years old.
Family approaches the courts
Stinney's surviving siblings later approached the courts for a writ of coram nobis, a "rare type of ruling whereby a court is presented with facts about an earlier case which, if known at the time, would have been so significant as to make the verdict unreliable or invalid", Snopes says.
When new facts emerge, a defendant typically brings a motion for a new trial. But when this isn't possible some US states use coram nobis instead.
In Stinney's case a new trial couldn't be held because the defendant and witnesses were dead, few documents from the original case had survived and physical evidence no longer existed.
Constitutional rights to due process violated
In 2014 Judge Carmen Mullen issued a writ of coram nobis and vacated Stinney's conviction. Mullen found that Stinney's constitutional right to due process had been violated on multiple grounds:
But vacating Stinney's conviction was not the same as proving him innocent, as the Facebook post claims. Mullen emphasised that she was granting the relief not because the judgment was necessarily wrong but because the courts violated Stinney's right to due process.
Youngest person executed in US in 20th century
Snopes found the claim that Stinney was the youngest person executed in the US in the 20th century to be accurate.
The Washington Post's History of the Juvenile Death Penalty does list 13-year-old Fortune Ferguson as the youngest person executed in the 20th century. He was convicted and sentenced to death for rape in 1923.
But a 1927 newspaper shows Ferguson's execution was delayed for four years. And his age at the time is in doubt.
That Stinney's family was forced to leave Alcolu after his arrest is also true. In a 2011 interview withNBC news, Stinney's brother Charles remembers having to leave "that same night". During the 2014 trial, Stinney's siblings also testified that they were forced to leave town immediately, "fearful that locals would seek violent revenge" against them.
'Such a small boy'
Whether Stinney always had a bible in his hands is unproven. But Snopes says several newsarticles from 1944 reported that Stinney brought a bible into the execution room.
Lastly, the current applied to Stinney's body (not only his head) during his execution was 4,300 volts, not far off from the "5,380 volts" claimed in the Facebook post. This is according to a 1944 newspaper article by the Columbia Record.
Charles Kelly, whose father was a cleric at the South Carolina State Penitentiary and witnessed 34 executions, includes an excerpt from the article in his book Next Stop, Eternity.
It reads: "Young Stinney was such a small boy that it was difficult to adjust the electrode to his right leg. After the first charge of 2,400 volts was sent coursing through his body, the death mask slipped from his face and his eyes were open when two additional shots of 1,400 and 500 volts followed." – Cayley Clifford (23/05/19)