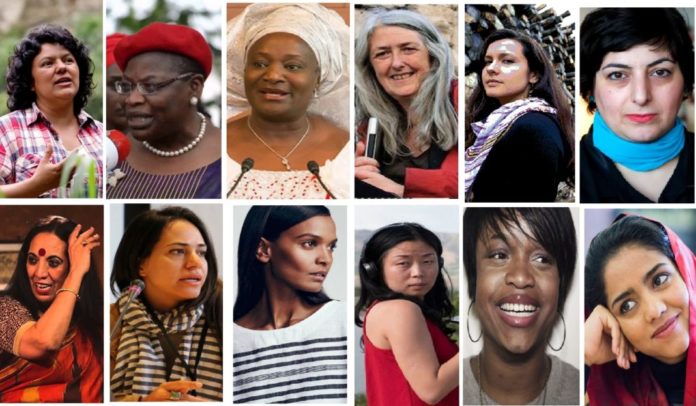 By Brianna Acuesta at trueactivist.com
These women are changing the world as we speak.
Women are typically at a disadvantage in nearly every country in the world, but just how much depends on that country's culture. For some, it's a struggle of equality in a variety of areas and for others it's the immense problem of barely being seen as a person, let alone someone with rights. That's why many women are facing these issues head on and working to make a huge difference in the world as we know it.
Though many people hear about the female activists that made great strides to get their country to where it is today, people often don't know about today's activists. Read about the amazing women below to find out who is advocating for women and humanity around the world.
Asieh Amini: Honor Killings
Born in northern Iran, the region allowed women to own property, work on farms, and wield social power. Amini didn't see the true injustices that women in her country faced until she was working as a journalist and heard of young girls being sentenced to death, by being hanged or stoned, if they engaged in sex without being married, even if they had been raped.
She first advocated for a 19-year-old girl named Leyla who had the mental capacity of an 8-year-old and was repeatedly raped by family members throughout her life. She was sentenced to be stoned to death, but Amini took charge of the situation and pressured the presiding judge into releasing Leyla.
These "honor killings" take place because the honor held in the family is more important than a woman's life, whether she made the choice to have sex or was raped.
Amini has dedicated her life to fighting this horrific practice in her nation, despite the dangers she faces in doing so. She uses her literary background and passion to raise awareness and save the lives of women throughout the country. Though she advocates for this in Iran, she works from Norway because the death threats against her became so severe.
Rashmi Misra: Education in India
Many children, especially girls, are being left behind as the fastest-growing country in the world has failed to improve their system of education. India has not improved their infrastructure for schools, has a huge shortage of teachers, and most of their students drop out for various reasons.
Rashmi Misra was first struck by the irony of the educational system when she witnessed 5 young girls playing in a drain pipe by an IIT campus in 1985. While the institute worked to educate young adults, mostly men, these girls had no access to even a primary school education. She opened her home to these young children to help them learn and wound up helping 200,000 underprivileged children, youth, and women in Delhi, Mumbai, and Bangalore thus far.
She provides a rigorous education for children from poor families and her efforts have garnered international recognition. Her schools are now called Vidya Schools and one of their focuses is on empowering young girls and women by providing free education, lessons on entrepreneurial skills, microfinance, and other areas that are invaluable to a woman's livelihood and career.
Nanfu Wang and Ye Haiyan: Sexual violence in China
These two women go hand-in-hand as they worked together to expose cases of sexual violence that occurred in China and were swept under the rug because they involved powerful figures. Haiyan is called "Hooligan Sparrow," and Wang helped to visually document their work by filming a documentary.
As the government learned of their activist work, they were subjected to harassment, interrogations, and even imprisonment. But their findings forced them to question what was more important: revealing the truth to stop these injustices or protecting themselves by remaining quiet.
One case they worked on together was the reported sexual abuse of 6 elementary school girls by their school principal. Using secret recording devices, such as those in her glasses, Wang filmed an alarming number of undercover security agents on the streets placed there to prevent the activists from continuing on.
Despite these obstacles, Wang was able to leave the country with her smuggled footage to created the film Hooligan Sparrow, which exposes the injustices and has become a world-renowned documentary.
Safa al Ahmad: Free speech in Saudi Arabia
The number of restrictions that women face in Saudi Arabia is shocking, and for Safa al Ahmad these limitations are continuously made possible because the government-controlled media. She has famously said, "Facts are a special commodity in Saudi Arabia."
When the Arab Spring shook the nation, Al Ahmad illegally filmed the peaceful uprisings that took place in an effort to raise awareness about what was actually occurring in the nation. She had to smuggle the footage out in order to distribute "Saudi's Secret Uprising," but her work didn't stop there.
The lack of freedom of speech became so bad that teenagers were arrested and sentenced to death from posting on Facebook, and this is one reason that Al Ahmad continues to document the uprisings throughout the Middle East to advocate for freedom of speech and women's rights.
Despite receiving death threats both online and in-person as she returns to the ground to document the unrest, Safa has no plans of yielding.
Liya Kebede: Safe childbirth in Ethiopia
Everyday, over 800 women die from complications related to pregnancy and childbirth and another 30 are sent home from the hospital with long-term illnesses and injuries.
Supermodel Liya Kebede, who was born and raised in Ethiopia, had knowledge of the unsanitary and unsafe conditions mothers are subjected to when giving birth and decided to take action. She started her foundation, named after herself, after first becoming a WHO Goodwill Ambassador for Maternal, Newborn, and Child Health.
The foundation focuses on training healthcare professionals, mostly in Africa, to ensure safer births and to provide low-cost technology and community-based education programs. In one of the health centers that the foundation works with, successful hospital deliveries rose by 50% in 12 months.
Kebede has used her celebrity to further her goals for improving the health of women by writing for The Huffington Post and discussing her foundation when featured in Vogue and The Daily Beast. 
Brittany Packnett: Racial equality in the US
The U.S. has always faced issues in regards to racial equality, and the most recent attacks against the systematic suppression of black people involves police disproportionately shooting and killing unarmed black men.
In the fight for social justice, as instances of these shootings are being made more public through social media, Brittany Packnett has become a leader in the movement of demanding justice for these crimes and in improving impoverished black communities.
According to the Guardian, "She's a co-founder of We The Protestors and Campaign Zero, a platform to end police violence. She served on the Ferguson Commission, the President's Task Force on 21st Century Policing and builds culturally responsive educators at Teach For America."
Packnett's extensive background in addressing issues that people of color face makes her a force to be reckoned with, and she has even acknowledged that the conversations need to include black women and the LGBTQ community to make the movement for racial equality more effective.
Sonita Alizadeh: Child marriage in Afghanistan
When Sonita Alizadeh was 10 and living in Afghanistan, her parents attempted to sell her off as a bride, but the deal fell through when her family fled the Taliban instead and moved to Iran. Alizadeh has said that she was so young that she didn't understand what being married off even entailed.
At the age of 16, her parents attempted to sell her again because they wanted to raise $9,000 for her older brother to buy a bride. By selling Sonita, they figured they could get that money from whomever bought her. She had been self-educating herself and knew that this was not what she wanted, and instead rebelled and refused to move back to Afghanistan, where her parents were living.
Her outrage over child marriages manifested itself in a video she filmed of her rapping about the injustice. Titled "Brides for Sale," the song became immensely popular amongst women that faced this issue and attracted the attention of a U.S. nonprofit, who brought Sonita over to the states, where she now lives in Utah and attends school on a full scholarship.
She continues to write songs that are fiercely feminist and address the barriers that women face around the world. A documentary was made about her fight for gender equality, titled Sonita, and has been met with exceptionally good response.
Since 57% of Afghanistan's girls are married off before they are 19, Sonita's work has the potential to inspire women to stand up against child marriages and effect change in their nation.
Melina Laboucan-Massimo: Indigenous rights in Canada
In Canada, it's suspected that there are over 4,000 missing and murdered indigenous women whose cases were swept under the rug. The nation has long struggled with appropriately working with indigenous people to bring justice to these crimes and end the oppression of aboriginals.
Melina Laboucan-Massimo's sister was murdered, and when she was met with law enforcement officials who didn't care about the case, she took action. Her history of advocating for indigenous rights helped her take her activism to the next level as she fought against this horrible tragedy and her nation's inappropriate way of dealing with it.
Now she works as an advocate for the environmental and the cultural revitalization of indigenous people as well as an advocate for these missing and murdered indigenous women. Fortunately, Prime Minister Trudeau has now taken office after conservative Stephen Harper and has made this issue a priority to help aboriginal people going forward.
Laboucan-Massimo's work is far from over, but it's always great when the country an activist is working in gains an ally that is high up and ready to help.
Mary Beard: Internet harassment
Children, young adults, and women experience bullying and abuse on social media everyday and, since the Internet is such an open and lucrative space, it's difficult to stop it. Girls and women are faced with harassment more often because of sexist views that exist in every country, and that's what Mary Beard is trying to put an end to.
The scholar of classical literature is one of the many women who knows what it's like to be attacked online for her beliefs but is one of the few people who confronts the perpetrators. She says that the content of the messages is a "predictable menu of rape, bombing, murder, and so forth."
While most sit back and ignore or block the people sending hateful messages, she broadcasts the messages to shame the people so that they don't go unpunished. She also responds to them by trying to enlighten them and is surprisingly effective in her efforts.
Dubbed "The Troll Slayer" by The New Yorker, the profile hails her online activism as courageous, hilarious, and ingenious. Her troll slaying is making social media a safer place for women as she continues to combat and convert trolls into never trolling other women again.
Esther Ibanga: Women-led peaceful protests
Nigeria has been a place of perpetual periods of peace and conflict for several years because of the diverse ethnicities and religious groups that exist within the nation.
Esther Ibanga recognized this destructive pattern of tentative peace and war and realized that empowered women could stop this madness. As a Nigerian pastor, she has already defied social norms and was no stranger to feminist values and beliefs.
She started the Women Without Walls Initiative, which brings together women from a variety of backgrounds and trains them to make peace between their groups. By educating women and building conflict-resolution, mediation, and dialogues between warring parties, her goal is for ethno-religious violence to become a thing of the past and to create peace in the country.
Her efforts also focus on developing poor communities, aiding displaced persons, and empowering the youth. She has also continuously advocated for the "Bring Back Our Girls" campaign, which is listed in more detail below.
Obiageli Ezekwesili: #BringBackOurGirls
The "Bring Back Our Girls" campaign demands that the 230 girls that are still missing after being stolen by Boko Haram terrorists be returned to their families. The girls are suspected of being forced into marriages, rape, and conscription as suicide bombers.
Though a handful of girls were able to escape in the beginning, most of the 270+ girls taken in the mass abduction have not been recovered since they went missing in 2014. Obiageli Ezekwesili quickly mobilized the activists that followed her through grassroots efforts to bring attention to the issue, and the campaign garnered international attention.
Ezekwesili still works to bring the remaining girls home, and continues her work against corruption and social injustice. Her work within the government and as co-founder of Transparency International has helped to bring an end to corruption.
Berta Caceres: Environmental activism
Being an activist in any country is inherently dangerous, as that means going up against people of power with endless money and resources to keep activists quiet. In 2015, 185 environmental activists were murdered around the world for their opposition to destructive practices by industrial corporations, meaning their work is dangerous but necessary.
Berta Caceres was one of the people murdered in Honduras, as she used her voice to oppose the construction of a damn on indigenous land. Similar to what's happening with protests against the Dakota Access Pipeline in the U.S. right now, indigenous people opposed construction because it was unlawful and unnecessary.
Caceres' tireless work led her to be shot and killed in her own home. She ousted people with power for their involvement in the coup that led to the fall of democratic Honduras, including Hillary Clinton, and was killed for her efforts in exposing this injustice.
The activists' death has sparked more outrage towards the government and against destructive practices as they try to combat climate change.
What are your thoughts on these activists' work? Please share, like, and comment on this article!
---
This article (These 12 Female Activists Are Making The World A Better Place Right Now) is free and open source. You have permission to republish this article under a Creative Commons license with attribution to the author and TrueActivist.com