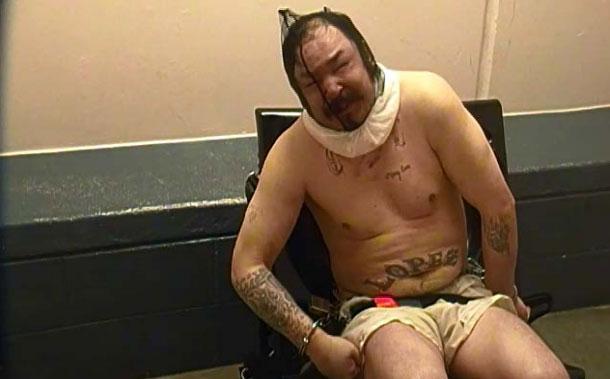 The Colorado Department of Corrections will award 3 million dollars to a mentally ill inmate's family after the inmate had passed away as both guards and nurses stood idly by, watching as his seizures killed him and doing nothing to help. The prisoner was Christopher Lopez, who suffered from bipolar schizophrenic disorder. He passed away at the San Carlos correctional facility in Pueblo, Colorado in March 2013.
His last six hours were captured by staff on camera as they laughed and joked while he shook from his seizures.
He had died of severe Hyponatremia, a condition brought about by low blood-sodium levels. The condition is treatable if medical aid is administered in time.
Below is some of the footage of the incident. Be warned that it is extremely disturbing. It shows Lopez lying face-down on his cell floor as guards (who apparently believed that he was intentionally refusing to respond to them) dragged him out, removed his clothing, chained him to a chair and placed a mask over his head.
They continued to watch his seizures, joking and talking to each other.
"I can see you breathing," Cheryl Neumeister, who worked there in the capacity of a mental health clinician, said to a very dead Lopez. He died in his underwear on the concrete floor.
The lawyer for Lopez's family, David Lane, said the man's death, "was caused by a mentality that the lives of prisoners are worthless," the Denver Post reported.
"Hopefully, this settlement sends a message not just to Colorado prison authorities but to prison and jail authorities all over the country that the human beings they incarcerate must be treated like human beings," he said.
Three prison employees were fired and five were disciplined. None were arrested.
The Department of Corrections stated that the employees' actions, "were well outside of the department's established training, policies and practices," AP reported.