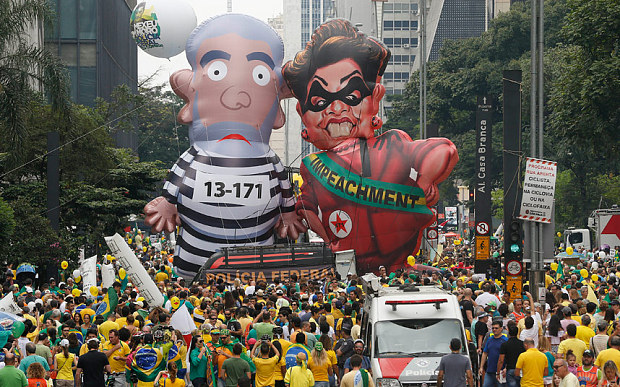 Sunday March 13th, witnessed what is being hailed as the largest political demonstrations ever, in Latin America's biggest country. Around 3.6 million Brazilians – 1.4 million in Sao Paulo and another million in Rio de Janeiro – took to the streets in 326 cities across Brazil demanding the resignation of President Dilma Rousseff, arrest of former President Luiz Inacio Lula da Silva, and an end to corruption.
Brazilians return to streets to call for Rousseff's exit #Brazil #protests https://t.co/v4o9ZdPHZY #VemPraRuaBrasil pic.twitter.com/7JM5GbHm45

— Wudson Paschoalino (@Wudson_) March 13, 2016
Many protesters wore the canary yellow shirts of the national football team, or draped themselves in the national flag. Others carried banners expressing anger at bribery scandals and economic woes.
"She's a horror. The Workers Party is a horror. They're a criminal organization that is robbing state resources. They are destroying our country. If Dilma goes, the currency will get stronger and confidence will return and people will start spending again," Paulo Rodriguez, a 53-year-old businessman, told The Guardian.
Record Brazil protests put Rousseff's future in doubt https://t.co/uP0c8DPUr6 pic.twitter.com/Zxnkv0TcyA

— Globe Video (@GlobeVideo) March 14, 2016
Sunday's historic protests were led predominantly by white, angry middle-class Brazilians. Poor Brazilians, who form the base of the ruling Workers' Party support, did not turn out in great numbers, however their support for Rousseff seems to have faded with rising unemployment and inflation.
"It's not just the rich. Everyone is suffering. Dilma is ruining the country. She has to go," said Claudia Brasilina, a house cleaner.
"I voted for Lula, but now I think he is a thief. People are angry. We've had it up to here. Dilma needs to fall so we can have a new government. Right now all we have is drift. It's hopeless," added Barbara Santos, a systems analyst.
"I want Dilma out, but we have a serious problem: There is no leader we can believe in. There is an impasse. We need a leader, a powerful leader, perhaps someone new," Liege Carrela, an architect, told Los Angeles Times.
Brazil, which will host the Summer Olympics in Rio de Janeiro this August, is in severe economic and political crisis. Brazil's economy contracted by 3.8% in 2015. Critics blame Rousseff for badly mismanaging the economy, spending lavishly on social programs, and for sinking the economy into its worst recession in more than three decades. Opinion polls show that more than half of Brazilians favor Rousseff's impeachment, who was re-elected for a second term in 2014.
Incidentally, on March 11, Rousseff rejected calls for her resignation and blamed her opponents for causing a crisis that has hurt the Brazilian economy.
"No one has the right to ask for the resignation of a legitimately elected president without showing proof that I violated the Constitution to warrant my impeachment. This wave of rumors is creating a political crisis that is absolutely negative for the economy."
She is still undeterred. In a statement released on Sunday night, Rousseff's spokesman said:
"The freedom to protest is characteristic of democracies and all must be respected. The peaceful nature of the demonstrations that took place on Sunday demonstrates the maturity of a country that knows how to live with divergent opinions and knows how to ensure respect for its laws and institutions."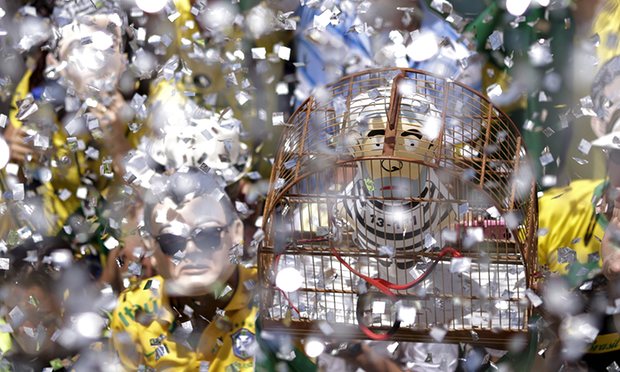 Protesters held signs and banners reading, "Dilma Out", "I want my country back", "Hunger for Change," and "Moro: Pride of Brazil," referring to the Federal Judge leading the "Car Wash" investigation into corruption at state-oil company Petrobras. Some protesters inflated a giant doll of Lula wearing a striped prison uniform and chained to a ball that read "Operation Car Wash." Others wore paper masks depicting Lula and Rousseff as gray-faced zombies. "At the very least, she is guilty of incompetence and arrogance," read one placard referring to Rousseff. "Dilma: Institutionalising Corruption 2010-2016," read another.
Operation Car Wash is a name given to an investigation launched in March 2014, into allegations that Brazil's biggest construction firms overcharged Petrobras for building contracts. According to BBC, part of their windfall were handed to Petrobras executives and Workers' Party politicians. Prosecutors alleged that Workers' Party partly financed its campaigns and expenses through these kickbacks.  Rousseff is expected to offer Lula, briefly detained on 4 March, as part of Operation Car Wash, a post in the cabinet, which would shield him from Federal Judge Sergio Moro's investigation into money-laundering charges filed by prosecutors.
The country's top electoral court is also investigating whether Rousseff illegally funded her re-election campaign in 2014. The corruption scandal has already strained Rousseff's ties with her main coalition partner, the Brazilian Democratic Movement Party (PMDB). If Rousseff is impeached by Congress, the leader of the PMDB, Vice-President Michel Temer, would take office.
---
This article (Over 3 Million Brazilians take to Streets Protesting against President Rousseff's Horror Government) is a free and open source. You have permission to republish this article under a Creative Commons license with attribution to the author and AnonHQ.com.