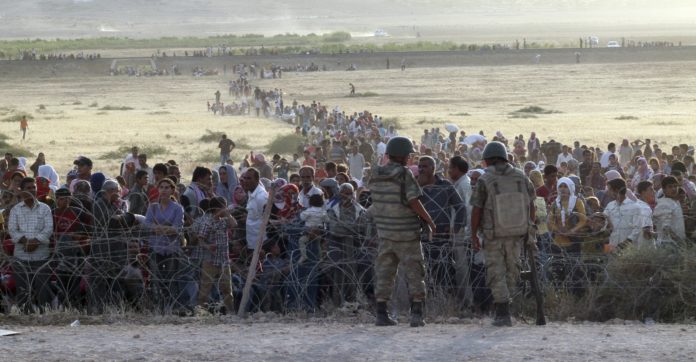 Amnesty International has written a report which claims that Turkey is abusing refugees, and then having them deported to war-torn Syria.
The report comes as a multi-billion dollar EU deal is set to award Turkey with additional funding for taking care of its "guests".
According to the report, "in mid to late 2015, political pressure from the EU on Turkey to halt irregular migration to Europe grew, and the two parties signed a migration agreement on 29 November 2015. During the period leading up to and after the signing of the agreement, the Turkish authorities began detaining and deporting refugees and asylum-seekers on a scale not previously seen."
"Irrefutable evidence shows that the Turkish authorities are detaining some of the most vulnerable people in their jurisdiction, including children, in a manner more akin to kidnapping than a lawful detention regime".
Refugees "have been held in prolonged detention, denied all communication with the outside world and in some cases forcibly returned to Syria and Iraq, in violation of Turkish and international law."
Titled "Europe's Gatekeeper", the Amnesty International report claims that the Turkish government sends refugees to remote detention centers where they are abused, before being deported to Iraq and Syria.
The report notes that "despite the restrictions imposed on them by the detaining authorities… refugees and asylum-seekers managed to provide a wealth of supporting evidence to indicate the fact and location of their detention".
"…they were cut off from the outside world, with all phones confiscated and visits from lawyers and family members denied...  violates international law as well as Turkey's Law on Foreigners and International Protection, which stipulates that family members and lawyers must be given access to detainees."
Amnesty claims that some of the money will be used to fund more of such "isolated detention centers where [refugees] have been held incommunicado."
"It is shocking that EU money is being used to fund an unlawful detention and return programme. The EU must ensure that its funding and migration cooperation with Turkey promotes rather than undermines the rights of refugees and migrants," concludes the report.
The report alleges several cases of abuse:
"one Syrian man, who contacted Amnesty International from the detention place he had been transferred to after Erzurum, said he had been beaten by several police officers in the Edirne Removal Centre. Another person interviewed separately said she heard him and 10 other men being beaten from another room and subsequently saw their injuries."
"A 40-year old Syrian man said that in Erzurum Removal Centre he was confined to a room alone for seven days at some point between late September and late November, with his hands and feet bound together. He told researchers: "When they put a chain over your hands and legs, you feel like a slave, like you are not a human being." Pointing to a label his friend had brought from Erzurum Removal Centre indicating the 85% funding by the EU, he said: "Under this label, we have been tortured"
"Three women – two Syrian and one Moroccan – told Amnesty International that upon arrival at the Erzurum Removal Centre, all the women were stripsearched."
According to Amnesty,  refugees with young children and even children as young as three were forced to "voluntarily" return to war:
"A 23-year old Syrian woman from Hama was typical of what refugees told Amnesty International; while being detained in Düziçi, the authorities told her: "Go back to Syria or stay in jail; these are your options.""
"A Syrian woman from Idlib who was detained in Düziçi with her four children (aged 12, 10, 8 and 3), said she was ordered to sign a voluntary return agreement in Turkish, which she could not understand. According to her the authorities said: "We will not translate it. If you refuse to sign, you must stay here.""
"… explained that some detainees in Erzurum Removal Centre were physically forced to put their fingerprints to a document."
" A 23-year old Syrian man said that he was part of a group in Erzurum in which a three year old child was forced to provide his fingerprints as evidence of his consent to return to Syria."
Amnesty has documented over 100 cases where refugees were forcibly sent to detention centers, before being abused by Turkish forces. Many were then returned to the active "warzones" they had originally fled from. According to Amnesty, armed groups have abducted a number of these deportees.
Amnesty believes that the number of documented cases represent but a fraction of the real number of cases.
Turkey, for its part, has received some 2.2 million Syrian refugees- the highest number of any other nation.
Turkey will also receive 3.2 billion dollars of aid if they can restrict the flow of migrants to Europe. It has also been promised the easing of visa restrictions on its citizens' travel through the EU, and the "unfreezing" of its bid for EU membership.
Sources: DW, Amnesty International, Al Jazeera
---
This Article (Amnesty International: Refugees Abducted, Abused And Forced To Return To War-Torn Syria) is free and open source. You have permission to republish this article under a Creative Commons license with attribution to the author(CoNN) and AnonHQ.com.