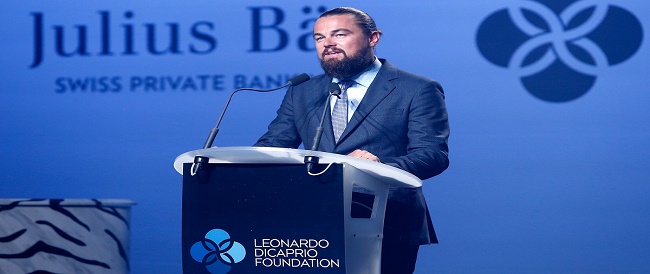 Leonardo DiCaprio is worried about the current situation of environmental emissions. The dedicated environmentalist, while being honored for his philanthropic work at the World Economic Forum in Davos, spoke highly of the recent progress that's been made in the fight against climate change, but stressed the work that still needs be done.
"Last month in Paris, world leaders reached an historic agreement that provides a concrete framework to reduce carbon emissions," he said. "This was an important first step, but we are a long way off from claiming victory in this fight for our future – for the survival of our planet."
DiCaprio pointed to the elimination of fossil fuels as the next big step to be taken, urging business leaders to leave behind "corporate greed" in the oil industry and instead focus on the betterment of the planet.
"We simply cannot afford to allow the corporate greed of the coal, oil and gas industries to determine the future of humanity. Those entities with a financial interest in preserving this destructive system have denied, and even covered-up the evidence of our changing climate," he said. "Enough is enough. You know better. The world knows better. History will place the blame for this devastation squarely at their feet."
He continued: "Our planet cannot be saved unless we leave fossil fuels in the ground where they belong. Twenty years ago, we described this problem as an addiction. Today, we possess the means to end this reliance."
Speaking on DiCaprio's dedication to the cause, a friend of the actor's told PEOPLE, "This is something close to his heart. He truly cares about this." The Leonardo DiCaprio foundation, recently announced another $15 million to environmental projects. Leo's charity also announced new partnerships with different environmental groups that focus on conservation and sustainability around the world.
DiCaprio stressed that though there is good progress being made, there is much to be done in the future. "The challenge before us requires each and every one of us to take action. We owe this to ourselves, but more importantly to the future generations who are counting on us.