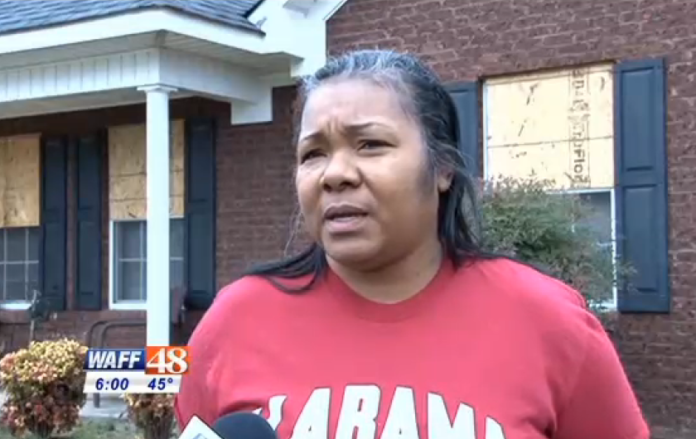 Limestone County resident, Terry Turner, was celebrating the New Year with her granddaughter when a series of crashes at the front of her house shocked her. Three of her front room's windows were broken by heavy rocks. The vandals tried to terrorize her further by spray-painting "MOVE NIGGER NOW" on the garage door in her driveway.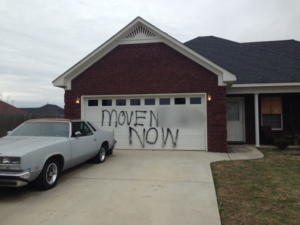 Turner told WAFF, "This is my home. I'm free to live wherever I want to live. I'm not going anywhere at all."
"Racism is something that's taught. When you get two babies in a room, a black baby and a white baby, they don't know nothing about that until they're taught," she added.
Turner told reporters she has lived there for eight years and has endured people driving by her home and yelling racial slurs at her and her family. But she never thought it would get this bad.
The old grandmother, however, doesn't despise those who attacked her home. "I don't hate whoever did this. I just don't understand it. For people to just be hated because of the color of their skin is unacceptable," Turner told WHNT News.
Limestone County Sheriff, Mike Blakely, couldn't determine what motivated the vandals to target the home, so the police are treating the incident as criminal mischief and not as a hate crime.
However, Huntsville NAACP leader, Alice Sams, believed this was a hate crime. "It is really frightening to think that someone would come onto your property and write hate words. This is 2015," said Sams.
Some of Turner's neighbors stepped up in order to show that she was not alone. One Good Samaritan dropped by with a $50 gift card to help with restoration efforts. Hilary Gould, another neighbor, launched a GoFundMe page to raise funds to repair the home of Terry Turner and has so far raised $950.
Source:
http://mic.com/articles/107692/what-s-the-state-of-racism-in-america-just-ask-this-alabama-grandmother