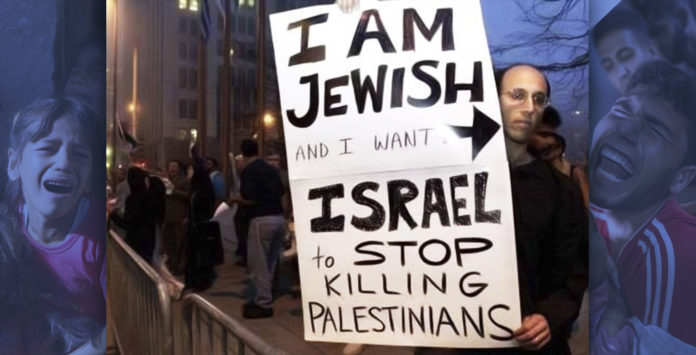 By Michaela Whitton at theantimedia.org
A series of protests across the United States has resulted in the arrests of over twenty Jewish anti-occupation activists. Last week's demonstrations in Boston, Washington D.C., Chicago, New York City, andBerkeley coincided with the Jewish festival of Passover and saw hundreds of young Jews demonstrating outside major institutions. Across the country, they demanded an end to the American-Jewish establishment's support of Israel's oppression of Palestinians.
Following a similar format in each region, a series of "Liberation Seders" was part of a national week of actions that expressed increasing frustration with Israel's brutal human rights violations. The Passover Seder feast is an important ritual in the Jewish calendar that celebrates the liberation of the ancient Hebrews in Egypt.
Ironically, during a festival celebrating freedom from slavery, the acts of civil disobedience demanding liberation for all saw 23 of the protesters handcuffed for their troubles. Seventeen activists were arrested at the New York office of the Anti-Defamation League (ADL) after preparing a Seder feast on the floor and singing Hebrew songs of resistance. Another six were arrested after chaining themselves to a symbolic Seder table at AIPAC's Boston office.
The protests were organised by IfNotNow, an emerging movement of young American Jews demanding freedom and dignity for Israelis and Palestinians. Founded by Simone Zimmerman — recently suspended by the Sanders campaign two days after being hired as a Jewish outreach coordinator — the movement is awakening the consciences of American Jews and mobilizing them to fight systemic, unquestioning support for Israel.
Birthed during Operation Protective Edge — Israel's assault on Gaza in 2014 that claimed over 2000 Palestinian lives — IfNotNow began when young American Jews united in horror at the offensive. Organising sit-ins and protests in a dozen cities across the U.S., their demands at the time included a halt to the war in Gaza, an end to the occupation, and freedom and dignity for all.
Since then, the vibrant and diverse community has grown rapidly and is open to anyone who seeks an end to American-Jewish support for the occupation. With no unified stance on Boycott, Divest, Sanctions (BDS), Zionism — or the question of  statehood — the relatively diverse members claim they prefer to focus on issues that unite them.
The IfNotNow website states:
"We will be the generation that ends our community's support for the occupation. Today the Jewish community is faced with a choice. Will we leave our tradition in the hands of out-of-touch leaders or will we fight for a vibrant, liberated Jewish community that supports freedom and dignity for all Israelis and Palestinians?"
Also pushing for a long overdue shift in public opinion, the movement encourages the examination of frequently touted narratives on Palestine — where one group's theology has become another group's bondage. A refrain used by activists and often seen at demonstrations is "Dayenu," meaning "that's enough."
The group's logo is inspired by the burning bush, which they claim symbolizes their generation's call to leadership in the Jewish community. According to the volunteers, just as Moses was commanded to return to Egypt to fight for the liberation of his people, so they are called to take responsibility for the future of their community.
"We know the liberation of our Jewish community is bound up in the liberation of all people, particularly those in Israel and Palestine," the emerging movement writes.
As a response to the demonstration, the activists were invited to a meeting with the ADL to discuss "shared goals." In a press statement responding to the invitation, the activists were frank. With a polite 'Thanks, but no thanks,' they said they can no longer stomach endless negotiations with the establishment about what they are allowed to say about Israel's denial of Palestinian rights.
They added:
"We appreciate the ADL's offer for a meeting and recognition that we are, in fact, part of the Jewish community. However, we are looking for meaningful action and real moral leadership from our communal institutions – not just opportunities for dialogue or empty rhetoric. We are committed to building a Jewish community that acts in accordance with the fundamental values of freedom and equality we were taught to admire."
In addition, the Jewish activists were adamant they will continue taking action until Jewish establishment leaders admit Israel's occupation of Palestine is a moral crisis for the Jewish community — and takes steps to address it.
---
This article (American Jews Fighting To End Establishment Support for Israel) is free and open source. You have permission to republish this article under a Creative Commons license with attribution to Michaela Whitton andtheAntiMedia.org. Anti-Media Radio airs weeknights at 11pm Eastern/8pm Pacific. If you spot a typo, email[email protected].