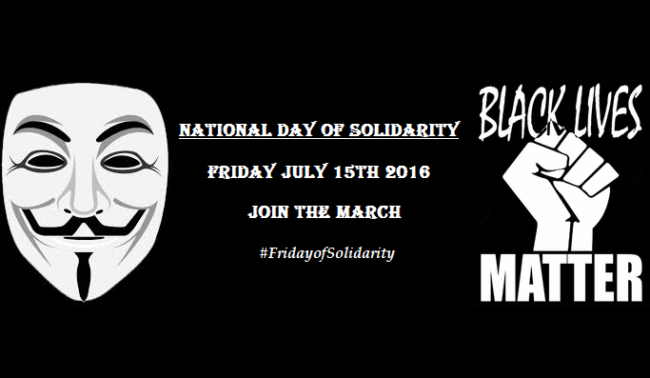 In light of recent events in our country, activists of all types are coming together to spread a message of unity and togetherness. Regardless if you support Black Lives Matter or not, encouraging people to come together is much more important right now.
Like it or not, race; corruption and social injustice are at the forefront of our nation. We have one of two choices to make at this moment in history. We can come together and work out our differences or we can continue to fight one another and drive society further apart. We can be united in hope of building a better future or we can be divided in fear and hate. We do have a choice!
For those of you who believe society is not hopeless, that we can make this world a better place, a national protest is scheduled for July 15, 2016 in major cities across the country. Anonymous is calling on the collective, anyone who has marched before or who has ever supported the Million Mask March to step forward and show your support now.
N A T I O N W I D E     C A L L    T O    A C T I O N  ===   J U L Y   1 5   2 0 1 6
 7PM ET, 6PM CT, 5PM MT, 4PM PT
 Phoenix: 5:00PM (EASTLAKE PARK, 1549 E Jefferson St , Phoenix, AZ 85034)
Tuscon: 5:00PM (CATALINA PARK, 900 N 4th Avenue, Tucson, AZ 85705)
Little Rock: 6:00PM (OUTSIDE STATE CAPITOL BUILDING, Dr Martin Luther King Jr Dr., Little Rock, AR 72201)
San Francisco: 4:00PM (CIVIC CENTER PLAZA, 355 Mcallister St, San Francisco, California 94102)
Oakland: 4:00PM (FRANK OGAWA PLAZA, 1 Frank H Ogawa Plaza, Oakland, CA 94612)
Los Angeles: 4:00PM (LEIMERT PLAZA PARK, 4395 Leimert Blvd., Los Angeles, CA 90008)
Denver: 5:00PM (CIVIC CENTER PARK, 100 W 14th Ave Pkwy, Denver, Colorado 80204)
Washington DC: 7:00PM (OUTSIDE WHITE HOUSE, 1600 Pennsylvania Ave NW, Washington, DC 20500)
Atlanta: 7:00PM (OLD DECATUR COURTHOUSE, 101 E Court Sq, Decatur, GA 30030)
Tampa: 7:00PM (OUTSIDE HILLSBOROUGH COURTHOUSE, 800 E Twiggs St, Tampa, FL)
Orlando: 7:00PM (LAKE EOLA PARK, 195 N Rosalind Ave, Orlando, Florida 32801)
Miami: 7:00PM (GWEN CHERRY PARK, NW 71 St., Miami, Florida, 33147)
Chicago: 6:00PM (RICHARD J DALEY CENTER, 50 W Washington St, Chicago, Illinois 60602)
Des Moines: 6:00PM (IOWA STATE CAPITOL, 1007 E Grand Ave, Des Moines, IA 50319)
New Orleans: 6:00PM (LAFAYETTE SQUARE, New Orleans, LA 70130)
Baltimore: 7:00PM (201 E Pratt St, Baltimore, MD 21202)
Boston: 7:00PM (MASSACHUSETTS STATE HOUSE, 24 Beacon St, Boston, MA 01233)
Detroit: 7:00PM (Campus Martius Park, Detroit, Michigan 48226)
Lansing: 7:00PM (STATE CAPITOL BUILDING, Capitol Avenue at Michigan Avenue, Lansing, MI 48933)
Ann Arbor: 7:00PM (THE DIAG, Burns Park, Ann Arbor, MI 48109)
Minneapolis: 6:00PM (MINNEAPOLIS URBAN LEAGUE, 2100 Plymouth Ave N, Minneapolis, MN 55411
St. Louis: 6:00PM (GATEWAY ARCH, St. Louis 63102)
Carson City: 4:00PM (NEVADA STATE CAPITOL BUILDING, 101 N Carson St, Carson City, Nevada 89701)
Manhattan, NY: 7:00PM (TIMES SQUARE, Manhattan, NY, 10036)
Newark: 7:00PM (NEWARK CITY HALL, 920 Broad Street, Newark, New Jersey 07102)
Durham: 7:00PM (200 E. Main St. Durham, North Carolina)
Columbus: 7:00PM (GOODALE PARK, Columbus, Ohio 43215)
Cleveland: 7:00PM (CLEVELAND PUBLIC LIBRARY, 325 Superior Ave E, Cleveland, Ohio 44114)
Portland: 4:00PM (PIONEER COURTHOUSE SQUARE, 701 SW 6th Ave, Portland, Oregon 97204)
Philadelphia: 7:00PM (LOVE PARK, 1599 John F Kennedy Blvd, Philadelphia, Pennsylvania 19102)
Pittsburgh: 7:00PM (PITTSBURGH CITY-COUNTY BUILDING, 414 Grant St, Pittsburgh, Pennsylvania 15219)
Nashville: 6:00PM (801 Broadway Nashville, TN 37203 Estes Kefauver Federal Building)
Memphis: 6:00PM (Health Sciences Park Memphis, TN)
Austin: 6:00PM (TEXAS STATE CAPITOL, Outside South Gate-11th and Congress Ave.)
Salt Lake City: 5:00PM (SALT LAKE CITY COMMUNITY COLLEGE, 4600 S Redwood Rd, Salt Lake City, Utah 84123)
Seattle: 4:00PM (QUEEN ANNE BAPTIST CHURCH, 2011 1st Ave N, Seattle, Washington 98109)
Milwaukee: 5:00PM (DINEEN PARK, Milwaukee, Wisconsin)
Original Press Release: http://pastebin.com/t51y8x8c
Read More -Anonymous #OpBlackFlare: http://anonhq.com/anonymous-joi/
---
You want to support Anonymous Independent & Investigative News? Please, follow us on Twitter: Follow @AnonymousNewsHQ
---
This article (Anonymous & Black Lives Matter Conjoin for National Day of Solidarity) is a free and open source. You have permission to republish this article using a creative commons license with attribution to the author and AnonHQ. Join the conversations at www.anonboards.com.
---