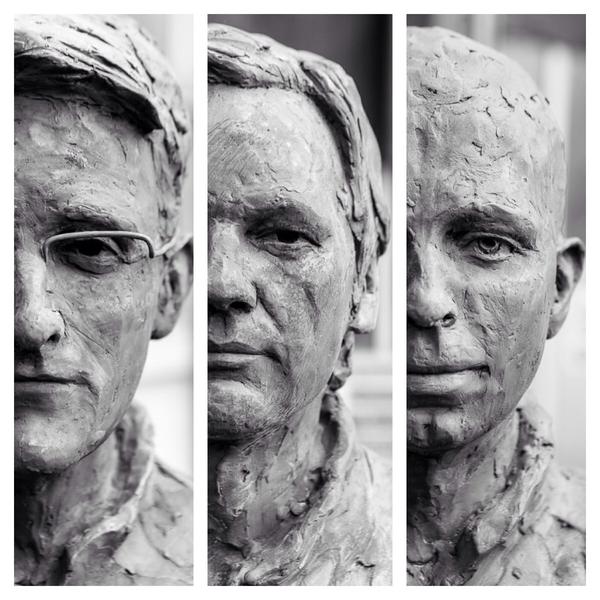 Finally, Edward Snowden, Chelsea Manning and Jullian Assange get the recognition that they deserve; immortalized in bronze, in the same way that any hero worthy of memory had been in the past.
The three sculptures were on display outside of the UN Human Rights Council in Geneva Switzerland from the 14th to 18th of September, parts of an artwork called "Anything To Say?" and depicted the three whistle-blowers standing on chairs. A fourth empty chair allowed anybody who dared to stand next to these men and say… whatever they wanted, really.
"They have lost their freedom for the truth, so they remind us how important it is to know the truth," the artworks creator, Italian sculptor Davide Dormino said.
The fourth chair is open to anyone here in Berlin who wants to get up and say anything they want," Dormino told Deutsche Welle, upon initially unveiling the statue in Berlin's Alexanderplatz Square.
People are saying many different things. From politics to babbling to silence, from people who desperately are wanting to help Julian, Bradley and Edward to people who have no idea who they are. This chair is, I guess, a place of free speech
The statue pays homage to three who said no to war, to the lies that lead to war and to the intrusion into private life that helps to perpetuate war"
Not everyone has taken kindly to the statues… It seems some "Government Agents"… I mean "Provocateurs"… I mean "Hooligans" have decided to vandalize the bronze statues. The picture below was posted by the Facebook page of the artwork yesterday on the 26th of September, while they were on display in Beaubourg, Paris.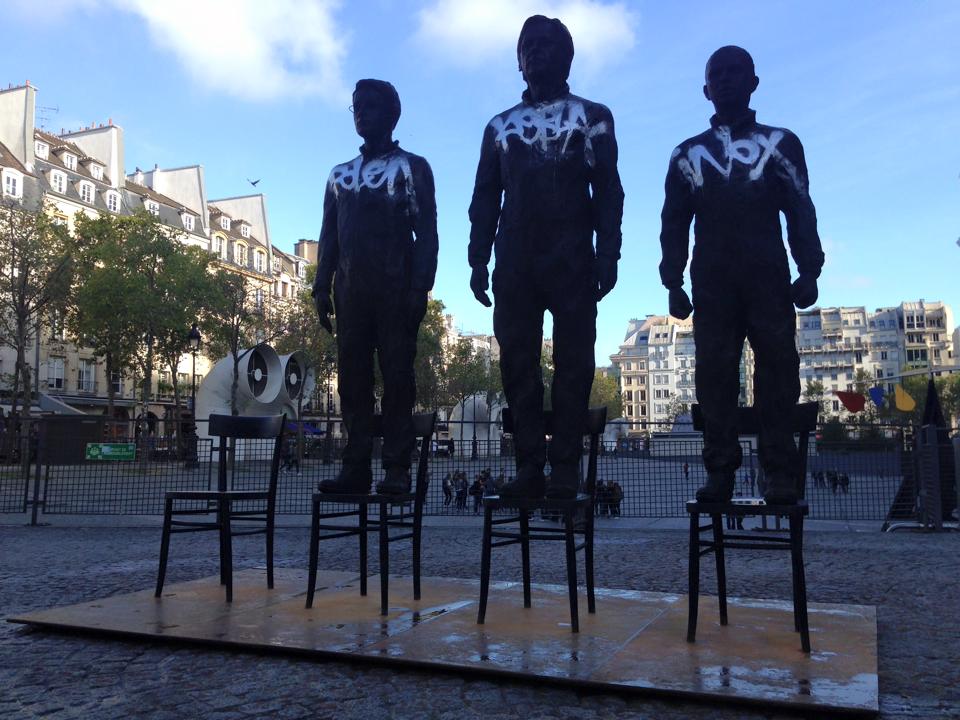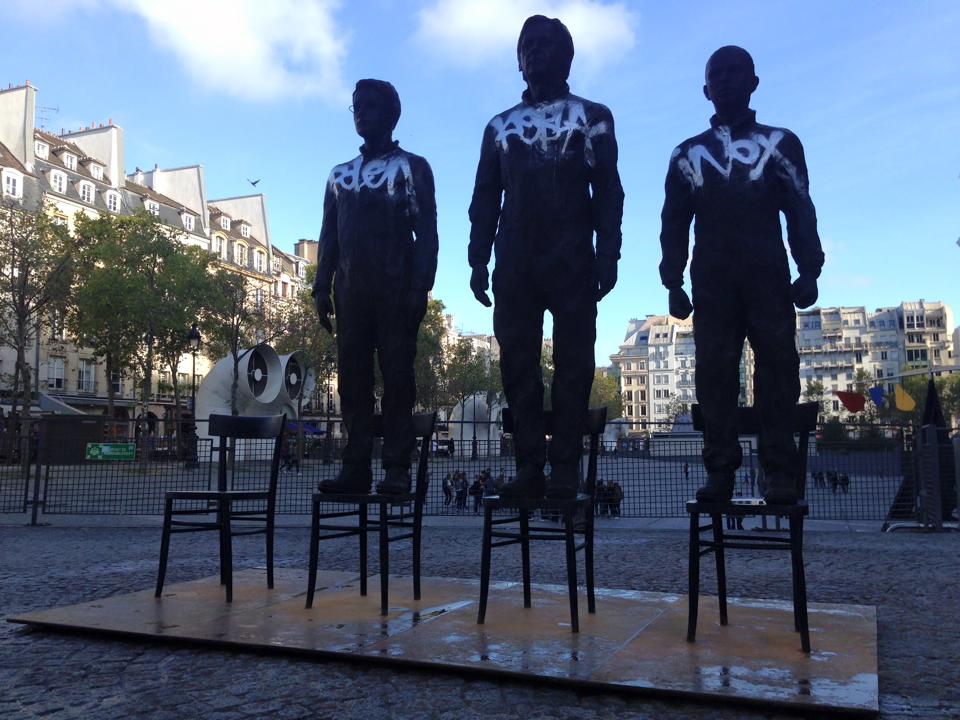 It is disgraceful how some fools fail to understand the significance of this artwork… As a symbol for whistle-blowers and honest people everywhere, these three statues would rally the People and perhaps teach some kids from an early age that SOMETIMES standing up for what's right gets remembered, inspiring us all to take that chance to stop the plans of the elite…
Or perhaps, some fools understand it all too well. Thankfully spray paint can be easily removed with a bit of acetone. The stain in the hearts of those who did this, however, shall remain for quite a bit longer.
Sources: Free Thought Project, RT, DIY Budget Girl
---
This Article (Artwork Immortalizing Edward Snowden, Chelsea Manning and Jullian Assange  VANDALISED) is free and open source. You have permission to republish this article under a Creative Commons license with attribution to the author(CoNN) and AnonHQ.com.