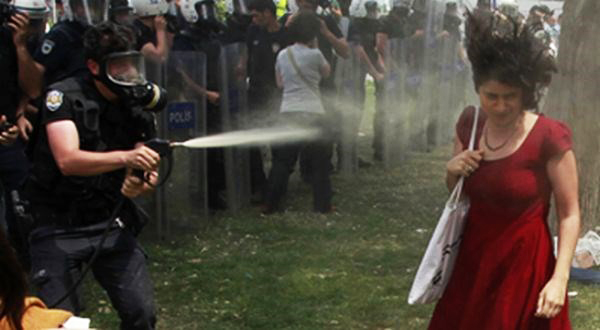 To show solidarity and concern for Baltimore in the wake of the police brutal killing of Freddie Gray, cities across the United States held protests to voice their displeasure about the recent spate of police brutalities against the black community.
To date, several videos have been published that depicted police using brutal force against peaceful protesters… but what happened in Denver is appalling and unacceptable.  A 12-year-old child who was participating in a very peaceful protest was pepper sprayed by police, while others too suffered gross abuses. When all these events transpired, an observer recorded them and later uploaded the video to the internet to show the nature of police brutality in the US today.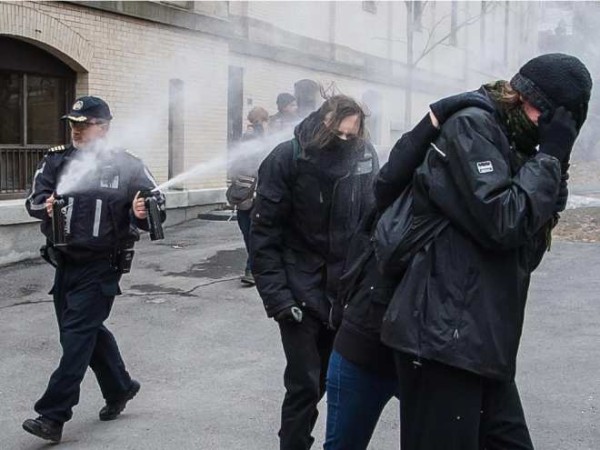 "You can see a woman get taken down by cops as they swarm in and grab someone else and then pepper spray me in the face. Cops were trying to ram protesters with motorcycles, and people of color are specifically targeted. I don't know who the street medics were that gave me an eye wash but I'm glad they were there. Most of all, many thanks to Amber Olson for shepherding me to safety so I could put out the fires in my eyes. Somehow after all that, I feel more love than ever for my local activist community and people taking to the streets everywhere to protest police injustice. Don't stop! #blacklivesmatter #acab #solidaritywithbaltimore," a protester, who also suffered the pepper spray, was quoted as saying.
An activist, who saw the also event, told The Free Thought Project that, "The people who are just trying to get out and voice their concerns were pepper sprayed while videotaping an African-American woman being placed in an Eric Garner-style choke hold."
The Denver Police Department (DPD) has a very long history of violence according to statistics available. The DPD recently gained attention for the killing of Naeschylus Carter, also known as Naeschylus Vinzant, an unarmed man killed by the same DPD that arrested James Holmes. Holmes had shot and killed 12 people, injuring over 80 more with automatic weapon and explosives, but the DPD was able to arrest him — alive.
In the midst of all these brutalities against peaceful protesters, some so-called commentators saw no wrong with the police action and took to social media to defend these brutal actions,
One popular commentator in the Denver area, Courtney Miller, wrote, "I completely condone their acts because they are worried for their lives."
"I have to "disagree" (not sure of the right word…) that the protestors were peaceful. They sounded very angry and were saying not peaceful things to the police officers. They weren't being physically violent, but they weren't being peaceful either. Isn't this what it's all about? People saying things or not listening and bad things happening because of that? I'm sure people will be pissed for me saying this but HONESTLY, the words that were being said were disrespectful and not peaceful at all. If I told a police officer to "F*CK OFF" of course I'd expect some reaction from them," another commentator, Mindy Heimer, wrote.
But the 'fuck off' phrase only came from protesters after they had been subjected to brutal abuses and maltreatment. The problem with the country is that a lot of people are hypocrites. Look at the pace at which unarmed black men are being killed. That one, people see no wrong with that, but they see wrong when people rise up to demand fair treatment and justice?
SOURCE:
http://thefreethoughtproject.com/denver-police-department-set-stifiling-protests-pepper-sprayed-12-year/
---
You want to discuss a certain topic with likeminded people or you want to organize a local protest or you have an idea for a project that can help people in need in your local community or all around the world? Join our forum! www.anonboards.com
---
You want to support Anonymous Independent & Investigative News? Please, follow us on Twitter: Follow @AnonymousNewsHQ
---