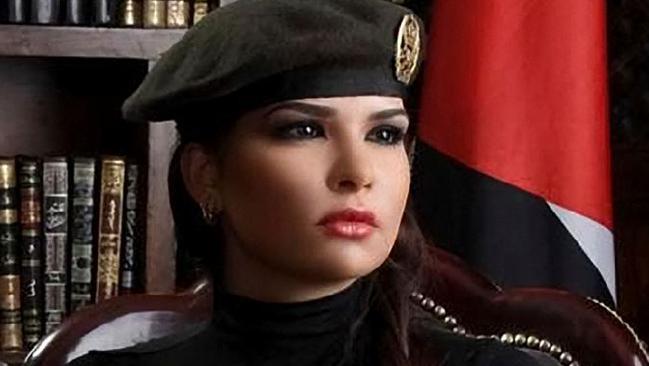 To fight the Islamic State, 33-year-old Lara Abdallat, the 2010 Miss Jordan and first runner-up to Miss Arab 2011, has joined Ghost Security, an online hacktivist group that deals with the US government [read the FBI or CIA] through their intermediary Kronos Advisory Group.
In July, she was part of GhostSec a group of anonymous hackers that claimed to have hit two critical ISIS web platforms that managed ISIS online communication channels across the region.
@j4cob we fight such extremists,people who use disgusting ways of killing such as the photos that I will post now (3) pic.twitter.com/knZUepRZOP

— Larochka (@LARA_ABDALLAT) June 25, 2015
انا بحبك يا ابو حسين #ABH #الاردني_يحب_ابوحسين pic.twitter.com/9GRIYKQ0ev

— Larochka (@LARA_ABDALLAT) July 8, 2015
In November Abdallat, who is responsible for identifying and targeting ISIS social media accounts by perusing the Deep Web and the Darknet, moved to Ghost Security – a small group of activists with counter-terrorism experience. The group claims to operate like spies rather than hackers and reports ISIS' online activities to authorities instead of taking their social media accounts down.
The stated mission of Ghost Security is to "eliminate the online presence of Islamic extremist groups such as Islamic State, Al-Qaeda, Al-Nusra, Boko Haram and Al-Shabaab in an effort to stymie their recruitment and limit their ability to organise international terrorist efforts".
Abdallat said one immediate result of collaborating with their intermediary, intelligence professional Michael Smith from Kronos Advisory Group, was thwarting an impending attack in Tunisia.  "Everyone realized that while we were capturing accurate threat data, it was useless without ground assets to act on our information. Our executive director DigitaShadow has been working with US counterterrorism officials for several months and it has opened many doors for us, we are now able to influence real world actions on the battlefield," Abdallat told Vocativ.
Our respect goes out to @MichaelSSmithII for assisting us in taking the war to the Islamic State. #GhostSecGroup pic.twitter.com/3o8AdPvnHx

— Ghost Security Group (@GhostSecGroup) November 25, 2015
Abdallat told Mic:
"It's about saving lives, dear: I don't care if they are Muslim, Christian, Jewish, Buddhist. I don't care. I don't care what skin color you are. It's about protecting people. Souls were born free. Who are you to kill? Islam is a peaceful religion. Nothing in it says we should take souls. A soul is something very precious.
"All of [Ghost Security] respect the Islamic religion. And they're fighting against any vandalism against the image of Islam [on the Internet]. We're locating a lot of the Islamic State's websites and Facebook or Twitter [accounts] or blogs. We can locate and target [them], and we work on closing them down because they share terroristic information."
Ghost Security is an online counterterrorism squad, unaffiliated with Anonymous, which works closely with US government agencies to wear down ISIS' online presence. The original GhostSec still shuts down ISIS accounts or DDoSes them as a way to expose and dismantle ISIS.
I took some time to write a story, enjoy #GhostSec@WauchulaGhost@D3ad3y3sGhost@DinarGhost@LamerLand@_Ransackerpic.twitter.com/kDVTFz1Wa2

— TorReaper – Official (@TorReaper) November 2, 2015
For Abdallat, Anonymous would "always be a part of my extended family", but the changes were a "dream come true". "Having Ghost Security Group evolve from their original collective was a huge thing for me. More like watching your baby grow in front of your eyes and become mature, essential and successful," she said.
This Group Spies on #ISIS Rather Than Exposing Twitter Handles | https://t.co/Oei2P1toXD #GhostSecGroup #Terrorism pic.twitter.com/vOAjOcRYEM

— HackRead (@HackRead) November 24, 2015
DigitaShadow added, "We find threat data on social media and cryptomessaging platforms for the day-to-day, and he's our bridge, he lets the U.S. government know what's going on, so that they can prevent attacks. Essentially we have the data, they have the guns on the ground and can make the arrests. The main thing is just getting away from that hacktivist image. We were at one time associated with Anonymous, but we had to step away from them. Focusing on counter-terrorism requires structure."
---
This Article (Beauty Queen-Turned Hacktivist Joins US Government To Bring Down ISIS Online) is free and open source. You have permission to republish this article under a Creative Commons license with attribution to the author and AnonHQ.com.