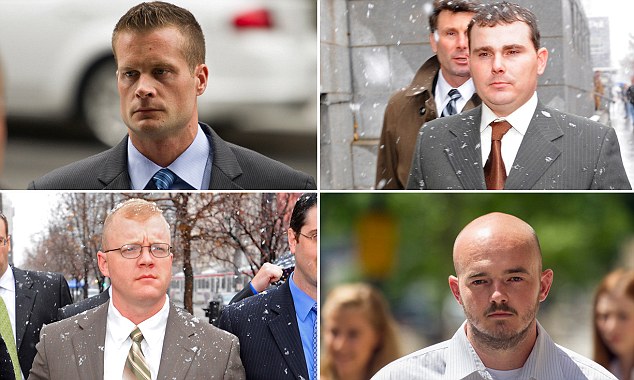 In a rare pronouncement of justice, last year four former employees of the US security company Blackwater have been convicted of almost every charge related to the shootings of more than 30 unarmed Iraqi civilians in Baghdad, some seven years prior.
The jury in Washington had pronounced Nicholas Slatten guilty of first-degree murder, and the three other ex-security guards – Paul Slough, Evan Liberty and Dustin Heard – were convicted of committing multiple counts of voluntary manslaughter. The trial centered on the killing of 14 Iraqis, and the wounding of 17 others. The four men were charged with a combined 33 counts in the shootings.
This month, Nicholas Slatten received a life sentence for murder. He was found to have fired the first shot, killing an Iraqi medical student driving with his mother, a dermatologist. Their car caught fire, and a grisly photograph of their charred remains was shown in court. The three others were sentenced to a mandatory 30 years in prison for using automatic weapons to commit a felony, plus one day for underlying manslaughter and attempted manslaughter convictions.
Slatten denied firing the shot, blaming instead one of the government witnesses in the case, Blackwater guard Jeremy Ridgeway, who had pleaded guilty to killing an unarmed Iraqi mother sitting in the passenger seat of a car driven by her son, for which he awaits sentencing. "I could not and did not kill your son," said Slatten in response to the distraught mother. He claims that black-tipped bullets used by another contractor and not by him were responsible. Slough said the mandatory sentence he faced was "a perversion of justice."
"Give me justice," a defiant Slatten demanded of U.S. District Judge Royce Lamberth. He got his wish, as Lambeth handed him a life sentence.
"I fully support the jury's verdict," he said. "Good luck to you, Mr. Slatten." Bada$$.
Three siblings of a 9-year-old killed during the gunfire wore T-shirts in memory of their brother, Ali Kinani. Ali's father, Mohammed spoke against Blackwater. He said he was ironically pleased when the U.S. invaded Iraq in 2003, and had even distributed cake to celebrate.
Despite the scorn of his neighbors, his young son, he said, would eagerly approach U.S. troops and posed for pictures.
"President George W. Bush, he promised to make my country free, but Blackwater broke his mission," he said. "A lot of American soldiers died for what Blackwater did."
Kinani said the security firm "is like the house of Saddam Hussein … they say whatever they want, kill whoever" and that the U.S. government gave the company too long a leash.
However, I actually think that it was no accident that Black Water was given a license maim, kill and abduct. It's a perfectly Machiavellian strategy to suppress a people, and then blame the very men you had tasked to suppress them… Regardless, hopefully we'll see future convictions along this line, and maybe that Bush museum can get shut down…. among other things. The men who pull the strings are more guilty than their puppets.
---
You want to support Anonymous Independent & Investigative News? Please, follow us on Twitter: Follow @AnonymousNewsHQ
---