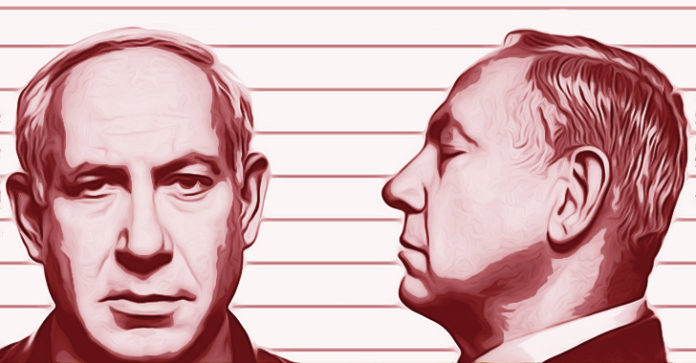 Written by Michaela Whitton at theantimedia.org
United Kingdom — How do you feel about war criminals? How about your government rubbing shoulders with them? What would you say about them receiving red carpet treatment and being wined and dined by your leaders?
The British government is not only preparing to shake the bloodied hands of Egyptian president Abdel Fattah al-Sisi, but has added insult to injury with the dizzying announcement that Benjamin Netanyahu—the man behind the slaughter of over 2,000 civilians in Gaza last year—is coming to town.
And the British people are not happy. In fact, they're so unhappy that a petition demanding the arrest of the Israeli prime minister on his arrival in the U.K. next month went viral in a matter of days. The petition, entitled"Benjamin Netanyahu to be arrested for war crimes when he arrives in London," has already gained over 40,000 signatures.
Under British law, the government must respond to petitions that receive over 10,000 signatures. At 100,000 signatures, the issue must be considered for debate by the U.K Parliament.
According to Israeli media, Arutz Sheva, a spokesman for the British Embassy in Israel, said, "According to British law, foreign heads of state enjoy immunity from the legal process, and cannot be arrested or detained."
"Immunity from the legal process?" Maybe the spokesperson or those still clinging to the myth that the Israel Defense Force is "the most moral army in the world" would do well to watch Black Friday, a short film by Amnesty International.
The film pieces together a picture of the deadliest day of last years' horrific attack on Gaza and shows that one year ago, the IDF almost certainly committed war crimes during the indiscriminate bombing of the city of Rafah. Over 135 Palestinian civilians were killed—including 75 children—during the implementation of Israel's so-called "Hannibal Directive" after the kidnapping of Lt. Hadar Goldin.
Amnesty's painstaking forensic research is almost impossible to refute and explains why campaigners continue to insist that instead of being given the royal treatment, Netanyahu should be taken straight to a war crimes tribunal in handcuffs.
---
This article (Call For Netanyahu's Arrest For War Crimes Goes Viral) is free and open source. You have permission to republish this article under a Creative Commons license with attribution to Michaela Whitton andtheAntiMedia.org. Anti-Media Radio airs weeknights at 11pm Eastern/8pm Pacific. If you spot a typo, email[email protected].
Michaela Whitton joined Anti-Media as its first journalist abroad in May of 2015. Her topics of interest include human rights, conflict, the Middle East, Palestine, and Israel. Born and residing in the United Kingdom, she is also a photographer. Learn more about Whitton here!