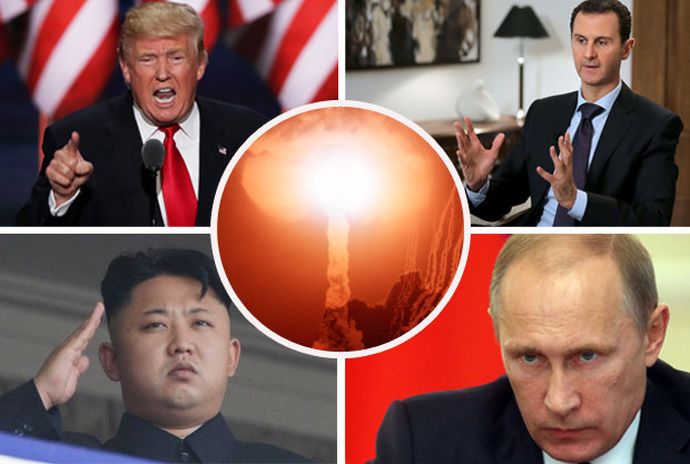 "If You Can't Hear the Drums of War You Must be Deaf" — Henry Kissinger
Remember the 'Nostradamus from the Balkans', Baba Vanga (Vangelia) Pandeva, a blind mystic who correctly predicted the 9/11 attacks, the rise of Islamic State, the 2004 tsunami, and the 44th U.S. president? She also predicted the 2010 Arab Spring, the conflict in Syria, the Brexit referendum, and 'Vladimir' engineering Russia's return to global superpower — before her death in 1996.
Now, Horacio Villegas, a self-styled "messenger of God" and "supernatural being" — who predicted Donald Trump would win the U.S. election way back in 2015, has done similar. After prophesying Trump would become the "Illuminati King" who will bring the world into World War III by bringing Russia, North Korea, and China into the conflict in Syria before it occurred — Villegas has told Daily Star Online that nuclear war/World War III will break out on May 13.
"It [D-Day] will fall on the 100th anniversary of the visitation of Our Lady of Fatima — the Virgin Mary, mother of Jesus — which is May 13. It is said Our Lady visited a village in Portugal on six occasions, and on her last visitation on October 13, 1917, she announced: "The war is going to end, and the soldiers will soon return to their homes". The WWII ended the next year.
"The main message that people need to know in order be prepared is that between May 13 and October 13 2017, this war will occur and be over with much devastation, shock and death! Before that day, however, a major false flag will take place that will be very, very devastating.
"This occasion — which sees attacks carried out to spark conflicts based on false information — will take place between April 13 and May 13… and Syria, North Korea will also be involved."
Villegas backs his predictions with those made by Nostradamus, who forecast: "Mabus will soon die, and then will come, a horrible undoing of people and animals; at once one will see vengeance, one hundred powers, thirst, famine, when the comet will pass."
The Mabus of our times, Villegas believes, is the president of Syria: "If Assad is bombed and killed, this could very much fulfill this prophecy because afterwards all hell would break loose."
The chilling revelation comes amid rising tensions between the U.S., North Korea, and Russia over Syria. It also comes at a time of reports documenting North Korea's warning of a "super-mighty preemptive strike" that would reduce the U.S. military forces in South Korea and the U.S. mainland to ashes; and amid Russia threatening "real war with the U.S. in Syria." It also comes amid a biblical prophecy claiming the world will end once Syria's capital city Damascus is destroyed.
Whoa. Proof here. Planned and executed by #Trump and #Bannon NOT #Assad. NOT #Putin. All to start #WWIII https://t.co/P5WyZR5GJF

— Official NotMyPres. (@officialnmp) April 20, 2017
Chillingly, one of his eerie predictions appears to have already come true. Villegas warned Trump would attack Syria, which he did by launching 59 Tomahawk missiles at a Syrian airbase on April 6. His subsequent predictions must not come true:
"North Korea will be next on the USA's hit-list. Russia is already being baited into war through Syria, just as the Zionists were seeking, and China will be baited through North Korea."
I have great confidence that China will properly deal with North Korea. If they are unable to do so, the U.S., with its allies, will! U.S.A.

— Donald J. Trump (@realDonaldTrump) April 13, 2017
---
This article (Chilling: Mystic Who Predicted Trump's Win Warns World War III Will Start on May 13) is a free and open source. You have permission to republish this article under a Creative Commons license with attribution to the author and AnonHQ.com.
---
Supporting Anonymous' Independent & Investigative News is important to us. Please, follow us on Twitter: Follow @AnonymousNewsHQ