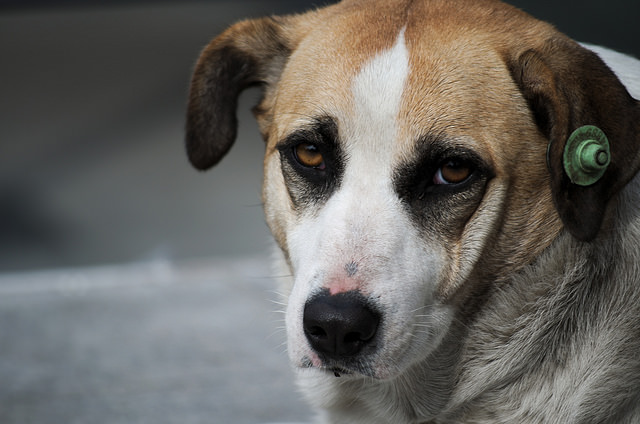 China's annual dog meat festival has officially begun, sparking outrage among animal activist and international bodies.
The Lychee and Dog Meat Festival, commonly referred to as Yulin Dog Meat Festival, is held annually in Yulin, Guangxi, China, during the summer solstice. It is estimated that around 10,000 cats and dogs will be killed and eaten during the 10-day-long festival, which see people gathering to sample dog meat hotpot, lychee fruits and local liquor.
According to the local government, the festival is staged by private businesses and receives no official backing.  Although the Yulin Dog Meat Festival is relatively new, eating dog meat is a long held tradition that dates back around 500 years in China, South Korea and other countries. In these countries, it is believed that eating dog meat wards off the heat in summer months.
Despite commonly being household pets, selling and consuming dog meat is legal in China. Every year, around 10 million dog are killed and eaten within the country. However, despite the long-held traditions the festival represents, the festival has faced an increased amount of domestic and international opposition.
Although it is claimed that the animals a treated and killed humanely, critics say the dogs are sometimes beaten to death or cooked while still alive. Before meeting their gruesome end, the dogs are transported and kept in small, overcrowded and unsanitary cages, were they are denied food or water for days.
In some of the many photographs captured during the festival, some of the dogs are seen wearing collars, an indication that some of the dogs may be stolen pets.
Despit the festival being a source of pride for many local businesses and visitors, it appears the majority of people with in the country do not support the annual event. According to a poll published this week in state news agency Xinhua, 64% of people aged 16 to 50 would support a permanent end to the festival; 51.7% , including Yulin residents, wanted the dog meat trade banned completely; and 69.5% claimed they have never eaten dog meat.
"It's embarrassing to us that the world wrongly believes that the brutally cruel Yulin festival is part of Chinese culture," said Qin Xiaona, director of the Capital Animal Welfare Association charity, one of many groups that commissioned the survey. "It isn't."
In an attempt to take a stand against the controversial festival and save as many innocent canine lives as possible, activists claim to have saved more than 1,000 dogs that were due to be slaughtered and eaten during the festival.
In a video uploaded to the Facebook page of the Animal Hope & Wellness Foundation, a California-based animal welfare organization, activist Mark Ching explains how the organization has shut down five slaughterhouses.
"I want the people in China to be able to see, change is possible. People are meeting from all over the world, and even within China, to come help us," Ching told LA Weekly.
Before setting out to shut down dog slaughterhouses in the country, the foundation organized a petition in opposition to the Yulin Dog Meat Festival. The petition gained worldwide attention, and received a total of 11 million signatures.
Meanwhile, many other activist groups are also working to free man's best friend from local slaughterhouses. The Humane Society International (HSI), and organization that works on animal protection issues around the world, rescued 20 dogs from a slaughterhouse a day ahead of the festival.
Activists rescue 1,000 dogs from controversial dog meat festival https://t.co/Vak35SjuSE

— Michele Morissette (@ChiroAylmer) June 26, 2016
"It's shocking to think that if we had not been there, all these animals would have been beaten to death and eaten," said Peter Li, HSI's China policy specialist.
In response to the international outrage surround the festival, one dog meat seller has claimed that the opposition has merely attracted more visitors and customers.
"Because of the protests, more people know that Yulin has a dog meat festival, so everyone comes and tries it," Lin told AFP.
However, despite the sellers claim, it is suspected that the demand for dog meat is decreasing. In fact, HIS claims that it believes business is slowing, reports the BBC.
"A Yulin official told us that contrary to what has been reported in some media, dog meat sales have in fact been declining continuously," said Mr Li. "The authorities seem nervous and are alerting government employees to stay away from the dog meat restaurants."
15,000 dogs will be killed at #Yulin, whilst in the same 10 days 29 MILLION animals will be slaughtered in Britain. https://t.co/uHdzar25uU

— PETA UK (@PETAUK) June 25, 2016
While many continue to fight against the festival and the tradition it supports, it is uncertain whether the Chinese government will ban or take action against the festival. It is clear that the local government is aware of the issue – officials have already banned the slaughter of dog in public, according to reports – however, it is unknown whether more bans will be implemented to restrict the festival's practices.
Image: Flickr, Can Mustafa Ozdemir
---
You want to support Anonymous Independent & Investigative News? Please, follow us on Twitter: Follow @AnonymousNewsHQ
---
This Article (China's Annual Dog Meat Festival Officially Begins: Activist Rescue 1,000 Dogs From Slaughterhouse ) is free and open source. You have permission to republish this article under a Creative Commons license with attribution to the author and AnonHQ.com.