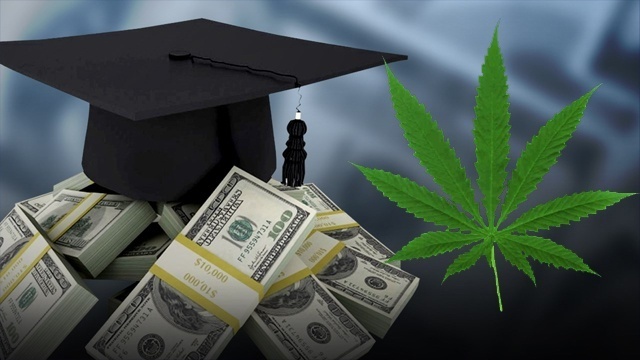 When you legalize marijuana, you not only solve a country's (in this case America's) health problems, you also boost its economy, create jobs, hike wages, weed out illegal cannabis trade, raise revenue, reduce crime rates, help the homeless, sponsor drug-addiction counseling, build schools, and improve public school facilities.
In 2014, Colorado's Pueblo County — which boasts the world's largest outdoor marijuana farm — went a step further and initiated a tax on local marijuana growing operations to fund scholarships for higher education.
In 2015, Pueblo County voters approved a 5% excise tax on marijuana growers — which brought their tax rate from 15% to 20% and which is expected to raise $3.5 million annually by 2020 — to fund college scholarships for local students who attend either of the county's two public colleges.
When the Pueblo County voters passed Pueblo County Ballot Initiative 1B, Pueblo County Commissioner Sal Pace proclaimed that "it was time to make college affordable for everyone in the community."
"Pueblo's school districts 60 and 70 graduated 1,389 students in 2014. Roughly 400 of these students attended a college in Pueblo. We're hoping these scholarships will help motivate Pueblo's youth to graduate high school, by alleviating some of the problems of college debt.
"The requirement the scholarship must be redeemed at a Pueblo college or university will also help alleviate some of the additional costs of living accumulated from moving away from home to attend a college or university. These scholarships will help Pueblo's youth graduate with degrees with lower college debt."
In 2016, 25 students were awarded $2,000 marijuana funded scholarships — $1,000 from the excise tax funds and a matched $1,000 from the Colorado opportunity grant — by the Pueblo Hispanic Education Foundation to further their education in any field of study at Colorado State University-Pueblo or Pueblo Community College. Beverly Duran, executive director of the Pueblo Hispanic Education Foundation, told USA Today:
"It's incredible. Every year we get a nice pool of students but we can always only award to a small percentage. This for us expands that to extraordinary lengths. While people are still debating whether to keep legal marijuana, there's a general sense that the tax dollars ought to be put to work, no matter where they came from. We haven't felt very much pushback from the community. People seem to think, well, if it's going to be legalized, might as well put those dollars to use for our kids."
In 2017, every high school graduate from the city or Pueblo County will automatically be eligible for a college scholarship thanks to Pueblo County's marijuana excise tax fund, under which at least 50% of the revenue will be set aside for the scholarships while the remaining 50% will go towards medical marijuana research, road and hiking trail upgrades, refurbishing a historic courthouse and other public improvement projects.
Marijuana-funded scholarship stepping stone to improve Colorado education system- https://t.co/CXQc6n1Bny #Accuvape pic.twitter.com/00Ml84bG3C

— Accuvape (@Accuvape) November 11, 2015
Xavier Madrid, a student who received the scholarship and plans to pursue liberal studies to become an elementary educator, told The Denver Post there is no reason to criticize the scholarship just because it was funded from marijuana excise taxes.
"Getting the scholarship, I believe, is a very great opportunity. It gives me that extra motivation to go and achieve school. I'm humbled to be one of the first ever to receive the scholarship, and I believe it's more than just marijuana money."
Colorado State University-Pueblo President Lesley Di Mare said the school welcomes the marijuana industry's scholarship contribution, however, she added, "Of course marijuana's not allowed on the campus, period."
---
This article (Colorado: World's First Marijuana Funded Scholarship Awarded to 25 Students) is a free and open source. You have permission to republish this article under a Creative Commons license with attribution to the author and AnonHQ.com.