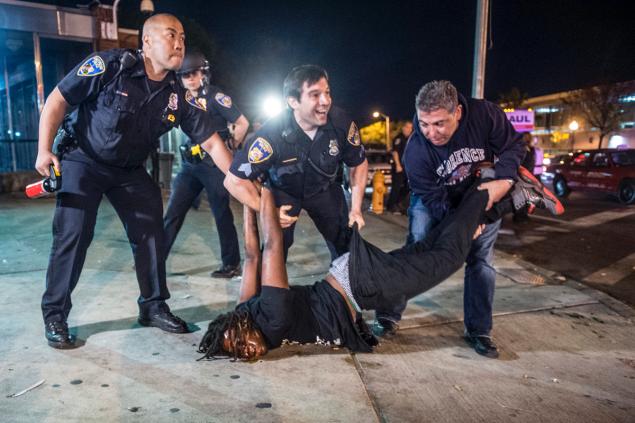 A protester wearing a "F**k The Police" t-shirt really tested a Baltimore police officer's patience during the protests over the death of Freddie Gray. As the protester, shouting 'Arrest me, I'm right here', approached the cops, he was pepper-sprayed in the face at near point-blank range.
He was then hooked to the ground by another officer, handcuffed and dragged to the sidewalk. Three officers picked him up by his legs and arms and carried him to the side of a building where they poured water on his face.
The incident happened about ten minutes after the curfew had gone into effect on Saturday night. The curfew was lifted Sunday morning by Baltimore Mayor Stephanie Rawlings-Blake, who did not want the curfew in effect "a single day longer than was necessary". The curfew had already lasted five nights.
On Friday, Maryland State's Attorney Marilyn J. Mosby announced criminal charges against all six police officers involved in the arrest and murder of Freddie Gray, which she declared "an illegal arrest" and "a homicide". The 25-year-old died, she said, after suffering "a severe and critical neck injury" while being transported "handcuffed, shackled by his feet and unrestrained" inside a police van.
---
You want to discuss a certain topic with likeminded people or you want to organize a local protest or you have an idea for a project that can help people in need in your local community or all around the world? Join our forum! www.anonboards.com
---
You want to support Anonymous Independent & Investigative News? Please, follow us on Twitter: Follow @AnonymousNewsHQ
---