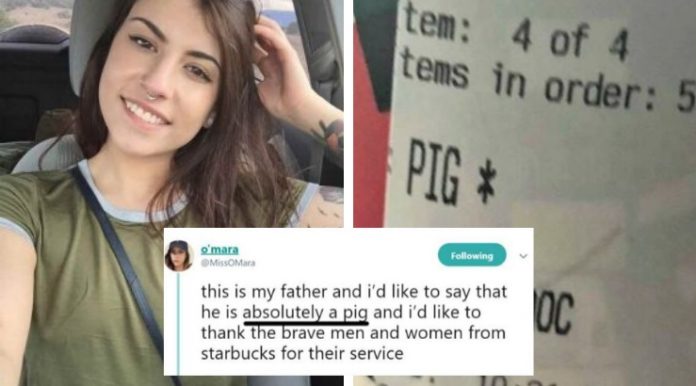 The internet is once again in an uproar this week after yet another employee of another restaurant offended a cop.
Starbucks — who has been under fire for being pro-police — is now in the media after a barista printed a coffee label for a police officer with the word 'pig' on it.
In a crazy twist, however, the daughter of the police chief who made the incident public, took to Twitter to voice her opinion on her dad, which is that he "absolutely is a pig."
Here at the Free Thought Project, we stay away from using derogatory names for police officers as this only serves to stoke divide and referring to all cops as pigs will never change the minds of cops who really want to do good. However, we always defend the free speech of those who choose to use their first amendment right to refer to cops as 'pigs.' Doing it at your job is probably not the best decision though — especially if you want to remain employed.
Over the weekend, the chief of police in Kiefer, OK, Chief Johnny O'Mara took to Facebook to publicly lambaste Starbucks for their anti-police barista. In a now deleted post, O'Mara said one of his officers trekked to Starbucks to get coffee for a dispatcher when he received the insulting label which read, 'PIG'. Chief O'Mara called the coffee shop and employees there offered to "replace the coffee with a correct label." But this wasn't enough, according to the post.
"The proverb 'Fool me once, shame on you. Fool me twice, shame on me' came to mind," O'Mara wrote. "This cup of coffee for a 'pig' is just another little flag."
The chief then used his pulpit to claim that those who call police officers pigs, want to burn down society.
"It's another tiny symptom and a nearly indiscernible shout from a contemptuous, roaring and riotous segment of a misanthropic society that vilifies those who stand for what's right and glorifies the very people who would usher in the destruction of the social fabric."
….because kidnapping, caging, and sodomizing people for possessing a plant is "what's right?" ….because extorting people, often times killing them for their window tint being dark is "what's right?" ….because stealing property from people who've committed no crime is standing for "what's right?" The list goes on forever.
Yes, there are decent cops out there who truly put their lives on the line to help those in need. But the majority of society's interactions with police officers involves extortion or kidnapping for victimless crimes — thus the sentiment of many folks wanting to call a man or woman in a uniform, a pig. Newsflash: just because someone doesn't like being kidnapped and caged for wanting to consume a plant that makes them happy, and resorts to name calling, does not mean they want to "usher in the destruction of the social fabric."
Nice try though chief O'Mara.
According to the chief's own daughter, this label is especially fitting for him because, according to her, he is "absolutely a pig." In an exclusive interview, the chief's daughter, known on Twitter as Miss O'Mara,  says she often times overshares her private life on Twitter which led to the now viral tweet.
It is important to note, before going any further, that TFTP conducted its own background check on the chief's history and we haven't found anything that has been made public about the chief's misconduct as alleged by his daughter below.
this is my father and i'd like to say that he is absolutely a pig and i'd like to thank the brave men and women from starbucks for their service https://t.co/e7NhPMacHM

— o'mara (@MissOMara) November 30, 2019
"I'd like to say that he is absolutely a pig and I'd like to thank the brave men and women from Starbucks for their service," @MissOMara wrote on Twitter. "for the record, my father has [zero] business being a police officer."
"He was blatantly, proudly racist when I was a kid," she tweeted. "Said things I would never repeat. He treats women like dogs, including his own daughter."
While the chief claimed that his officers were offended by the coffee cup and demanded an apology from Starbucks, his daughter claimed otherwise.
"The deputy it actually happened to told my mom he didn't really care and that it was a harmless joke, no big deal," she tweeted. "but my father is a camera whore who couldn't resist the attention."
After her tweet went mega viral, garnering hundreds of thousands of likes and retweets between all the threads, O'mara said she hoped her dad would see it. Her hopes came true and apparently, the chief of police in Kiefer, OK was none too pleased.
update: he has seen it and had someone call my mom to "get that shit off twitter" lmao he is upset

— o'mara (@MissOMara) December 1, 2019
As with any post that doesn't praise the almighty badge, O'Mara tells TFTP that she has experienced plenty of hate but points out that "it's not to overwhelming" — meaning there are far more supporters than haters.
O'Mara tells TFTP that she only had 700 followers prior to the tweet. Showing how many people appreciate her message, she now has nearly 19,000. Looks like this chief just created himself his own version of the "Streisand Effect."
---
By Matt Agorist | TheFreeThoughtProject.com | Republished with permission