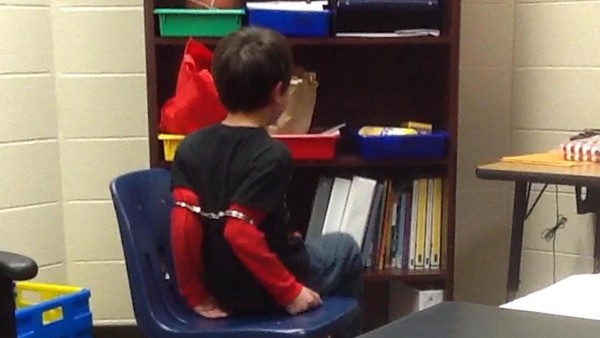 The Free Thought Project has published a disturbing video in which a little boy with history of trauma attending a public school in the United States is seen being handcuffed and left in a painful position by a cop.
The American Civil Liberties Union (ACLU) and the Children's Law Center in a joint federal lawsuit alleged that a deputy sheriff, Kevin Sumner, committed the despicable act deliberately to the boy.
Sumner serves as a school resource officer in Kenton County, Ohio. He watched as the boy cried in pain. It is said he did that to the boy to serve as punishment for something the boy is purported to have done in school.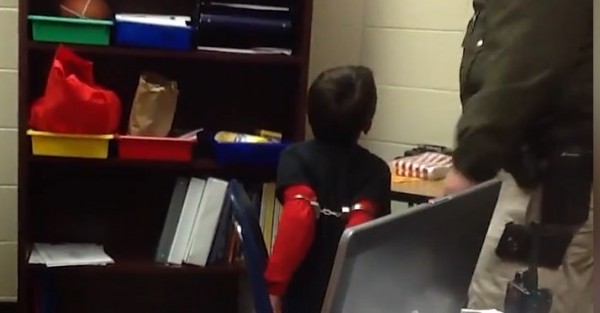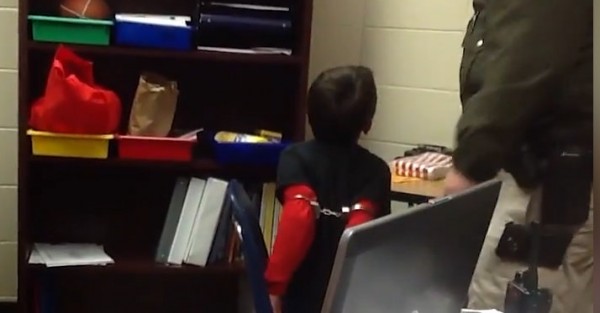 Prosecutors said this is not the first time the Kenton County Deputy Sheriff has done such a thing. It was alleged he had done a similar thing to another little girl who attends a public school in the past.
In his latest act of violence, the child is so small that Sumner had to lock the child's biceps together behind his back. What makes the case even more appalling is that the child is said to have a history of trauma and has been diagnosed with ADHD.
The boy was named in court document as SR while the girl was referred to as LG and they have all been diagnosed in the past as children with special needs.
SR's mother was quoted by Counter Current News after the first hearing of case as saying, "It is heartbreaking to watch my little boy suffer because of this experience. It's hard for him to sleep, he has anxiety, and he is scared of seeing the officer in the school. School should be a safe place for children. It should be a place they look forward to going to. Instead, this has turned into a continuing nightmare for my son."
Prosecutors said both children had not committed any criminal act and that Sumner punished them in that manner for behavioral issues.  The lawsuit claims that the officer violated the Americans with Disabilities Act through his treatment of these children.
As prosecutors are determined to press for Sumner to be punished according to the law, the Free Thought Project said children with special needs often find themselves on the receiving end of police state violence while attending public school across the US. Below are some examples of police violence against such children:
–In September of last year, body cam footage emerged showing a 9-year-old special needs boy handcuffed as his father pleaded with the officer to release him. That same month, a highly disturbing video of cops manhandling a 13-year-old autistic child as he screamed for help emerged on Facebook.
–In January of this year, Colton Granito, an 8-year-old boy with autism, threw a tantrum during class. Instead of following the boy's IEP plan, police were called. Colton was handcuffed, transported to jail and forced to sit in a cell for hours wearing a straight jacket. He was subsequently charged with assault and sentenced to probation.
According to the Free Thought Project, the photo below is of a 10-year-old child handcuffed, laid out on the back of a police cruiser. The boy's name is Ryan and he has autism. He misbehaved at school and was also arrested and treated like a criminal.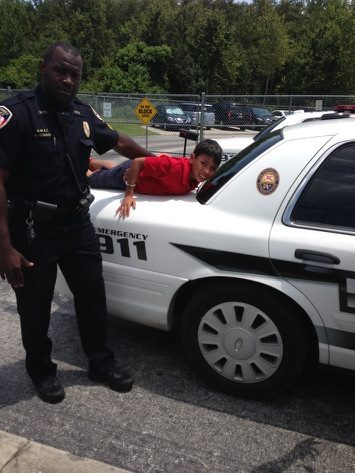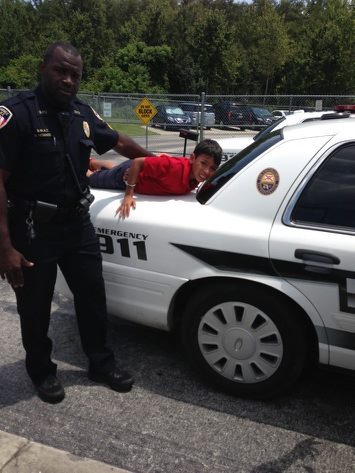 All of these acts of violence were committed by cops against autistic children and if you want to read more of the emerging police state on all school children in the US, follow this link provided by the Free Thought Project.
---
You want to support Anonymous Independent & Investigative News? Please, follow us on Twitter: Follow @AnonymousNewsHQ
---
This Article (Disturbing Video: Cop Handcuffs A Traumatic Little Boy and Watches As He Screams In Pain) is free and open source. You have permission to republish this article under a Creative Commons license with attribution to the author and AnonHQ.com.