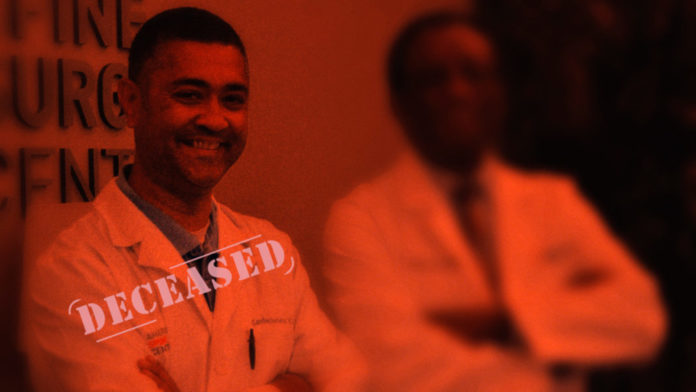 Police are investigating the death of a doctor employed at a Frederick medical office who was the subject of a federal indictment announced last week.
Police were called at about 7:15 a.m. Friday to the American Spine Center at 1050 Key Parkway, where a man employed at the center was apparently unresponsive, said Michele Bowman, a public information coordinator for the Frederick Police Department. Police and emergency medical crews arrived a short time later, but the man was pronounced dead soon after, said Sgt. Andrew Alcorn, a Frederick police supervisor.
Police did not name the employee, but the American Spine Center identified him as 51-year-old Dr. Sandeep Sherlekar in a statement released Friday afternoon.
"The American spine family is deeply saddened to announce the sudden passing of our own Dr. Sandeep Sherlekar on Friday, September 30, 2016," the statement reads in part. "As a family, we are in a state of shock and grief. We ask that everyone please respect our desire for privacy at this time."
Sherlekar was a board-certified pain management specialist and anesthesiologist who received his medical degree from Delhi University, according to background information in a lawsuit.
He completed a residency in anesthesia at the All India Institute of Medical Sciences. He then served as the chief resident in anesthesiology at Hahnemann University Hospital in Philadelphia, where he was awarded the Robert Dunning Dripps Memorial Award for Excellence in Patient Care.
No obvious signs of trauma were evident when police arrived, and foul play was not suspected. An autopsy is scheduled for Saturday morning at the Office of the Chief Medical Examiner in Baltimore, Alcorn said.
A federal grand jury indicted Sherlekar and four other medical professionals on June 28 in a kickback scheme totaling around $1.37 million that was linked to the Frederick-based pain management practice. The indictment was unsealed last week.
Sherlekar's arraignment was set for Oct. 7, according to online court records.
The other co-founder of the American Spine Center, Dr. Atif Malik, was one of the five indicted. His trial date has not been set.
Sherlakar and Atif Malik filed a lawsuit in 2012 in U.S. District Court of Maryland accusing Chief Executive Officer Muhammad Ahmad Khan and Chief Financial Officer Vic Wadhwa of financial crimes at the American Spine Center.
Khan is now a co-defendant in the kickback case, and Wadhwa, a Frederick resident, has pleaded guilty to soliciting and receiving health care kickbacks. He is awaiting sentencing.
In the civil case, the doctors accused Khan and Wadhwa of conspiring to solicit bribes from vendors and taking money and property from the medical practice.
The newly unsealed criminal indictment, however, accuses the doctors of agreeing to collect kickbacks from vendors in exchange for referring patients to an unnamed laboratory in New Jersey.
The civil case was stayed on Jan. 16 pending legal proceedings.
Sherlekar's death was reported before the center opened for the day. Police were still trying to determine what happened before his body was found.
"There is video surveillance on the property and we are reviewing that, as well as employee access card swipe records," Alcorn said of the investigation. "We're looking at every possible angle and avenue."
Investigators were aware of the indictments, but Alcorn would not comment on whether the man found dead Friday morning was one of the people named in the indictment.
"He is involved in the federal investigation, I will say that, but I cannot say whether or not he was one of those five individuals named," Alcorn said. "We're reaching out with our partners with the FBI to discuss with them possible connections to the indictment."
As part of Friday's death investigation, Frederick police seized electronic devices and other evidence from the man's office, Alcorn said.
Anyone with information about the case was asked to call Detective Gregory Loftis at 301-600-4109.
A sign taped to the front door of the American Spine Center announced that the center was closed Friday due to "unexpected circumstances."
"We will be open on Monday, October 3, 2016 for normal business operations and will address any and all patient needs at this time," the center's statement reads in part.
In the meantime, patients in need of urgent medical attention from the American Spine Center were asked to call 240-629-3939, according to the statement.
Follow Jeremy Arias on Twitter: @Jarias_Prime.
Follow Kelsi Loos on Twitter: @KelsiLoos.
This article originally appeared on fredericknewspost.com.