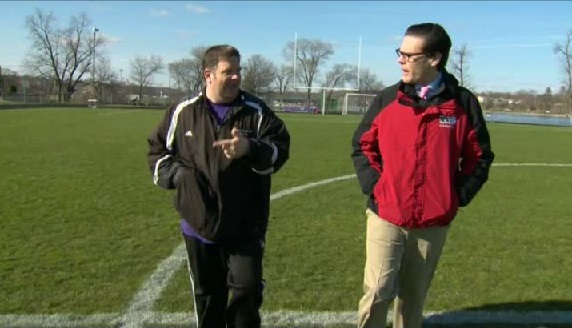 Traumatizing children is the latest claim Trump can add to his growing list of annoyed voters. Recently, in Wisconsin, a high school's soccer game was interrupted by racists chanting "Donald Trump! Build that wall!" The chant was aimed at the black and Latina female members of the opposing team, who walked from the field in protest.
What started off as friendly game of soccer between the girls' teams, ended in racial slurs. Coach Brian Denu said that his players "Came off the field and weren't able to finish the game because they were too upset and distraught over what happened to them. One of the girls was cradled in the arms of one of our assistant coaches for a good 15 to 20 minutes… I could just see the hurt and pain on their face and know that this was obviously something that they hadn't seen before. Those are just words you'll never be able to take back from those kids and an experience that you wish you could take back. It was really disturbing for them."
The Elkhorn Area High School was responsible behind the shouts of "No comprende" and "speak English" amongst the other slurs.
Although Coach Denu was concerned for his players, he said of the offenders that "I'd like them to just kind of take in what they said, think about their words before they say them. My guess is that they're good kids that have some really bad ideas in their head. But those were hurtful — and words that you say can last with people for a very, very, very long time."
Elkhorn administrator Jason Tadlock is looking into the racial attack on the players. "We have confirmed that some students near the sidelines yelled inappropriate/offensive comments toward some of the players, and a student or two from the student section," Tadlock said. "Our investigation is ongoing, and I would be happy to comment further once it is completed."
---
This article ("Donald Trump! Build that Wall!" Chanted at Young Girls' Soccer Team as they Walked Off Field) is a free and open source. You have permission to republish this article under a Creative Commons license with attribution to the author AnonWatcher and AnonHQ.com.