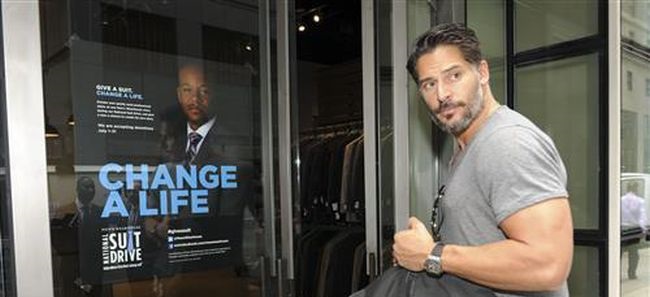 In January 2015, 564,708 people were homelessness in America.  The country's labor force participation rate dipped in June 2015 to an underwhelming 62.6%, the lowest level in 38 years. Since more than one-third of all unemployed men between the ages of 25 and 54 have criminal records, it is next to impossible for them to find work, make an honest living, and shun unlawful activities forever.
Men's Wearhouse, the largest specialty retailer of men's apparel and rental product in the United States, is trying to give at-risk men the confidence needed to re-enter the workforce through its annual National Suit Drive.
Every year, during the month of July, the company offers a 50% off coupon to customers who donate their gently used professional attire to one of their 850 stores nationwide. The donated suits, collared shirts, sweaters, casual pants, vests, ties and other accessories then benefit a network of over 180 local non-profit organizations across the country, aiding disadvantaged individuals to re-enter the workforce and live a respectable life through supportive programs such as training and employment services, workforce assistance, resume services, career counseling, networking and image workshops with professional stylists.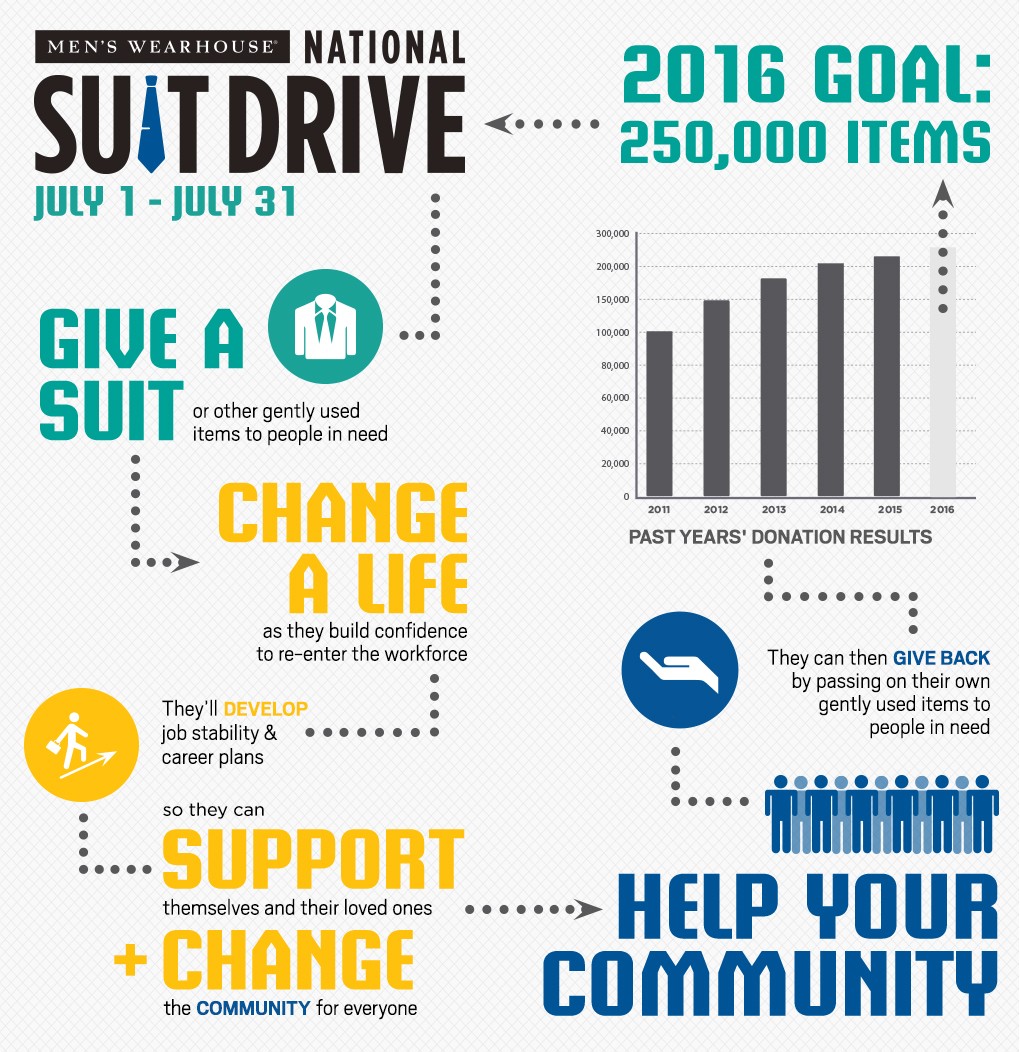 Over the past eight years, the National Suit Drive has collected more than one million items of clothing. Men's Wearhouse creative director Joseph Abboud told GQ:
"The National Suit Drive collects gently used professional attire, but what it's really collecting is inspiration and a chance for men to feel empowered as they head into their next job interview. The interview suit has become even more important over the last ten years. Making a strong first impression is as important as ever, especially when meeting face-to-face."
This is not all. Men's Wearhouse donates $1 (up to $25,000) to local non-profits every time someone helps spread the word by sharing the Men's Wearhouse #GiveASuit post on Facebook and Twitter. In the past, football player DeMarco Murray participated in the program. This year, TV host, producer, entrepreneur and philanthropist Nick Cannon made a personal donation to Men's Wearhouse, as well as encouraged fellow Americans to clean out their closets and #GiveASuit.
"I've worn many different 'suits' over the course of my career — as a musician, an actor, a record producer — and no matter the task at hand, feeling and looking confident is key. A suit can bring that pep in your step to perform at your personal best. I'm honored to be partnering with the Men's Wearhouse National Suit Drive to help men across the country fulfill their dreams."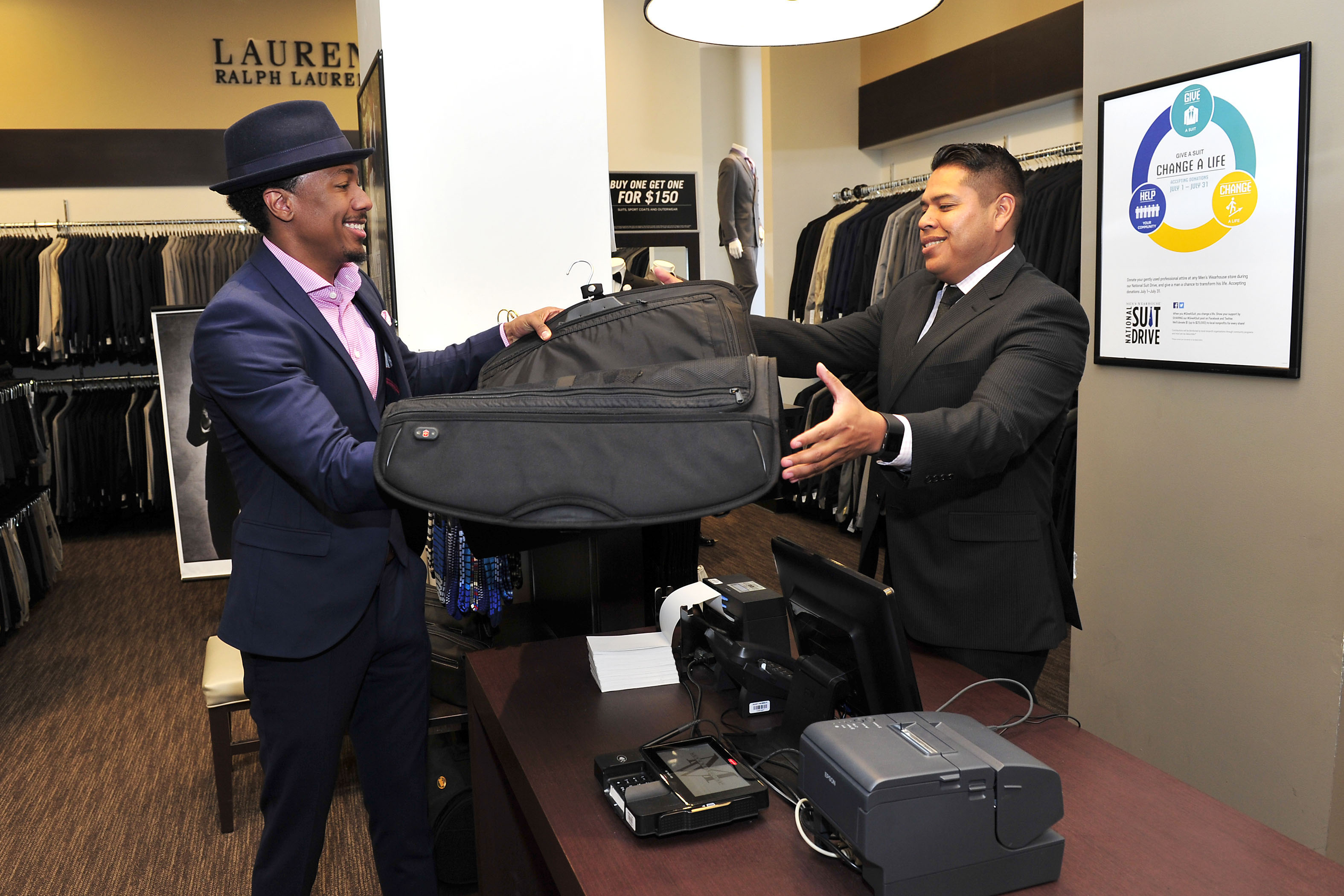 Success Stories
Vernon Robinson is one of the ex-inmates who benefited from the National Suit Drive. In the initial years of the program, Wardrobe for Opportunity, a San Francisco Bay area-based non-profit, provided Robinson with support, counseling, and the professional attire necessary to return to the job market and become self-sufficient.
"Coming out of prison, not having really any particular, specific skill set — but, I had an idea and I had a desire. I had two passions in my life: One was clothing my body handsomely. The other was clothing my mind even more handsomely."
United States Air Force veteran Christopher Bellegia's life changed when Working Wardrobes, a Southern California-based organization, rescued him from what he calls "a dark time." Bellegia was unemployed and facing homelessness after being hit by a car, which exacerbated his Post-Traumatic Stress Disorder (PTSD) and depression.
"I was provided business clothing for an interview, new shoes, and personalized veteran counseling. As a direct result of Working Wardrobes' Vet Net program and the support of all the staff, I am now gainfully employed. I needed to be supported, trained and led down a path to be the man and proud veteran I am today."
---
This article (Donate Old Suits, Get 50% Off New Suits, Help Americans Get Back to Work) is a free and open source. You have permission to republish this article under a Creative Commons license with attribution to the author and AnonHQ.com.