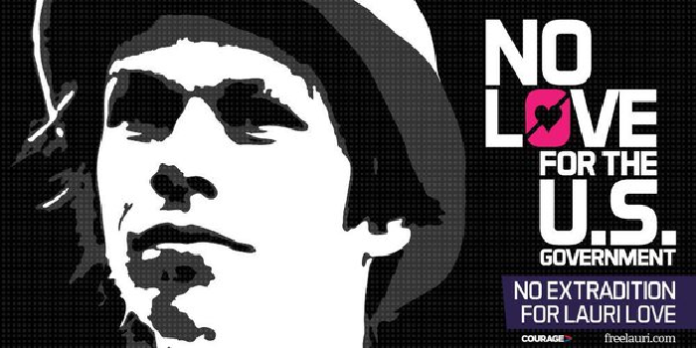 Since February 2015, the Anonymous collective has actively followed Lauri Love and his battle with the US federal government. If you are not familiar with this man or his run in with the law, please read more about his story here: http://anonhq.com/?s=lauri+love
Lauri Love, a political activist and alleged hacktivist from the United Kingdom, is wanted in the United States for several computer hacking related crimes for his alleged involvement in #OpLastResort – which was an online protest created in response to the persecution of, and which led to, the death of Aaron Swartz.
We decided to hack MIT again in 2014 on the anniversary with a second tribute to Aaron Swartz http://t.co/x9PqTFosPv #TheDayWefightback

— OpLastResort (@OpLastResort) January 10, 2014
As part of #OpLastResort, Lauri is accused of hacking the US Army, NASA, The Federal Reserve, Missile Defense Agency as well as other USA government agencies – these are the crimes he is now accused of. At the present moment, Lauri faces 3 extradition charges to the United States Of America, despite the fact the US government has failed to turn over any evidence to the British Government, formally linking him to these crimes.
If extradited to the USA, Lauri faces up to 99 years in federal prison. Lauri has said himself that "effectively my life is over."  Lauri Love's parents, as well as his prison therapists, have warned that if he is sent to the US, he will be classified as an extreme suicide risk and would have to be closely monitored.
Lauri also suffers with autism and mental health difficulties, which he has been struggling with throughout most of his life.
Donate to help #LauriLove in his fight against both the US and UK authorities! https://t.co/B0XOvf8M2T #NoLove4USGov pic.twitter.com/uNSwQ0H7aX

— Free Lauri Love (@NoLove4USGov) March 31, 2016
Over the course of a three-day hearing earlier this summer, Judge Tempia heard evidence on the inadequacy of US prison conditions, coercive plea bargaining, disproportionate sentencing and the discriminatory treatment meted out to hackers in the US justice system. It is now up to her to decide whether the changes to the law that were made in the wake of the Gary McKinnon case - to address public concerns about extradition – should protect Lauri.
Throughout his lengthy legal process, Lauri Love has continued to contribute to the advancement the Tech Community.
Recently, a British Judge set a new legal precedent in support of encryption rights when the judge refused to allow the National Crime Agency to force citizens to hand over their encryption keys. Had this request been allowed, it would have set a dangerous precedent for journalists and all those who use encryption. You may or may not remember, this is not the case in the USA – all companies are required by law to do this, cited by 2016 court cases.
While he is not in custody, he has bail conditions – so has to regularly sign in at the police station. Currently, Lauri works as a computer security specialist at myhackerhouse.com – which is an expanding service helping to bring people together to work on things such as block-chain, security, drones, and also helps teaching and forming new ideas. For example, one of the products myhackerhouse has produced is an app that connects the homeless with helpers/shelters/food pantries in the area.
Anonymous Seeks Action!
Lauri fought back against the treatment of Aaron Swartz.  Now Lauri is being persecuted, the same as Aaron.
Come and show your support for Lauri Love at a critical point in his battle against extradition and persecution by the United States Government.
Please attend Westminster Magistrates' Court, London on 16th September at 13.00
Coming from outside London? We're organizing a car pool – see here http://laurilove.uk/ for more details.
At 2pm on Friday, 16 September, District Judge Nina Tempia will hand down her ruling on whether Lauri Love should be protected from extradition to the United States, where he faces a potential 99 year prison sentence.
Further details can be seen from the Facebook page setup by the Courage Foundation here:
https://www.facebook.com/events/917958114976917/
---
You want to support Anonymous Independent & Investigative News? Please, follow us on Twitter: Follow @AnonymousNewsHQ
---
This article (Lauri Love Trial Update: Peaceful Protest/Show of Support Planned September 16th – Please Attend if You Can) is a free and open source. You have permission to republish this article using a creative commons license with attribution to the author and AnonHQ. Join the conversations at www.anonboards.com.