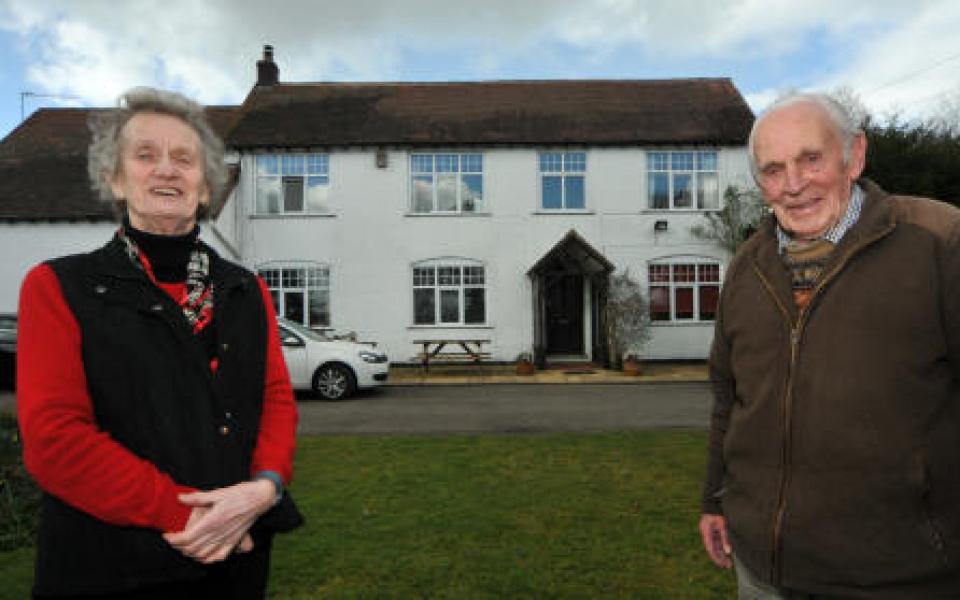 An elderly couple from Warwick are devoting their retirement to children who have suffered from bullying by providing them with a safe and happy place to learn. In 2012, the couple converted their 10 bedroom country home into a school for bullied children; to date they have helped 20 troubled pupils recover from traumatic experiences and years of torment.
Vivian Morgan, 72, and her husband, 94, decided they wanted to help save the lives of today's troubled youth when they heard the tragic story of Simone Grace, a bullied schoolgirl who committed suicide. Since then, the couple have become dedicated to providing bullied children with a safe environment to learn and socialize in.
"I can't think of anything worse than a child taking their own life," says Fred. "It's so final and tragic. If we can be useful and give a productive life to a few of them, then that's only a good thing."
Despite its small size, the Northleigh House School in Hatton, Warwick, is a fully-functioning independent school which follows the national curriculum and is subjected to Ofsted inspections. 22 mainly part-time staff teach the students, aged between 11 and 16, English, maths and science. Additionally, a Italian therapist is on hand to assist with language classes, and for individuals interested in music piano lessons are also available.
Around half of the students at the school have at one point in their lives tried to commit suicide, many others have been referred by the council due to them being too depressed to attend the local state school.
"We had one 15-year-old girl who had bald patches where the bullies had pulled her hair out," Vivian told the Telegraph. "I've seen texts sent to pupils telling them to kill themselves. It's horrific."
Often, when the students first arrive at the school, they have fallen behind on classes and are usually too ill to commence their school work and participate in lessons. "When they first come, they can't do a full week. Some of them sit and don't speak, and it takes some longer than the others," Vivian explains. "But once they realise they're safe, they'll start to do a few things – usually cooking or looking after the animals."
Once the students move on to a college they are given Northleigh staff's phone number, for if they ever need assistance. "When they leave here, they're like normal happy, laughing teenagers, and they've caught up on their work," says Vivian. "We had one young girl who had tried to throw herself under a bus. She's really happy and at college in Leicester now. To think that she may have died is terrible."
With the help of the school many students have been able to transform their lives. According to the Telegraph, one student, who often gave wrong answers in class in order to prevent the bullies from picking on her, left Northleigh House with A* GCSEs in physics, maths and chemistry.
The school is steadily receiving more pupils from Warwick and nearby councils; one family is even making plans to move across the country so that their child can attend the school. When establishing the school, the couple were able to secure funding from the local council despite their lack of teaching experience. However, unfortunately the councils support is not able to cover all of the schools costs.
As both Vivian and Fred are dedicated to their school and the support it provides children in need, the couple are fundraising to create a trust fund for the house. Since, the school has received £27,300 from the National Lottery Heritage Lottery Fund, as well as donations from other organisations.
"I would like to see it remain, and at the moment it's not sustainable," Vivian tells the Telegraph. "I want it to live forever."
You can support the Northleigh House School on gofundme.com.
Get Your Anonymous T-Shirt / Sweatshirt / Hoodie / Tanktop, Smartphone or Tablet Cover or Mug In Our Spreadshirt Shop! Click Here
---
This Article (Elderly Couple Turn Their Home Into A school For Bullied Children) is free and open source. You have permission to republish this article under a Creative Commons license with attribution to the author and AnonHQ.com.