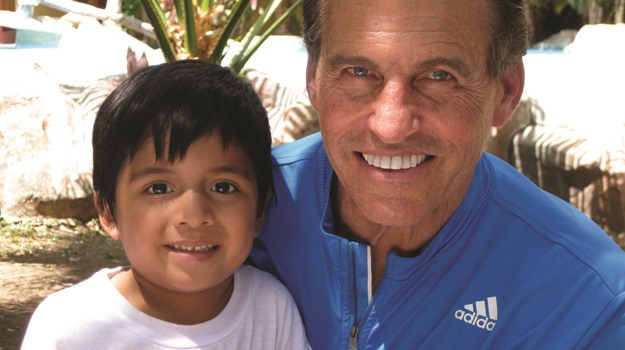 Since 2005, Tim Foley, a former American football player, has been travelling to a small town in Guatemala each year. With a group of 100 volunteers from his home in Florida going with him, they build homes for low-income families in association with Habitat for Humanity International – a nonprofit organization that builds shelters for the world's most vulnerable population.
"I was looking for something that was charitably oriented and made people feel better about themselves. [So] We build the houses with the people that are going to own them."
Foley and his team helped build over 50 homes in Guatemala before he donated $250,000 to Habitat for Humanity in 2011, to build a community of 50 more homes over the next five years. Foley's selfless and philanthropic act and the impact his efforts had on other people's lives, won him the 2011 Amway Hero Award for Generosity.
Amway created the Hero Awards program in 2010 to recognize the efforts of hundreds of its Independent Business Owners who give resources, as well as their time, to improve the living conditions of millions of people across the world. Gary Kovar, leadership development officer at Habitat for Humanity International, said of Foley:
"There are people who contribute and give money and you have people who also give their time but it's a rare person who also gives both of their money and their time as Tim has done. He is a very modest person and he doesn't like to talk about what he's done."
For dedicating their lives to helping disadvantaged children, Atlanta-based Jim and Nancy Dornan were awarded the 2012 Amway Hero Award for Generosity. In 2013, the award went to Ohio-based Jody and Kathy Victor for supporting a number of diverse causes including the American Heart Association, a scholarship fund at The Ohio State University, and the Back to the Wild wildlife rehabilitation center.
The following year, Oscar Oviedo of the Dominican Republic won the award for his efforts in preserving the environment, including cleaning the beaches and teaching children the importance of protecting the places they live in. In 2015, Costa Rica-based trained therapist and social worker, Amanda Ready, received the award for helping local women take control of their lives, feel empowered, and be the women who thrive.
---
This article (Ex-NFL Player Tim Foley Donates $250,000 to Build Homes for Low-Income Families in Guatemala) is a free and open source. You have permission to republish this article under a Creative Commons license with attribution to the author and AnonHQ.com.