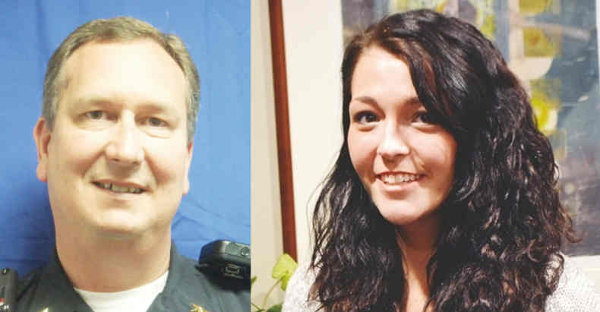 New London, New Hampshire—In March 2013, Janelle Westfall, who was then 18 years old was stopped while walking home from a party intoxicated. After arresting and charging Westfall, now retired police chief, David Seastrand, is reported to have called Westfall into the station for a private meeting where he offered to drop her charges in exchange for nude photos. Seastrand will not be facing charges.
On the evening of March 2nd, Chief Seastrand stopped Westfall as she was walking home with a beer in her hand. She was charged for having the alcohol in her possession, as well as providing a false name.
Four days later, Westfall was called in to the station by Chief Seastrand to discuss alternative forms of punishment, such as community service. Seastrand then began to explain that they would go to the basement where he would take nude photos as blackmail to ensure Ms. Westfall stayed out of trouble.
Janelle Westfall's statement: "He said he would grab the station's camera to shoot a series of nude photos of me, and then he'd hold it over my head for two years to be sure I didn't commit another crime. That's when it was really chilling. He's standing there in uniform, he had his gun strapped on his side."
After propositioning Westfall, Chief Seastrand made it clear that if she told anyone, he would deny it. Ms. Westfall immediately informed her family, including her aunt and uncle, both of which happened to be police officers. They instructed her to write down everything she remembered, and it was at that point that her father contacted the State Police.
Shortly after the incident, Chief Seastrand retired. Acting Police Chief, Edward Andersen, claims it is only coincidence that Seastrand decided to retire shortly after charges had been filed against him.
"It seems sudden, but it's not," Andersen stated. "He's been getting ready, he was putting me in a place to handle it. Emotions are high right now; he's been an excellent leader."
Since his retirement, the "excellent leader" has had additional allegations brought against him, according to New Hampshire's Valley News. In an interview, Senior Assistant Attorney General Jane Young said her office continues to investigate additional complaints that have been made since news of Seastrand's resignation became public.
"We have additional complaints and we will fully investigate them," Young said.
Although the state prosecutors called Seastrand's actions "abhorrent" and "unacceptable behavior for anyone in that type of position," no charges were brought against him.
"It just bothers me that it happened," Ms. Westfall stated, "and that they couldn't prosecute. It bothers me that it could happen again to someone else."
After no charges were filed against the ex-police chief, Westfall and her family decided to file a civil lawsuit against Seastrand, from which she received $70,000 (paid by both Seastrand, and the people of New London), but it comes as a bitter-sweet victory. While Seastrand gets to enjoy his retirement, consequence-free, Ms. Westfall's life has been up-rooted.
"I'm sad and scared to drive through [New London], that there are going to be people who know who I am and think I'm a bad person," Westfall said. "I miss my friends, but I can't go back there, it's all really uncomfortable."
---
Sources:
Agorist, Matt. Dec 28, 2014. (http://thefreethoughtproject.com/charges-police-chief-badge-intimidate-teen-posing-nude/)
Davis, Mark. Valley News. Apr 10, 2013. (http://www.vnews.com/news/5597483-95/police-records-detail-students-arrest-by-new-london-chief)
Gambino, Lauren. The Guardian. Dec 30, 2014. (http://www.theguardian.com/us-news/2014/dec/30/new-hampshire-police-chief-nude-photo-charges)