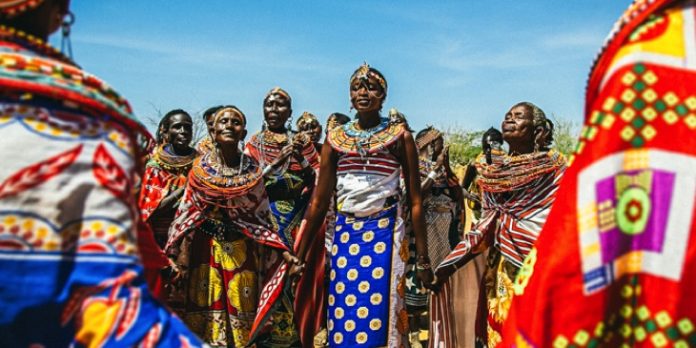 By Brianna Acuesta at trueactivist.com
This Kenyan village keeps men out of their community and is a safe haven for female victims of abuse.
This Kenyan village keeps men out of their community and is a safe haven for female victims of abuse.
Umoja Usau Women's Village is a small community that serves as a safe haven for 47 women who are all survivors of sexual assault. The community began when Rebecca Lolosoli was in the hospital after being attacked by several men after speaking on behalf of rape victims and was afraid of what she would face when she returned to her home village.
In 1990, Lolosoli led a female exodus and started the women's village along with 15 other female victims after she was beaten up and her own husband did not protest on her behalf. Lolosoli has spoken out about sexual assault, female genital mutilation, and forced marriage.
It's because of the patriarchal tradition of suppressing women and abusing them within the Samburu tribe in Northern Kenya that these dozens of women have sought refuge in Umoja. To make matters worse, British soldiers frequented the region for over 50 years because there was a training area nearby and many raped the women of the Samburu tribe. Lolosoli described what happened to these women if they spoke out:
"Wearing green uniforms [the British soldiers] blended with the trees and when women collected firewood, the soldiers would jump out and rape them, laughing like it was a game. The men made their wives leave, taking the children with them. Then they had nothing and many would resort to brewing changaa (an alcoholic drink) to earn money, but it is illegal to sell this, and the women were jailed, leaving their children without caregivers and some were eaten by hyenas."
This is the sad reality of what it's like to live as a vulnerable woman in the Samburu tribe. They are given no protection from abuse, but when they are abused they are punished for it.
Umoja now consists of 47 women who feel empowered by their freedom, educated, and have support from other victims everywhere they turn. The women educate the 200 children that live in the village with them. They also make jewelry and other crafts, and open their village to tourists to make money and support the community.
Tourists must pay a fee to enter the village, and they are greeted by the women yielding colorful bracelets that they hand out. Men are still allowed to enter the village if they are invited in, but they cannot live there or stay for an extended period of time.
The matriarchal community is thriving on the strength of these women who, for the first time ever, have autonomy over their bodies, lives, and communities. Local men often threaten to dismantle the village and hurt the women, and have even done so in front of tourists during a difficult time for the Umoja village, but the village has prevailed through these tough times.
Lolosoli has been repeatedly elected as the chairperson and has continued to lead these women whose lives have been changed by this community. She said of Umoja:
"Our objectives are to improve the livelihoods of the women due to rampant poverty and counter the problem of women being abandoned by their families. We also rescue and rehabilitate girls who run away from or were thrown out by their parents due to early pregnancies or marriages."
The village will likely always face threats and the possibility of violence, but these women are determined to end the cycle of violence against women by continuing to fight back and thrive.
What are your thoughts? Please comment below and share this news!
---
This article (A Female-Only Village In Kenya Acts As A Safe Haven For Victims Of Sexual Assault) is free and open source. You have permission to republish this article under a Creative Commons license with attribution to the author and TrueActivist.com