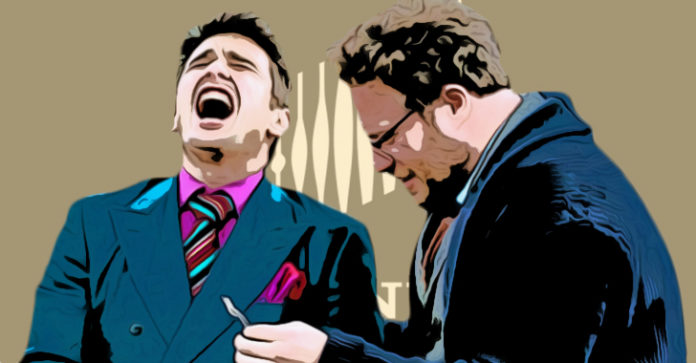 Written by: Sydney Barakat at theantimedia.org
The recently released film "American Sniper" has received some negative feedback, as some see the film as a poor representation of the invasion of Iraq — manipulating the reality of the war as something that was done strictly in the name of national security, protecting the freedom of American civilians, and as something much more morally correct than it actually was. And also that the film glorifies a soldier who admittedly enjoyed killing those he deemed as "savages." (Some of these savages did, in fact, include women and children).
Ultimately the film is stirring up much controversy and rekindling the fire of past debates, especially in Hollywood.
Seth Rogen and Michael Moore are two of the public figures who have recently tweeted about the film.
On January 18th, Rogen tweeted "American Sniper kind of reminds me of the movie that's showing in the third act of Inglorious Basterds."
Moore later reiterated Rogen's point-of-view, by tweeting "My uncle killed by sniper in WW2. We were taught snipers were cowards. Will shoot u in the back. Snipers aren't heroes. And invaders r worse."
Shortly after, both Rogen and Moore attempted to "clarify" exactly what they meant in their tweets.
However, Fox News and other media outlets have been quite unforgiving and unrelenting in labeling critics such as Seth Rogen and Michael Moore, as jealous of the film's immense box office success. As seen in this article from the Fox News Insider, which was released January 20th.
Kevin Jackson of "America's Newsroom" is particularly adamant in declaring the critics as purely "envious," as can be seen in the above article.
Along with Jackson, the exceptionally annoying Maria Sansone of "Good Day LA" on Fox 11 News claimed the same thing – that anyone hating on the film was just a jealous, washed-up and worn-out Hollywood nobody, on the morning news.
However, the only thing regretful about what Rogen and Moore had to say about the film, was that they later back-pedaled from their original statements. Most likely because of the amount of backlash they were receiving for their commentary.
But why is it that calling a film that has already perpetuated hate against Muslims and Arabs "propaganda" deemed as "jealousy"? Aren't we just calling it what it really is?
While mainstream media is all up-in-arms about defending the film as well as Chris Kyle himself, not one peep has been uttered about how the film has further generated negative stereotypes thus refueling discrimination and false assumptions about Middle Eastern people as well as a distorted reality of the war in Iraq. Which is, after all, what we call propaganda.
You were kinda on the right track, Seth Rogen. Oh well, one step forward, two steps back.
Related Articles:
The Real American Sniper: Why Chris Kyle Wasn't A Hero