Iraq was a safer and a wealthier country under Saddam Hussein; it became a terrible place to live after the 2003 American-led invasion, subsequent war on terror, and the rise of Islamic State. While most Iraqis have grown sick of their way of life, and have no choice but to sit back and watch America "save" them from its own doing, a group of young fashion-conscious Iraqi Kurds are trying to change the way the world perceives Iraq. Moving away from the perceptions of a region plagued by constant conflict, militancy, civil war, terrorism, and ISIS, the group wants to effect social change by celebrating the history of their country through fashion.
Mr. Erbil, as the 30-member group calls themselves, is a gathering of Kurdish men who are widely regarded as Iraq's first gentleman's club, which offers etiquette workshops, photography lessons, and a modeling agency in northern Iraq. BBC reports:
"But it is not just about fashion – there is also a serious, almost political side. Mr. Erbil sees itself as something almost akin to a movement representing young Iraqi Kurds who are looking for a better life and want to promote Kurdish culture to the world. The group even hopes to effect social change and challenge traditional attitudes, particularly on women's rights."

Not only have they done away with the traditional Kurdish attire of baggy pants and tunic and replaced them with snappy three piece suits, chunky watches, driving gloves, tight trousers, perfectly-trimmed beards, and sharp hairstyles; they're also raising awareness about the socio-political issues in Iraq. Helping refugees, opening new libraries, and giving workshops to female survivors of extremists, are some of the issues they tackle.
Mr. Erbil co-founder, Goran Pshtiwan, says:
"When we started we were in a bad situation, economic crisis and then an expected war against ISIS, so everything was settled down, there was no, any, business activities and stuff like that, so we started with the idea to gather and make something and different and unique and then people can get profit and we can change the look of the people and the way that they thinking."
The Instagram and Facebook accounts of Mr. Erbil frequently post pictures and musings about women's issues in Kurdistan, Iraq and the world. Every Thursday, Mr. Erbil writes a post on the "girl inspiration," in which they promote women working on behalf of the community. Mr. Erbil, named after the ancient city of Erbil Kurdistan in northern Iraq, which has been at the front-line of the struggle against ISIS, recalls:
"A year ago today, in Erbil Kurdistan, three men from one of the world's most ancient cities gathered with the aspiration to form a gentleman's club; their vision was to instill into their youth that wearing the hottest, designer suits doesn't in fact make you a man, but rather it is your character that defines it.
"We wanted to, not only bring attention to the necessity of women's rights, the protection of our environment, and our failing economy, but also to figure out ways to resolve these issues within our region. During this time, we faced many obstacles such as our failing economy, and the political issues that were brought on because of it. Despite our lack of resources, we were determined to turn our ideas into reality."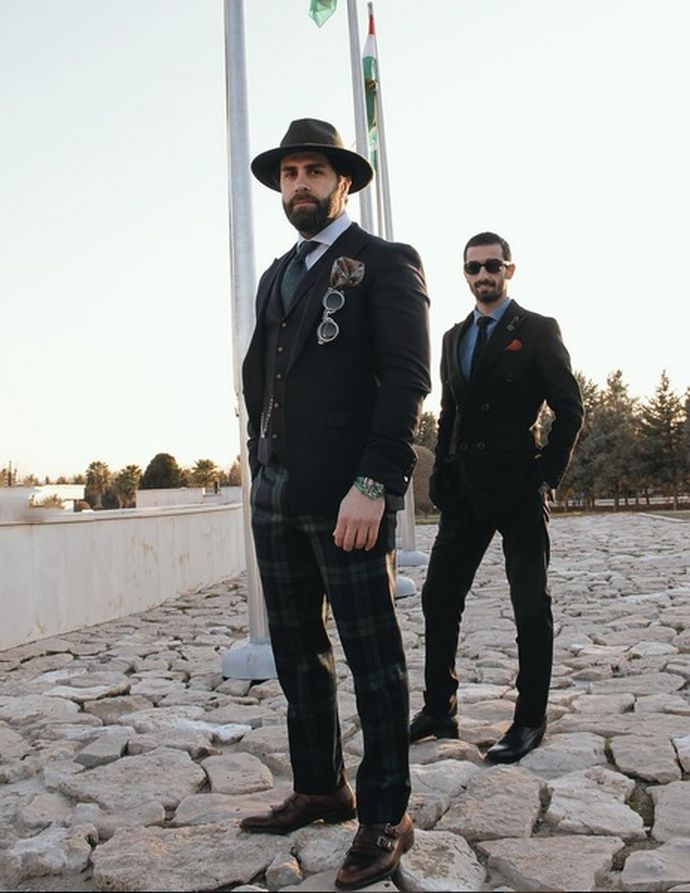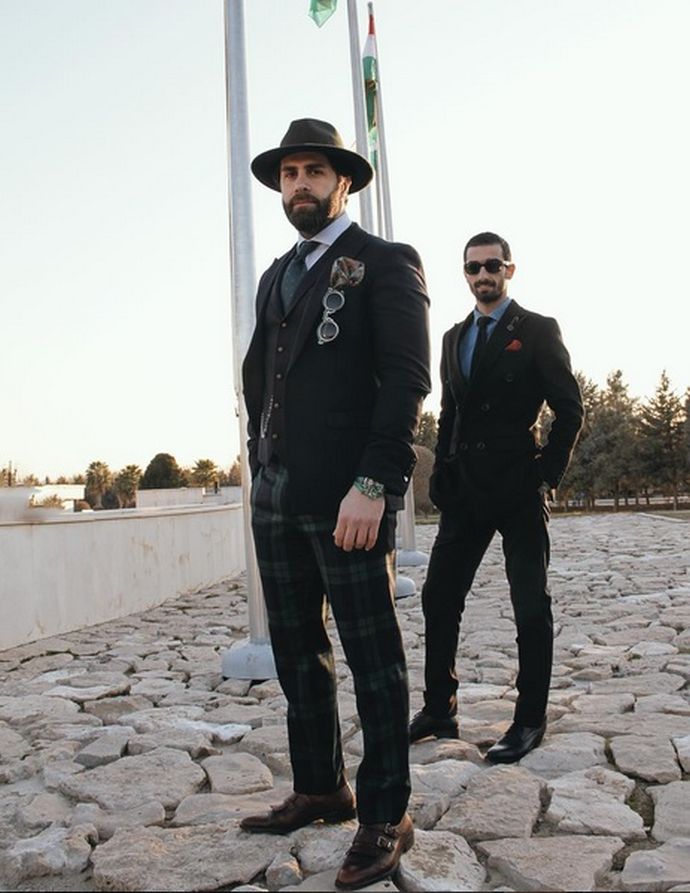 The inspiration for Mr. Erbil is Pitti Uomo, writes Vocativ, a biannual men's fashion gathering in Florence, Italy. The style may be Western, reports BBC, but Mr. Erbil stresses that they are mixing "modernity" and cultural heritage by harking back to the lifestyles of the traditional Kurdish landowning class, the effendi.
"In earlier days, Kurdish "effendi" or "lords" — educated or well-respected men — would dress in their finery to attend salons at local chaikhana or tea shops. We're trying as the youth to bring that back.
Iraq's first gentleman's club's first photoshoot took place in February at the city's ancient citadel, a U.N. world heritage site. Dubbed "gentlemen's gatherings", it quickly made waves on Instagram (68,000+ followers) and Facebook (50,000+ fans).
"It's more than just clothes and taking pictures. We want to show the world we exist as Kurds, that we have our people, our culture, our land and our flag. It's a good way to introduce people to this. Now that people know us we are trying to work to resolve everyday issues here."
---
This article (Hipsters Using High Fashion to Effect Socio-Political Change in Iraq) is a free and open source. You have permission to republish this article under a Creative Commons license with attribution to the author and AnonHQ.com.
---
Supporting Anonymous' Independent & Investigative News is important to us. Please, follow us on Twitter: Follow @AnonymousNewsHQ