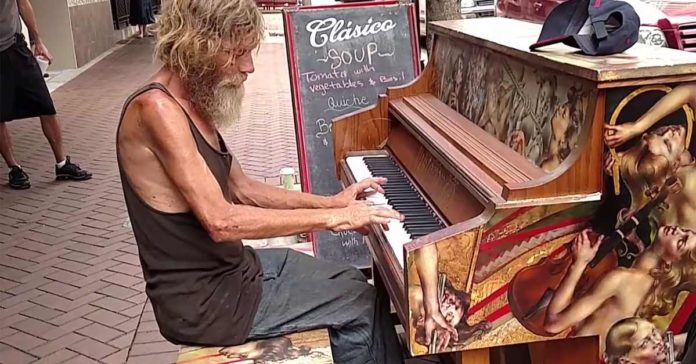 Written by John Vibes at trueactivist.com
51-year-old Donald Gould, the homeless piano player who was seen in a viral video earlier this year, is filing a lawsuit against the city of Sarasota over the criminalization of homelessness. Gould says that the homeless population of the city is regularly harassed by police, banned from public places and are being forced out of the area by the local government.
"It's pretty much harassment we are human beings for crying out loud," Gould told WTSP.
"Here they write you a citation then trespass you so you can't step on the property anymore and these are public places like the park, library," he added.
"Seems to be a criminal offense to be homeless in this city shouldn't be that way," Paul Lonardo, one of the other plaintiffs in the case said.
Andrea Mogensen, an attorney with the ACLU is helping to represent the homeless population of the city in the lawsuit, along with Gould and four other plaintiffs.
"The city has dumped the social problem of homelessness on the police power and asked the police department to move everyone out of the city and that is unconstitutional," Mogensen said.
According to the lawsuit, police issued citations to homeless people 608 times for lodging outdoors and 274 times for trespassing.
Sarasota Police Chief Bernadette DiPino says that the officers are ticketing and arresting homeless people for their own good.
"We've got a homeless outreach team, got programs moving forward, continue to do everything we can do with compassion and care to help individuals homeless on the street get off the street," she said, adding that they could face jail time if they did not appear in court to pay their fines.
Gould is currently in transitional housing, now that a lucky encounter has led to a number of new opportunities.