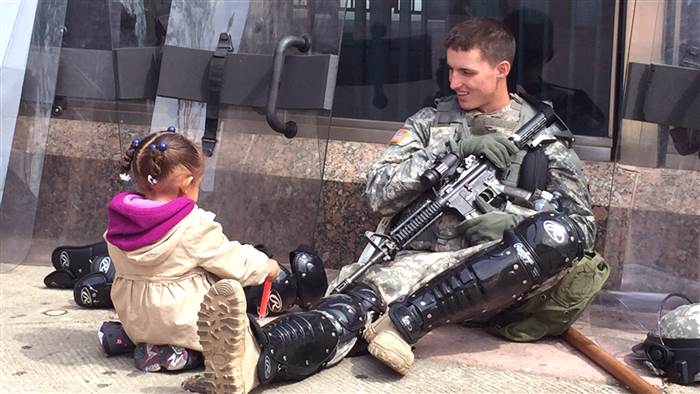 Amanda Moore, the 26-year-old write and blogger who clicked the photo of a little girl with a pink hoodie and ponytails playing with a glow stick in front of an armed National Guardsman deployed to quell the Baltimore unrest, tells the story behind the now viral and 'heart-warming' and 'cute' picture.
Everyone thinks this picture is cute. I took it, and I think it's tragic. #BaltimoreUprising http://t.co/u7s5h1x2n5 pic.twitter.com/IsyttuXu2l

— Manda Moore (@manda_writes) May 3, 2015
"I just thought it was really strange, and it really was sad. It was sad for the National Guardsmen because they had to be there, it was sad for Baltimore. And it was sad to explain to your children what's going on," Moore told TODAY.com.
When Moore took the picture, people were celebrating news about the criminal charges filed against the police officers who had murdered Freddie Gray in custody. "It was such a contrast. All these men in uniform, and all these riot cops next to them, and then all these happy, cheery people. And then to see this little girl go up and interact with them?" she said.
The 2-year-old little girl in the picture, Mckenna Mack, was being watched at the time by an aunt and several cousins, said the girl's mother, Danielle Farnsworth. "I actually thought it was extremely sweet. Of course, what's going on is very tragic but there are moments, like this one, that you can bring up the positive in it and not focus on the negative. They were just sharing a moment. She's only two years old. She's innocent. She was enjoying herself bringing light to people around her," she said of Moore's photo.
At the end of the day, the image did speak for itself; it did get people thinking about Baltimore and United States as a whole. On Reddit, where the photo got over two and a half million views, one of the commenters wrote:

And then, someone clicked this:
Baltimore needs more of this, little girl blowing kisses to the National Guard. pic.twitter.com/SATJHe9g15

— Robert Breckel (@rbreckel) May 2, 2015
---
You want to discuss a certain topic with likeminded people or you want to organize a local protest or you have an idea for a project that can help people in need in your local community or all around the world? Join our forum! www.anonboards.com
---
You want to support Anonymous Independent & Investigative News? Please, follow us on Twitter: Follow @AnonymousNewsHQ
---