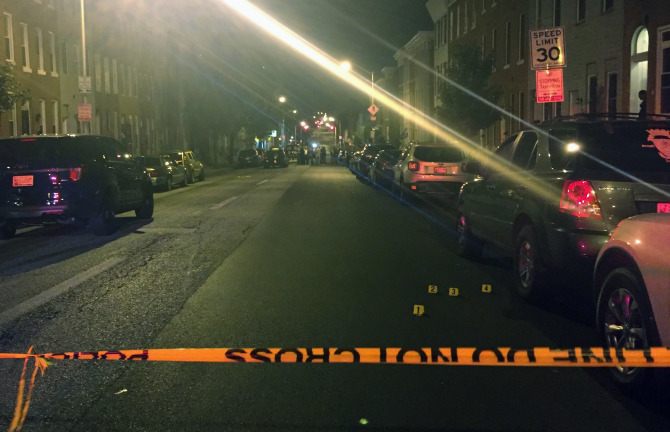 A day after Baltimore County police fatally shot a suspected bank robber and arrested his injured accomplice, a mass shooting in East Baltimore left at least eight people wounded, including a 3-year-old girl.
Officials and eye witnesses say as many as three men armed with shotguns and handguns opened fire around 8.30 pm Saturday night at Greenmount Avenue and East Preston Street, near Greenmount Cemetary. The victims were reported to have suffered serious but non-life-threatening injuries, and are being treated at a local hospital.
8 shooting victims, including 3 y/o. All non-life threatening. Limited suspect info. Contact 410-396-2221 now w/tips. @BaltimorePolice

— T.J. Smith (@TJSmithMedia) September 25, 2016
Baltimore Police Commissioner, Ken Davis, told The Associated Press:
"The shooting was a premeditated act of retaliatory violence in response to a Labor Day weekend shooting in which a person was fatally shot and two others were wounded, including a pregnant woman. One of the armed men emerged from an alley and two others ran down the street, stopping just short of the victims before they opened fire. The victims could have recognized the gunmen but authorities haven't immediately been able to identify the suspects and were still searching for them hours afterward."
At a press conference at the scene, Davis told local media that the three suspects approached a group of people gathered in front of a residence on Preston Street and opened gunfire. A father and his 3-year-old daughter were nearby and were struck, as well. The injured adults included one woman in her 30s and six men in their 20s and 30s.
.@TJSmithMedia on #Periscope: Update on shooting that injured 8 including 3 y/o @BaltimorePolice https://t.co/VI12kAoS2y

— Baltimore Police (@BaltimorePolice) September 25, 2016
The Labor Day weekend saw four triple-shootings rattling the city with gunmen shooting a total of 22 people from Friday afternoon through to Monday night.
I never thought i'd be living in a real life purge
the purge is absolutely real ?https://t.co/CFFgaSeBkj

— ana marissa (@Ana5HBiebvato) September 25, 2016
A few hours ago, an unidentified gunman went on a rampage at a crowded shopping mall in Burlington, near Seattle, and killed five people.  Described by authorities as a "Hispanic man," the gunman is now behind bars.
Washington Mall killer suspect in custody. 20 yr old from Turkey. Arcan Cetin. Certainly not Hispanic. https://t.co/aQmfsekHYg

— Joe Walsh (@WalshFreedom) September 25, 2016
#CascadeMall shooter was confirmed to be Turkish Muslim…

Now what about #Baltimore shooting?! pic.twitter.com/6hF8MnuLp6

— Tennessee GOP (@TEN_GOP) September 25, 2016
Are Trump Supporters Committing Mass Murder? Will Corrupt Media Demand @HillaryClinton Apologize? https://t.co/Lspgg2rG5g @gatewaypundit

— Jim Hoft (@gatewaypundit) September 25, 2016
---
This article (Mass Shootings Jolt US: Armed Men Shoot 7 Adults, 1 Toddler In East Baltimore; 5 Killed In Seattle) is a free and open source. You have permission to republish this article under a Creative Commons license with attribution to the author and AnonHQ.com.