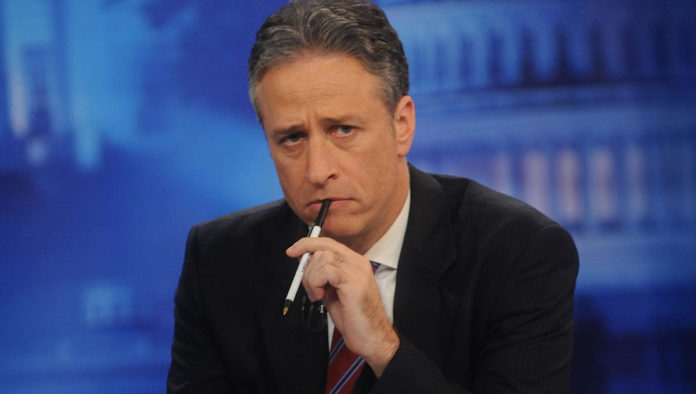 John Oliver, Jon Stewart, and Larry Wilmore have called the mainstream media out on their slanted, biased, and racist coverage of the protests in places such as Ferguson, New York, and Baltimore.
All three news hosts have covered the protests in Baltimore following the funeral of Freddie Gray, the 25-year-old man who died from injuries sustained while in police custody. This set off the city's protests, though Wilmore, Oliver, and Stewart touched upon different aspects of the story in their reports.
John Oliver points out the racist undertones by the media by focusing on a man who was mistaken as Russell Simmons, cofounder of Def Jam Records. While the man clearly states multiple times that he is not the hip-hop business magnet, one reporter simply can't let it go.
"It has been a delicate situation," Oliver says, "handled by the media with all the deft, not at all racist touch that they've become known for. Please watch as Geraldo Rivera greets someone as Russell Simmons, who is absolutely not Russell Simmons."
Stewart focused on the terrible reporting by CNN's Wolf Blitzer. Blitzer claims the violence seen in Baltimore is "hard to believe", even though he reported on protestors in Ferguson after Michael Brown's death, and more protests have popped up across the country. Anything to make the story juicy, right Wolf?
"Elvis Leading a heard of orthodox Jewish unicorns through a city street—that would be hard to believe," Stewart said. "This shit? This shit happens all the time. Ferguson was just a few months ago, and you were talking about it."
And finally, Wilmore chose to focus on how some channels, such as CNN and Fox, described black people. Fox News in particular is fond of using terms such as "thugs", and "Black Guerilla Family" (which is a prominent gang in Baltimore), as well as focusing on property damage instead of injuries, and other "fear-mongering" tactics.
"Now where CNN took the awkward approach to handling these racial tensions, Fox took the racial approach to handle their awkward tensions," Wilmore states.
---
Sources:
Jaworski, Michelle. The Daily Dot. Apr 29, 2015. (http://www.dailydot.com/politics/jon-stewart-larry-wilmore-baltimore-protests/?fb=dd)
---
You want to discuss a certain topic with likeminded people or you want to organize a local protest or you have an idea for a project that can help people in need in your local community or all around the world? Join our forum! www.anonboards.com
---
You want to support Anonymous Independent & Investigative News? Please, follow us on Twitter: Follow @AnonymousNewsHQ
---