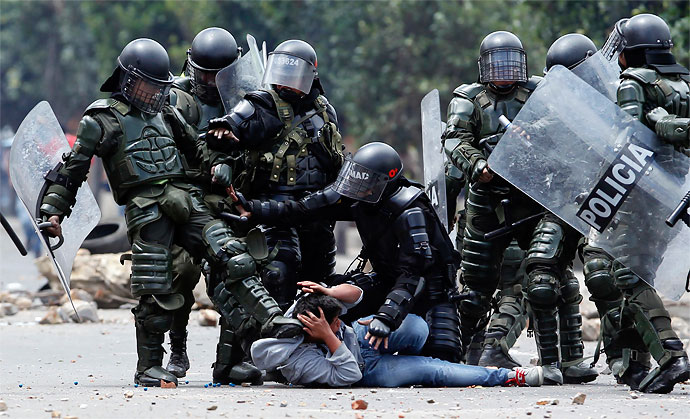 Colombia is in news for beating Peru in a tense penalty shootout to advance to their first Copa América semi-final since 2004. When you Google Colombia, the mainstream media will have you believe the Latin American country is celebrating. But it is not.
The truth is Colombia has been gripped by conflict for 70 years — 220,000 Colombians have died; nearly 7 million are displaced — but chances are you are as perplexed as we are because we found no report about the conflict on any of the mainstream media platforms.
@guardian Why is media silent as 100k protesters in Colombia are met with government violence, 3 deaths & 100 injured? #MingaNacional

— Sara Farah (@SFarah_) June 12, 2016
Forget the decades old conflict. The mainstream media did not even once report the latest, the biggest anti-government protest in Colombia, on 30 May, when millions of Colombians took to the streets and blocked highways — under the banner of 'The Agrarian, Ethnic, Rural and Popular Minga' — to protest against the country's national plan for development, which poses a threat to their livelihoods, favors big business, and prioritizes extraction over environmental equilibrium.
An official statement issued by civil society groups participating in the nationwide mobilizations read:
"Today we are going to confront the harmful extractivist policies that put our natural resources, national sovereignty, along with our physical and cultural survival, at risk… The Agrarian, Peasant, Ethnic and Popular Summit, along with several social and popular sectors (which include environmentalists, transportation workers, unions, women, education workers, and urban and rural organizations) oppose the government policies outlined in the National Plan for Development (PND) that puts up for sale strategic resources of the nation, such as public companies, energetic resources, water and unequally distribution of lands, increasing the profits of the rich and excluding millions of citizens from the access to their rights, depriving them from their territory, and increasing the number of victims."
The demands were modest: basic healthcare, education, the right and access to land, a moratorium on extractive projects, and safety from paramilitaries. But the demands were met with brutal violence.
? Así caminó la #MingaNacional en su segundo día: https://t.co/lwCeOqzCEm. @CumbreAgrariaOf. pic.twitter.com/IpADQcMjth

— ONIC (@ONIC_Colombia) June 1, 2016
Open Democracy published the gory details:
Some were beaten. Others were stripped of their clothes and forced to endure the freezing cold.  Many were robbed of their mobile phones and money. One protester recalled: "They kicked me from behind and then a police officer hit me with his truncheon. I put my hands up to defend myself but they threw me to the floor and then stepped on my neck. They said the only thing I deserved was to be killed."
La universidad industrial de Santander apoya el #ParoNacional pic.twitter.com/HKYXGb4ufJ

— Juan Pablo (@yamp22) June 10, 2016
The 15-day Minga involved the blockading of at least eight highways — including the largest, the Panamerican Highway — as well as demonstrations, speeches and cultural events in 100 sites across the country. But the mainstream media failed to take notice.
#Colombia 3 dead, 200 injured and more than 100 arrested in rural protests | https://t.co/G3PvWRVuFk pic.twitter.com/uc9TeVShMi

— Guilhotina.info (@Guilhotinainfo) June 12, 2016
A concerned War on Want reported:
"A human rights crisis is unfolding in Colombia. We stand with the people of Colombia who are risking their lives to fight for a just and long-lasting peace. These are the same communities that have had to bear the brunt of the conflict, the same communities that have historically been excluded and marginalized. We are calling on President Santos and the Colombian state to choose peace, to curb any violence when dealing with protestors, and to respond to the concrete, and legally justified, demands that protesters have made."
YourAnonGlobal: Colombia halts mining projects after peasant protests https://t.co/PyGivYgtiC pic.twitter.com/9Mv6UTHyLi

— Anonymous (@CovertAnonymous) June 12, 2016
The two-week long nationwide agrarian and popular strikes by small farmers, truck drivers, students, indigenous and afro-descendant minorities were ended after the government agreed to include the protesters in decision making on mining and other economic and environmental decisions affecting the countryside as well as vowed to involve the communities in ongoing efforts to make peace with leftist rebel group FARC (Fuerzas Armadas Revolucionarias de Colombia) and the execution of pending post-conflict policies and general peace policies.
Luego de 13 días se levanta #MingaNacional estos son los acuerdos firmados por las partes el día de hoy pic.twitter.com/x9IJKg5MnP

— Contagio Radio (@Contagioradio1) June 13, 2016
Will the  government of Colombia keep its word in 2016 on promises made in 2013 to end a similar national strike that left dozens dead? Doubtful. Will the mainstream media cover a severe human rights crisis, akin to civil war, before it snowballs into something bigger and graver? Doubtful, again.
Two weeks of protests force #Colombia to open dialogue on #Indigenous rights https://t.co/f5o6wczkVN pic.twitter.com/egry5r4w7N

— David Kaimowitz (@DKaimowitz) June 17, 2016
---
This article (Human Rights Crisis In Colombia: What You Are Not Being Told By The Media) is free and open source. You have permission to republish this article under a Creative Commons license with attribution to the author and AnonHQ.com.