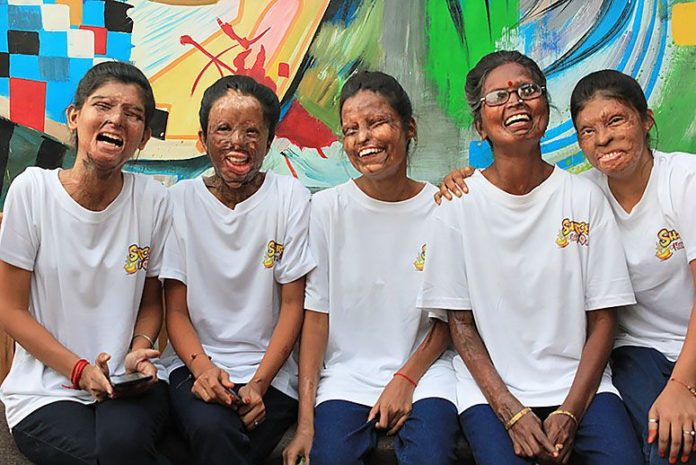 Revenge, professional jealousy, land, property, and business disputes account for a majority of acid assaults, mostly on women, in India. According to data compiled by the Ministry of Home Affairs, 2011, 2012 and 2013 witnessed 83, 85 and 66 acid attack cases being reported from across the country. However, 309 acid attack cases were reported in 2014 — a 300% rise in 3 years despite the 2013 Supreme Court order asking the central and state governments to regulate over-the-counter acid sales.
A country that fails to fight for women's rights and safety, cares much less about its acid attacks victims, 85% of which are women. Mutilated faces, unimaginable pain and trauma, social sequestration, and loss of income and opportunity condemn the victim to a lifetime of suffering. With nowhere to go, no self-esteem, and no dreams of a brighter future, many are forced to live with their scars forever in oblivion.
But with the help of two NGOs — Stop Acid Attacks (SAA) and Chhanv Foundation, five courageous women — all maimed in acid attacks — are reclaiming their lives, as well as confidence, by bravely and successfully running Sheroes' Hangout, the now-famous café close to the Taj Mahal.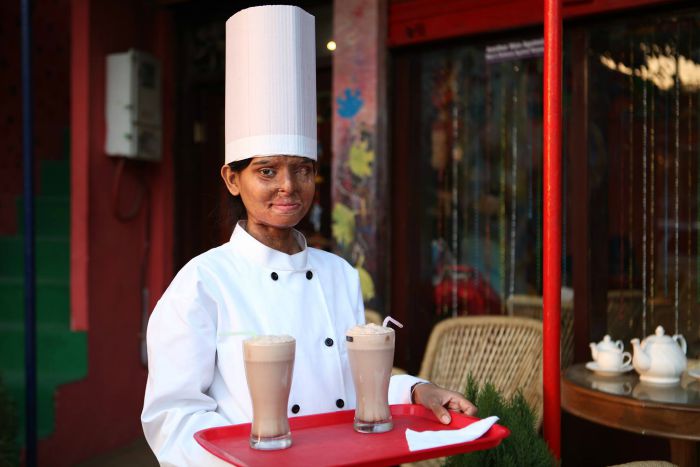 The Beginning
It all started with Laxmi, a woman who refused to surrender against all the odds. When she was just 15, Laxmi was attacked with acid by three men in 2005 in a busy marketplace. She had said no to marrying one of them more than twice her age.
Refusing to take the assault on her dignity lying down, she filed a Public Interest Litigation (PIL) in Supreme Court in 2006. There she sought to amend existing criminal laws dealing with the heinous offense; a total ban on sale of acid to prevent chemical attacks; and formulation of a policy for treatment, compensation and care and rehabilitation of acid attack victims.
Her efforts paid off in 2013, when the Indian Penal Code was amended to make acid attack a special offense. Over-the-counter sale of acid was completely banned across the country, and the compensation for survivors was increased to INR 300,000.
For her relentless fight, Laxmi received the 2014 International Women of Courage award by U.S. First Lady Michelle Obama. However, she didn't settle there.
To rehabilitate the acid attack victims, Laxmi co-founded Chhanv Foundation with Alok Dixit, a journalist-turned-social activist, who was then leading the Stop Acid Attacks campaign aimed at elimination of acid violence and protection of survivors' rights. While the sight of an acid attack victim can scare a lot of people, Alok fell in love with Laxmi — the couple was blessed with a daughter in March 2015.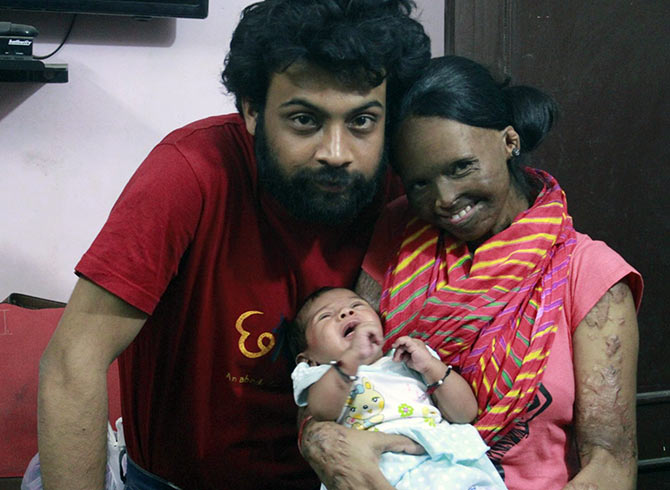 The Present
With the help of acid attack victims and supporters of the SAA network, Laxmi and Alok set up the Sheroes' Hangout café in December 2014. With an initial investment of about INR 300,000, much of which was raised by a crowdfunding website dedicated to Nitu, an acid attack survivor. Its "pay as you wish" contributions go toward the rehabilitation of survivors of acid violence in India.
Dealing with the pain of a charred face and a scarred soul is difficult to say the least, but run by five women — Rupa  (22), Ritu Saini (19), Chanchal Kumari (20), Gita Mahor (42), and Neetu Mahor (26) — the groundbreaking café is a beacon of hope for hundreds of women who had acid thrown on them in deliberate assaults. Sheroes' Hangout not only allows some of them a new start, it motivates many others to come out of hiding, resist victimhood and build resilience, lead a normal respectable life and go to work.
TakePart explains the effect Sheroes' Hangout has had on the acid attack survivors:
Gita and her daughter Neetu were attacked with acid 23 years ago by Gita's husband leaving both with mutilated faces and limited vision. Today, the duo dresses up every morning and goes to the café to serve coffee and treats — as well as share their stories with customers. With SAA's help, while Gita took a baking course at a hotel in Agra and is serving cookies and cupcakes to customers, Neetu took singing lessons from an SAA volunteer and is making people smile with her melodious voice.
Ritu, who played volleyball for India before suffering an acid attack by a male cousin in 2012 over a family property dispute, handles accounts at the café. "My life changed ever since I joined SAA. With the emotional support I received, I regained the confidence to go out with my face uncovered. Now I don't care what people think of my disfigured face."
Rupa, whose stepmother attacked her with acid when she was just 12, is a skilled tailor and an amateur apparel designer. The outfits she designs are exhibited and sold at the café. "Sheroes' Hangout is not only giving us a chance to move our lives forward; it is also getting our stories out."
Chanchal, who was attacked with acid in 2012 by a man whose marriage proposal she refused, helps operate the café. "Our visitors are mostly people from around the world who hear about us in the news. They come here to see how acid attack survivors like us are coping with our lives."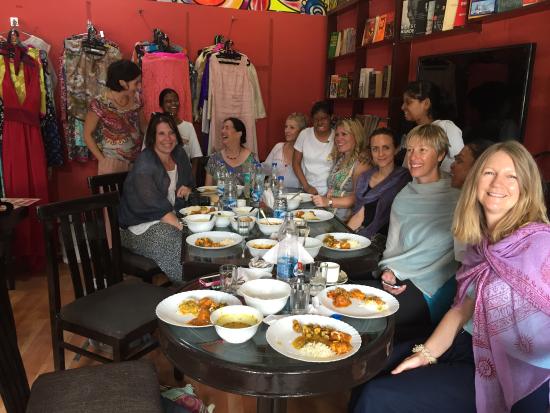 Sheroes' Hangout is helping acid attacks victims restore self-confidence. It also gives its visitors a chance to experience the long traumatic struggle to get justice, appreciate their courage, hear directly from women working to support other women and girls, and bring the often ignored issue of acid violence in the larger public domain. Shikha Singh, a 20-year-old student of fashion design who finds herself in the café at least once a week, says:
"True that. I would never have known about the reality behind acid attack survivors had I not met these women. It is amazing the way they are working to fulfill their dreams despite the hurdles. I now prefer to spend on Sheroes' Hangout rather than a McDonald's or KFC. At least I'm sure the money will be used for a good cause."
The café attracted more than 5,000 customers in the first six months, a fact that reflects a shifting attitude toward acid attack and its survivors in India. Alisha Nangia, a tourist from Delhi, adds: "This place has amazing music and interiors. I happened to visit it by chance but I am so happy to come here. These are lovely brave women."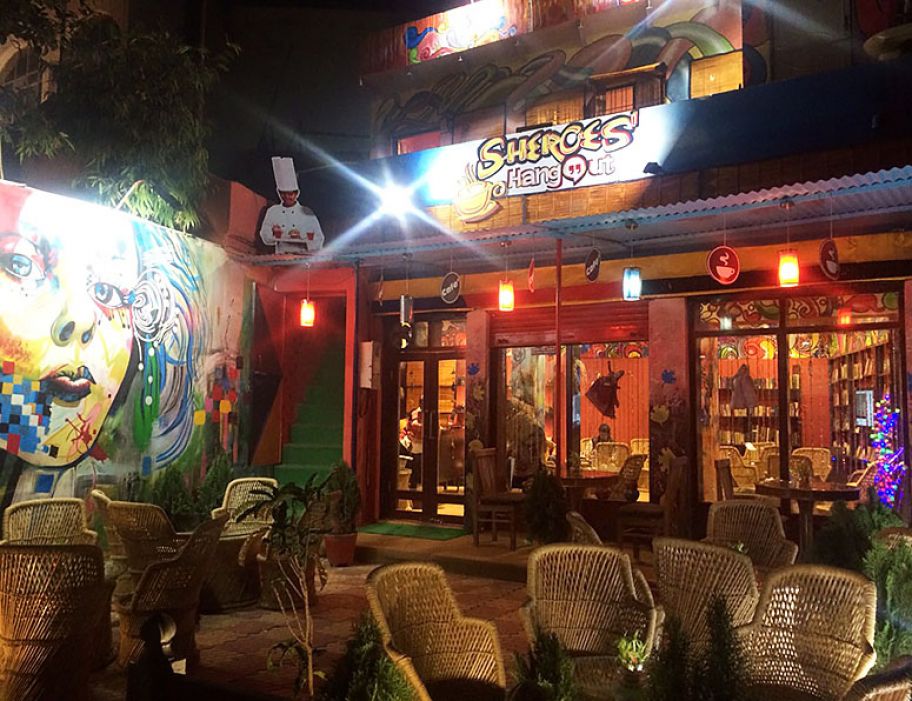 ---
This article (India's Acid Attack Victims Show the World how to Run A Café, Live with Dignity) is a free and open source. You have permission to republish this article under a Creative Commons license with attribution to the author and AnonHQ.com.