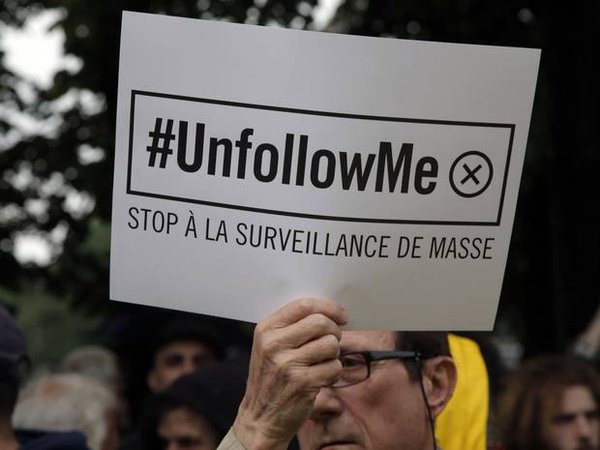 In the wake of the recent Paris terror attacks, it would be tempting to give in to our instincts. To once again limit our own freedoms. To allow the government still greater control over our lives. To allow them to watch over us… or to just watch us. To give in to fear.
When bad guys rear their ugly heads, we assume that government mass surveillance will keep us warm, comfy and safe… but is this true? Let us look at their track-record before we leap into the fire.
Right after France's 2014 Charlie Hebdo terror attack, Edward Snowden pointed out that mass-surveillance programs don't work because they are "burying people under too much data". Indeed, just a year before the attack, France had imposed one of the harshest and most intrusive surveillance laws in the entirety of Europe which would allow them to collect boatloads of data.
It did not "work".
In fact, TWO of the terrorists were not only known to French and U.S. authorities… one of them even had a prior terrorism conviction, while the other was monitored for YEARS by French authorities… monitoring which stopped less than a year before the attack on the magazine. They had REAL dirt on these men, derived OUTSIDE of bulk surveillance. NOT your naked social media photos, and yet still they "failed" to act.
After Charlie Hebdo, the French government called for all-powerful "Big Brother" surveillance powers, allowing police to break into homes in order to plant bugs, cameras, microphones and key-loggers and force ISPs to install "black boxes" which record and analyse all internet metadata. When your freedom of speech is being threatened, why not let the government help the terrorists and take it away for them?
Despite their earlier failure, they wanted you to believe that even stronger surveillance was the solution.
It did not "work" AGAIN.
In fact, the French government KNEW of one of the terrorists. AGAIN, they garnered this info without using dragnet surveillance. To add insult to injury, the French govt had been warned of an impending attack one day prior by the Iraqi govt. They failed to act on real info. AGAIN. Indeed, they rush to action only after the attack.
You need to ask yourself, if this data about you is NOT for your safety... if they CANNOT use this data, if it "confuses" them into NOT even acting on specific information that they ALREADY HAVE… then why do they need our data?
The US is perhaps the best example of how useless mass surveillance is for thwarting terror attacks. In the Boston Bombing, both of the Tsarnaevs were outed by Russian intelligence to the US. The Russian pleas, however, would go ignored- perhaps there was too much background noise, too many leads, when everybody could be a terrorist.
Or perhaps government spy agencies don't really care very much about our lives, and again we must ask why they need our data.
In 2009, the underwear bomber nearly brought down a plane. Counterterrorism Center (NCC) director Michael Leiter claimed that it was because the federal Intelligence Community (IC) had failed "to connect, integrate, and fully understand the intelligence" it had collected.
They had all the damned info from real investigations, clouded by bulk data…  even they themselves would admit that they just had no idea what to do with it as a result. Why do they need our data?
Let's look at September 11th, the granddaddy of terror attacks that started it ALL. The Congressional Joint Inquiry (2002) and the 9/11 Commission found that the attacks were preventable- that the US government had ALL the information they needed to prevent the attack and DID NOT NEED MORE DATA. It was the lack of competence, and genuine care for we the people, that allowed this attack to happen, because the government did not care to share analyse or disseminate the info it had.
It was NOT a lack of data, as the Bush administration would claim, that led to its misstep, but Bush's purposeful ignorance of  MULTIPLE warnings by his own advisers that sept 11th would occur.
If it was " sharing, analysis, and dissemination" that was lacking, why do they not improve those areas, why do they need more of our data?
Can you GUESS how many terror programs the NSA has stopped? A report by the New America Foundation last year revealed that they had stopped… drum-roll please… a whopping ZERO attacks.
Indeed, every time the NSA (spy agencies and politicians are SO trustworthy!) claims to have stopped an attack, we find that they have been discredited (together with most of their other claims)- they LIE about their own successes, these men who use YOU as their own porn collection!
Mass surveillance programs fail, and as they grow… they fail MORE. Yet instead of admitting their failure, the government uses failure as a reason to increase the scale of such programs. If using gasoline to put out a fire fails, we just need more of it! Let's blame the lack of gasoline for our problems… and not the man holding the emptied canister.
If mass surveillance has literally saved nobody, if it clouds real judgement, if in most cases governments do not even care enough to "rise above parochial bureaucratic interests in the name of
protecting the American people" (according to the Congressional Joint Enquiry)…
Then why do they want our data? Because mas surveillance was never intended to combat terror, silly goose. It was meant to fill you with terror.
Sources: National Journal, Reason, New America, The Guardian, Global Research, RT
---
This Article (Paris Terror Attacks: More Proof That Mass Surveillance Does NOT Work) is free and open source. You have permission to republish this article under a Creative Commons license with attribution to the author(CoNN) and AnonHQ.com.