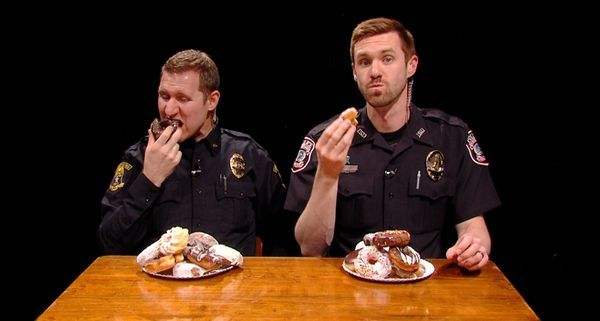 Two Iowa police departments took time out to send a public service message, and they didn't shy away from poking fun at themselves. The Ames Iowa Police Department teamed up with the Iowa State University PD with hopes of spreading a positive message to the students of the university and the people of Ames. In light of the tensions between communities and law enforcement, these cops hoped to bring the community together with a message of solidarity.
According to community police officer Eric Snyder, "Spring is always a time about new beginnings. The message this year is about respect." Each year, Ames PD launches a spring outreach campaign, in hopes of bridging the gap that is seemingly always increasing between law enforcement and their hometowns. This year, the video shows two officers stuffing their faces with donuts, telling the community to be good to each other. They tell the audience that if they respect each other, they could have some donuts too. In other words, 'donut' disrespect each other!
To some this may seem like feeble pandering, and to a degree, they're correct. With outreach programs like this one, or the "free hugs" offering by the Newark Delaware Police Department that went viral recently, the thing that has to be acknowledged is that regardless of how misguided these attempts at community outreach are, the one thing that can be said is that they are genuine. Police outreach programs are not simple PR stunts. To administration, they truly desire to mend bridges with the community, and for this they should be applauded.
The reason these attempts to unite with the public look so foolish is because police, particularly upper ranking officials, are simply out of touch with the community. Cops who have been in the system for decades will no longer have the ability to empathize with or understand the perspectives of 'civilians.' Police wish to bridge these gaps, however, that begins with acknowledging that what police culture accepts as the norm when it comes to treatment of citizens, is far from the norm to those who watch YouTube. Police can't empathize because over time, everyone they encounter in both their working and personal lives becomes the "them" in the us vs. them mentality that all police come to embody.
So, when the guy who wrote you a 200 dollar ticket last week, or arrested your friend for smoking weed thinks giving you a hug will fix a broken system and restore public trust, it's kinda hard not to laugh just a little. But again, the police are trying. They want to fix the problems that force a divide between them and the community, however, they fail to see that it is their own attitudes and behaviors that cause this rift in the first place. While police usually deserve the scorn and ridicule they receive from the public, today let's take a second to appreciate the fact that with videos like this one from Ames PD, some cops are actually trying to make a difference.
Sources: DesMoine Register.
---
This article (Iowa Cops Have Some Fun in New Public Service Announcement) is a free and open source. You have permission to republish this article under a Creative Commons license with attribution to the author and AnonHQ.com.
---
Supporting Anonymous' Independent & Investigative News is important to us. Please, follow us on Twitter: Follow @AnonymousNewsHQ