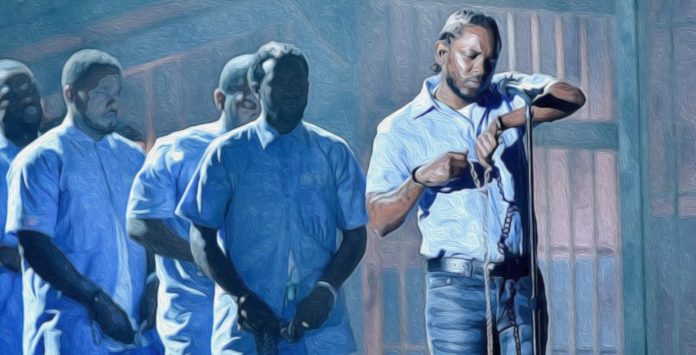 By John Vibes at theantimedia.org
Conscious rapper Kendrick Lamar took his recent Grammy performance as an opportunity to raise awareness about mass incarceration. Lamar's performance was artistic, powerful, and controversial — qualities many people have come to expect from the platinum-selling recording artist.
Before the event, host LL Cool J also hinted that Lamar's performance was going to be thought-provoking.
"Kendrick Lamar is going to do something very controversial, and that's what art is about. It's not about whether you agree or disagree, it's about it stimulating conversation and provoking people to have conversations about society," LL Cool J said earlier this week.
Lamar's performance certainly lived up to expectations, and it will surely spark conversation.
The performance began with Lamar walking out of the darkness in shackles, at the front of a prison chain gang. They all wore prison attire. He began with his poetic track, "Blacker the Berry," and eventually transitioned into his newest hit, "Alright."
For the second portion of the performance, Lamar stood in front of a massive bonfire with tribal dancers situated all over the stage. Some of the most controversial lyrics in the song were omitted from the performance, including, "And we hate Popo, wanna kill us dead in the street for sure."
This was likely a compromise to appease the Grammy's censors and legal team, but the message was powerful nonetheless. Lamar closed the set with a unreleased and untitled track about death and "modern-day slavery." As he walked off stage, a massive light screen in the shape of Africa was displayed on the wall. The word "Compton" was written inside.
In addition to his explosive performance, Lamar also walked home with five Grammy awards, including best hip hop album.
@kendricklamar has made me the most proud for HIP HOP in a very long time!!!… https://t.co/iTFuuaMfkx

— Busta Rhymes (@BustaRhymes) February 16, 2016
---
This article (Kendrick Lamar Uses Grammy Performance to Expose Mass Incarceration) is free and open source. You have permission to republish this article under a Creative Commons license with attribution to John Vibesand theAntiMedia.org. Anti-Media Radio airs weeknights at 11pm Eastern/8pm Pacific. If you spot a typo, email [email protected].