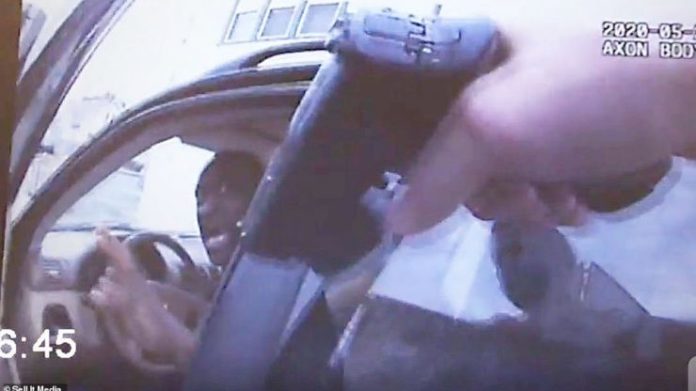 Newly-leaked police bodycam footage shows the tragic last moments before George Floyd, casting new light on the killing of the 46-year-old Black man whose May 25 death sparked a long period of unrest and ongoing protests against police brutality and racism.
In video footage obtained by UK tabloid The Daily Mail, rookie police officer Thomas Lane can be seen pointing his firearm at Floyd's head, provoking an extremely distressed response from Floyd.
Floyd, who had just attempted to use a counterfeit $20 bill to buy cigarettes at the Cup Foods convenience store, was largely deferential and referred to the officers as "Mr. Officer" throughout the ordeal while also repeatedly saying that he would likely die in the encounter.
Floyd had been waiting in the car with his ex-girlfriend Shawanda Hill, 45, and friend Maurice Hall for some time before the police arrived. It still remains unclear if Floyd knew that the money he was using was counterfeit.
The footage also depicts the police behaving in a belligerent and physically rough manner despite the clear need for de-escalation when confronted by Floyd's distraught and anxious state.
When Officer Lane approached the driver side of Floyd's SUV, he immediately ordered Floyd to show his hands. Floyd did not immediately open the door. Officer Lane abruptly opened the door and Floyd apologized, saying "Hey man, I'm sorry."
At that point Lane, who was on his first week with the Minneapolis Police Department along with his fellow rookie partner Alex Kueng, responded with extreme belligerence and aimed his gun straight at Floyd's head.
"Put your f**king hands up right now! Let me see your other hand," Officer Lane shouts.
Floyd doesn't immediately place his hands on the wheel, causing Lane to continue cursing and brandishing his weapon at him.
"Put your f**king hand up there! Jesus Christ, keep your f**king hands on the wheel," he continues to shout.
Floyd, clearly alarmed by the officer's angry escalation, begins explaining himself.
"I'm sorry, I'm so sorry," he tells the officer. "God dang, man. Man, I got shot the same way, Mr. Officer, before."
"Okay. Well when I say 'Let me see your hands,' you put your f**king hands up," Lane replies.
"Okay. Mr. Officer, please don't shoot me, please man," Floyd begs.
"I'm not going to shoot you," Lane replies. "Step out and face away."
"I'll look at you eye-to-eye. Please don't shoot me man," a visibly upset Floyd answers. "I just lost my mom, man."
Floyd then begins to break down and weep as Kueng and Lane pull him out of his car, explaining that he "didn't do nothing wrong."
Lane then begins to speak to the officers to find out why he responded "all weird like that," and whether he was under the influence of alcohol or another substance.
"No, he's got a thing going on … about the police" Hill said, gesturing to her head with a circular motion to suggest Floyd suffered from mental issues.
As the officers attempt to put Floyd in the squad car, Floyd refuses and begins falling down, begging: "Please man. Don't leave me by myself man, please. I'm just claustrophobic."
As he pleads with the officers, he explains: "Y'all, I am going to die in here … I'm going to die, man. I just had COVID, man. I don't want to go back to that."
As Lane says that he can roll the window down, Floyd continues to beg: "I'm scared as f**k."
A bystander attempts to calm Floyd down by explaining that he can't win by behaving the way he was.
"Please, I'm not trying to win," Floyd answers. "I'm not a bad guy, man. I'm not a bad guy … I'm claustrophobic and I've got anxiety. I don't want to do nothing to them."
Within minutes, officers Derek Chauvin and Tou Thao arrive. Chauvin attempted to subdue Floyd by holding his knee down on Floyd's neck for several minutes as Floyd begs for his "momma" while his life is sapped away.
"Tell my kids I love them – I'm dead," he gasps at one point.
Footage of the incident captured by bystanders sent shockwaves across the country and the world that continue to reverberate to this day.
The video footage is a part of court records in the murder case against Chauvin, Thao, Lane and Kueng, all of whom were fired the day after Floyd was killed. They were later charged after worldwide protests demanding justice for Floyd and other victims of police brutality.