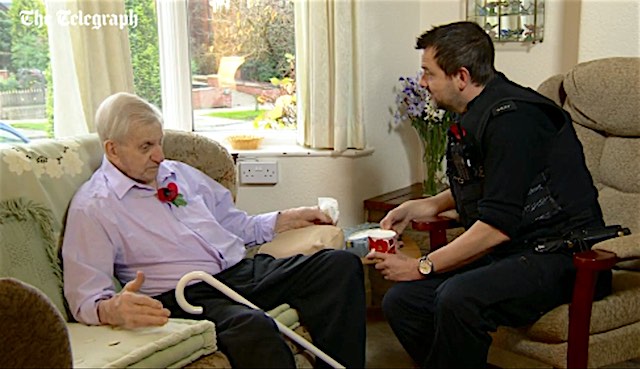 When was the last time you actually sat down and socialized with an elderly person? No, family doesn't count… I'd imagine a lot of you would say "never." Don't get to worked up about it, most of us don't really have much of a reason to, we don't really see them as much as younger folk nor is it easy to make social relationships with an elder when most social company is brought together by work and education.
A police constable in England was prepared for even a life-taking injury after receiving an emergency call from an elderly couple in their mid 90s.
However, when police constable Stu Ockwell and his partner from the Manchester Police Department, England, arrived at the couple's home they were surprised to find that no medical treatment was needed. Just a lonely couple who needed somebody to talk to.
Fred Thomson is 95 years old, he is blind, and the only help he can get is from his wife Doris, who is also 95 and struggles to cope on her own.
Recent studies show that limitations to social contact actually has a huge impact on our mental health. The study shows that regular face to face social interactions with other people will help reduce the chances of becoming depressed and suicidal. (Something much more teens have been being diagnosed with these days.)
The visit to the home seems as though it was pretty enjoyable for everyone, the kettle was boiled for a nice cup of tea whilst Fred happily told the two officers about his service in World War II.
"He's an amazing character and had us in fits of laughter," Ockwell told ITV News. "It made my day."
---
This Article (Lonely Elderly Couple Calls Police, For A Chat And A Cup Of Tea) is free and open source. You have permission to republish this article under a Creative Commons license with attribution to the author(FLU5CH) and AnonHQ.com.